How-To
Saving a Stone Foundation
Dry the soil next to the foundation to prevent or slow further erosion.
I just finished repointing a hundred-year-old sandstone foundation. The above-grade courses are in good shape, but the course at ground level is eroded away by an inch or more in some places, and is soft enough in other places that I can easily scrape away 1⁄2 in. to 3⁄4 in. of stone. The wall appears sound, and shows no
large cracks, but I would like to prevent or slow further erosion. Can you recommend a coating or other solution?
— Ed Everstine, Fombell, Pa.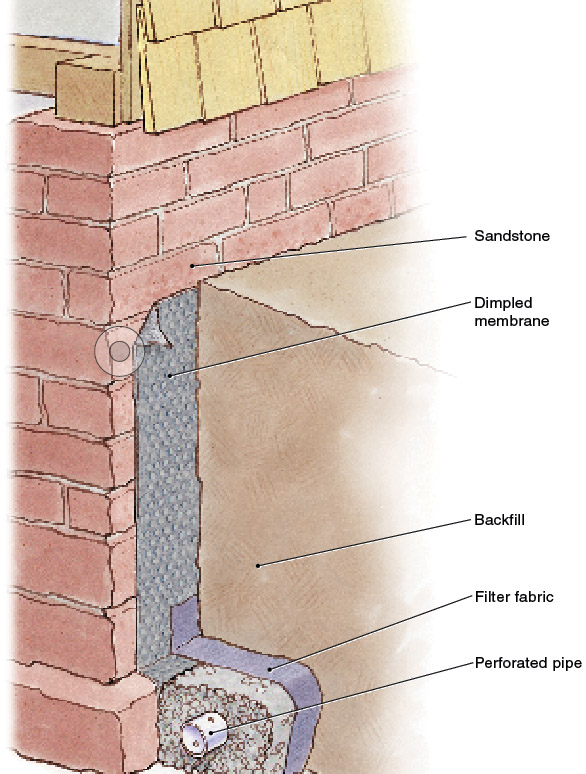 John Carroll: I suspect that the course of stone that's in contact with the ground is deteriorating because it gets saturated with water, and when that water freezes, it expands, rupturing the surface.
Because sandstone is soft and porous, it wicks up water readily. By the same token, its porosity allows it to dry fast, which is why you haven't had problems with the courses above grade. The same thing happens with soft brick and other soft stone. Masonry coatings can prevent the stone and soft brick from taking on water, but if water does get in, the coating prevents the masonry from drying out, doing more harm than good.
Instead of trying to seal moisture out of the stone, I would recommend that you concentrate on drying out the soil next to the foundation. For starters, make sure gutters and downspouts are directing the bulk of the water away from the foundation. Best practice would be to excavate the soil next to the foundation and install a perforated drainage pipe near the footing that leads to a dry well or daylight. Backfill almost to grade with 3⁄4-in. gravel separated from the soil with filter fabric. You could also install a dimpled membrane such as Delta MS (cosella-dorken.com) on the foundation to keep the stone dry. Like the gravel, the mat should drain to a perforated pipe leading to daylight or a dry well. Finally, slope the finished grade so water runs away from the foundation.