Podcast Episode 56 — Lights and Shades, Stone and Metal
Welding, HGTV, stone walls, outdoor wood boilers, and window flashing.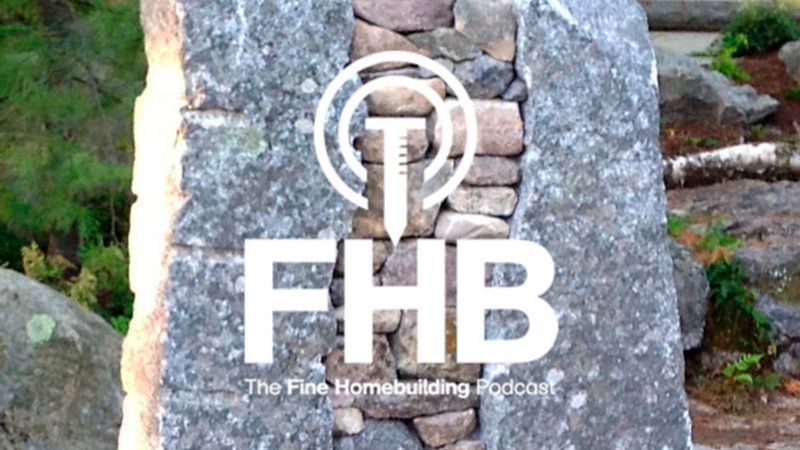 In this podcast episode, host and editor Justin Fink is joined by editorial director Rob Yagid and design editor Brian Pontolilo. Brian talks about his visit to a house in Austin, Texas, that uses an automated, app-activated system to control lights and shades. Justin talks about how he has a hard time manually adjusting the shades in his living room. And Rob throws some shade on the too-cool city of Austin, with its "Keepin' Austin Weird" tagline.
Brian explains how a remodeling firm keeps their jobs on budget, with four project managers juggling one or two projects at a time. Brian also talks about FHB contributor and 2017 Best New Home HOUSES Award winner Matt Risinger's work. Matt has a specialty in architectural in-house metalwork, including stair railings, window awnings, planters, fences, and more; evidently Matt got his start with a toilet paper holder! (see photo below)
Plus, Justin's pile of rocks (used to make a small dry-lay stone retaining wall) and Brian's experience as pro stone waller. Sorry, no photo of Justin's wall because someone backed into it before he could take a snapshot. That's his story, and he's sticking to it.
A listener asks for recommendations for TV shows and YouTube channels. Brian does not have a TV. Rob seldom watches TV. But Justin does recommend This Old House (the TV show) and Holmes on Homes. Brian recommends Matt Risinger's video channel.
We also have our continuing request for listeners: We need all our fans to take our podcast feedback survey by clicking here. There's a chance to win one of ten Amazon Echoes! Jeff, our producer, swears by his! Well, "swear" is a bit of a stretch; listen in to hear his true opinion!
This episode is sponsored by Feeney. Enter Feeney's deck rail photo contest here. For more information, visit feeneyinc.com.
The show is driven by our listeners, so please subscribe and rate us on iTunes or Google Play, and if you have any questions you would like us to dig into for a future show, shoot an email our way: [email protected]. Also, be sure to follow Justin Fink, Rob Yagid, and Fine Homebuilding on Instagram — and "like" the magazine on Facebook. Note that you can watch the show above, or on YouTube at the Fine Homebuilding YouTube Channel.
The Fine Homebuilding Podcast embodies Fine Homebuilding magazine's commitment to the preservation of craftsmanship and the advancement of home performance in residential construction. The show is an informal but vigorous conversation about the techniques and principles that allow listeners to master their design and building challenges.
Lew French's Artful Masonry

Resources mentioned in (or related to) this podcast episode:
Here's a photo of a member of Matt Risinger's metalworking crew in Austin: