Practical Life Lessons
At just over a year old, my son brought his toy screwdriver over to "help" me swap out an electrical wall plate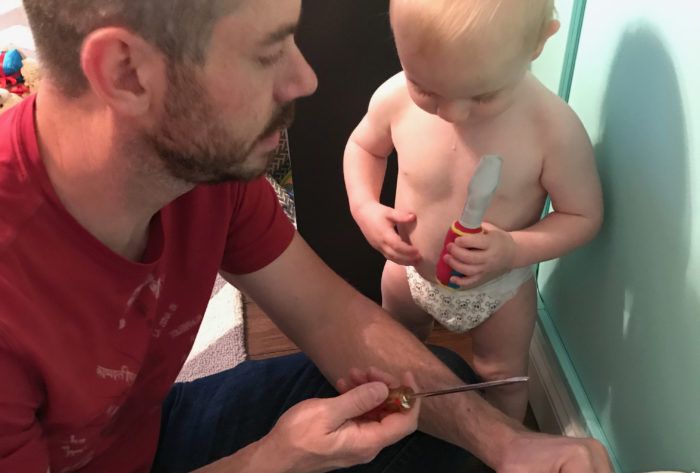 Having recently become a father, I often find myself reflecting on all of the learning experiences I shared with my dad growing up. As a little kid I remember being given a small scrap of wood, a trim hammer, and some roofing nails to mess around with to my heart's content, while my dad worked on things at his basement workbench. Some of my fondest memories are those times I spent "helping" him with various woodworking projects. We were always making wooden swords, a pinewood derby car that had to have red racing stripes, or a ramp for my bike (Hey … it was the '80s!).
In addition to those fun projects, my dad always took the time to teach me practical life lessons. It was very important to him that I know how to take care of the home I would one day own, or the car I would eventually drive.
Having had these experiences, it's been very natural for me to start working with my own son on the smallest of things around the house. He has such a strong desire to be involved in anything and everything I do. I was so impressed when, at just over a year old, he brought his toy screwdriver over to "help" me swap out an electrical wall plate. That was the first real teaching moment I'd ever had with him.
I hope to instill those same kind of life lessons in my son that my Dad taught me. In a society where everything is instant and so much is done for you without lifting a finger, I want him to know how gratifying it is to work with your hands and to create. Happy Father's Day to all of the Dads out there who are continuing to teach the next generation.