How-To
Finishing Rough-Sawn Flooring
If you're installing the new flooring parallel to the existing nail-down floor, use a plywood underlayment first to avoid large gaps.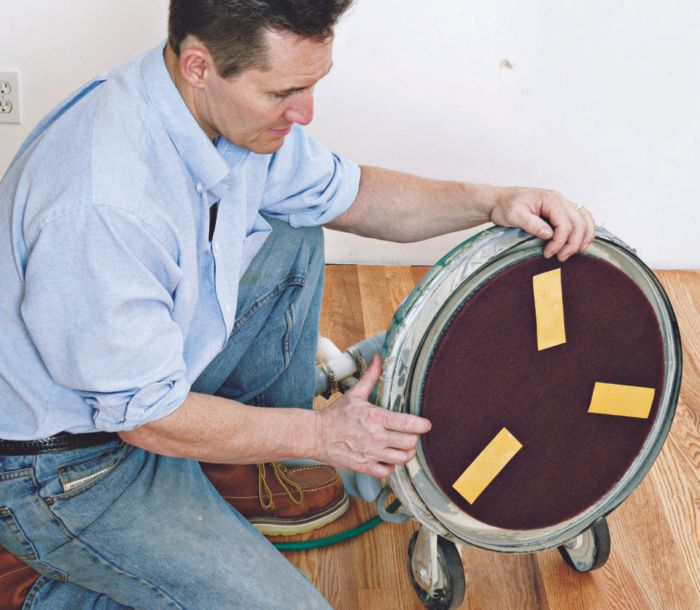 My older house was built with the hardwood flooring laid directly on the joists. I'm going to use this current floor as a subfloor for
new, rough-sawn, tongue-and-groove white-pine flooring. How should I finish this new floor? Should I give it a light sanding and then oil it? I want to keep the rough-sawn look, but I'm worried about splinters.
— Sebastien Caron, via email
Charles Peterson: Before we get to finishing, let's talk about prep work. If you're installing the new flooring parallel to the existing nail-down floor, you need to add a minimum of 3/8-in. plywood underlayment first—otherwise, large gaps can occur from the combined seasonal dimensional changes of the two wood floors. If you're installing the new flooring at a 45° to 90° angle to the existing, additional underlayment may not be required.
The romance of rough-sawn wood flooring generally wears off if the floors are not lightly sanded before finishing. Typically, I first work any areas that might catch a foot with a hand-held orbital or belt sander. Then I use a floor-ing buffer with a fine-grit maroon abrasive pad and 220-grit sandpaper strips to sand the entire floor until it's smooth enough that bare feet won't pick up splinters.
Waterlox (a tung-oil finish) is a common option for eastern-white-pine floors. Try some on a sample board. If you want more color, try adding a tint to the Waterlox (for example, a 25% to 50% mixture with DuraSeal Golden Brown stain) on the first and second coats. A pine floor will require at least four coats, and you'll know you've put enough on when the sheen is even across the entire floor and no areas look bare. I have had 200-year-old floors take seven coats of finish. To apply it, I like using a roller. You can brush it on, but that's time consuming. A traditional lamb's wool applicator can also work, but it might leave fibers on rough areas as you draw the applicator across the floor.