Podcast Episode 96 — Engineered Wood and New Products
They guys highlight the best products they found at the International Builders' Show. Plus grievous bodily harm, demonstrated.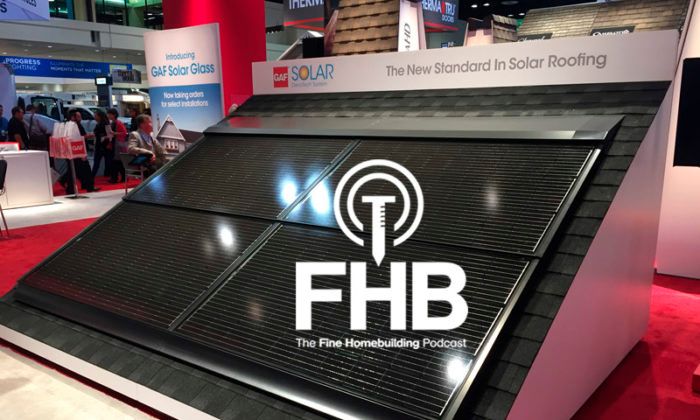 This is the fifth and final live-from-the-show episode of the Fine Homebuilding podcast. In the first half of this show, Justin is joined by AdvanTech product director Mike Pyle of Huber, the sponsor of this episode, and by FHB tool guru Patrick McCombe.
Mike, Patrick, and Justin talk about several new engineered wood, adhesive, and tool products, especially those designed to eliminate squeaks in subfloors. They guys ask Mike for the "secret sauce" that gives AdvanTech products their good reputation; Mike talks about the culture of commitment to quality that his company has, but he divulges no technical secrets, alas. The guys also want Mike to talk about his competitors — looking for the up-and-coming manufacturers — but Mike is not willing to name names, alas. Mike also talks about the process of bringing new products to market, and getting them passed for code approval.
For the second half of the show, Justin and Patrick sit down with Rob and Kiefer Limeback, known on Instagram as the "Toolaholic." Here are the guys recording the show, from left, Patrick, Justin, Kiefer, and Rob.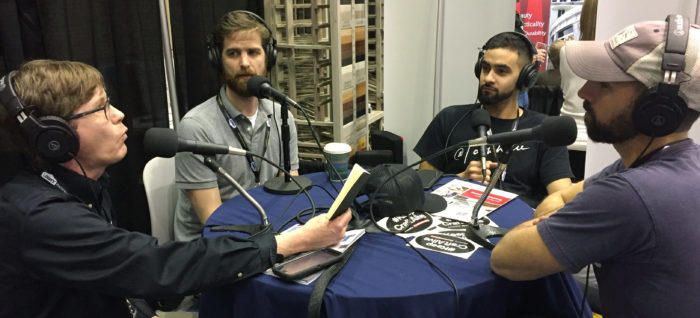 That was the part of the show in which Patrick whistled Wagner for five minutes, but show producer Jeff edited that out after.
For the last show from the Builders' Show, the guys highlighted some of their top picks from the floor:
That led the guys to talk about the pros and cons of different vans and trucks, balancing the job with hauling kids and having multiple vehicles.
And don't miss the video demo of the guy getting a wrench dropped on his head.
That's it for our live podcast coverage of the 2018 International Builders' Show. We'll be back to regular casting next Friday. For all five of our show podcasts, if you missed any, and for more show news and info, check out this post: Complete 2018 International Builders' Show Coverage.
We hope you will take advantage of a great offer for our podcast listeners: A special 20% off discounted rate to subscribe to the Fine Homebuilding print magazine. That link goes to finehomebuilding.com/podoffer.
The show is driven by our listeners, so please subscribe and rate us on iTunes or Google Play, and if you have any questions you would like us to dig into for a future show, shoot an email our way: [email protected]. Also, be sure to follow Justin Fink, Rob Yagid, and Fine Homebuilding on Instagram — and "like" the magazine on Facebook.
The Fine Homebuilding Podcast embodies Fine Homebuilding magazine's commitment to the preservation of craftsmanship and the advancement of home performance in residential construction. The show is an informal but vigorous conversation about the techniques and principles that allow listeners to master their design and building challenges.
Here are a few links related to this podcast: