Readers' Choice 2018 Finalist: Home With a View
2018 HOUSES Readers' Choice Candidate: Santa Rosa, Calif.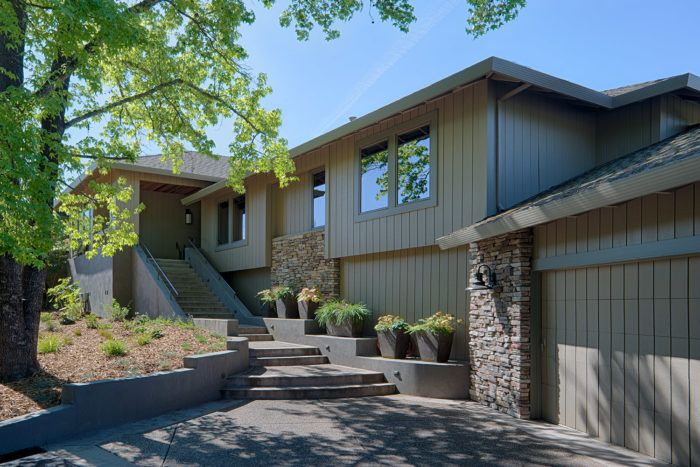 Architect: Lindsay Massey Architect
Builder: Ellis Construction
The homeowners fell in love with this property for the spectacular panoramic view of the gently rolling hills and sweeping valley, yet the home itself was an ungainly collection of many past remodels and additions that resulted in awkward circulation, wasted space, and minimal access to the views. They immediately started the process of redesigning the house to create a space they could enjoy as much as the views. Much of the redesign focused on more efficient use of the existing space, which included adding a small amount of space in a few areas but subtracting it in others. The change in the size of the living space was minimal; the house only gained 71 sq. ft., yet it feels greatly expanded.
The kitchen, dining, and family areas were reconfigured to create one large great room. The fully operable window wall in the dining and kitchen areas opens to a large covered porch, and a skylight well on the opposite wall provides ample daylight to the room all day. A hallway was converted into a custom glass-faced wine-storage and bar area. Wood posts and beams conceal a massive structural steel frame, as well as window and door tracks, operable screens, and motorized sun shades. The TV disappears behind an art panel above the fireplace and the slatted arched wood ceiling in the wine-storage area hides the temperature control system.
The rest of the house was similarly remodeled to bring a cohesive style to the whole home. The guest area was redesigned to create en-suite bathrooms for all bedrooms, and an elevator was added to connect the lower-level garage to the main floor. New lighting throughout provides varied lighting scenes, and ensures comfortable illumination even after the sun has gone down. Similar detailing and consistent use of a limited palette of finish materials creates an uncluttered aesthetic that flows easily from room to room, indoor and out, and results in a soft elegance that allows the view of the rolling hills to take center stage.