Podcast Episode 103 — Cabinets, Windows, and Mold
JLC Live, SIPs drawbacks, timber-framed structures, and remediation.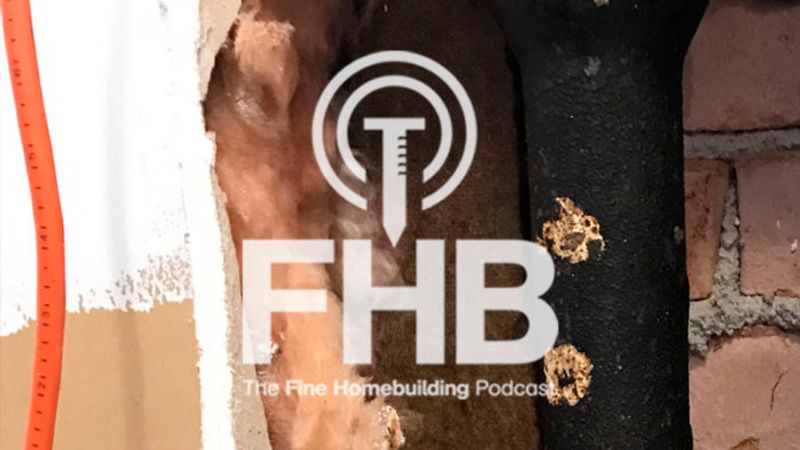 In this episode, Justin and Rob run the show on their own, because Brian is on the road shooting video and researching articles.
Rob mentions that FHB will be at the JLC Live event in Rhode Island, March 22-24. We'll have more on that soon. Justin will be running an event there on March 23. And there will be one or two podcasts live from the show.
Rob talks about fitting a built-in between two walls, in a nook where he previously added an interior window. Justin talks about a cabinet project of his own. That leads to talk of kitchen cabinets, finishes, and hardware. Here's a photo of that project Justin mentioned:

Listener Adam is still working on his basement remodel. He ordered a window that's too big for his rough opening. Here are the photos he sent us:
Listener Chris found mold when he was doing a remodel. Here are his photos:
This episode of the podcast is brought to you by Boral.
There's a better way to build something great. That starts with choosing Boral TruExterior siding and trim. TruExterior products are made with an innovative poly-ash material that cuts and nails just like wood, without the worries of absorbing water or expanding and contracting. Its as easy as cut, fasten, paint, done. So you'll always get cleaner seams, better curb appeal, and lower maintenance. Plus, the Boral team is ready to help solve any job-site challenge that comes along. See the difference and get a sample at TruExterior.com.
This episode is also brought to you by Danner.
Born from logging and exploration, Danner is a Pacific Northwest original. Every boot is hand made to hold up in unforgiving conditions and live up to their unyielding standards. Stronghold work boot is what happens when more than 85 years of legendary quality, durability, and heritage runs into modern construction, technology, and materials. You get tomorrow's classic today. The Stronghold work boot. Visit Danner.com for more.
This episode is also brought to you by Chief Architect.
Chief Architect Software is a leading developer of 3D architectural home design software for both full residential design and remodeling. Chief Architect offers a unique design approach with smart tools that make the design process fast and the software easy to learn. The software's powerful tools automate the design and construction document process while automatically generating 3D renderings and virtual tours. There's no better way to gain more business than referrals from happy clients. You can carefully manage your clients' expectations by helping them visualize the completed project. You'll get fewer change orders, and the smart technology, including instant materials list, helps keep design errors to a minimum, keeping your job on track and on time. Learn more about Chief Architect Software and download a free trial version today at ChiefArchitect.com.
We hope you will take advantage of a great offer for our podcast listeners: A special 20% off discounted rate to subscribe to the Fine Homebuilding print magazine. That link goes to finehomebuilding.com/podoffer.
The show is driven by our listeners, so please subscribe and rate us on iTunes or Google Play, and if you have any questions you would like us to dig into for a future show, shoot an email our way: [email protected]. Also, be sure to follow Justin Fink, Rob Yagid, and Fine Homebuilding on Instagram — and "like" the magazine on Facebook. Note that you can watch the show above, or on YouTube at the Fine Homebuilding YouTube Channel.
The Fine Homebuilding Podcast embodies Fine Homebuilding magazine's commitment to the preservation of craftsmanship and the advancement of home performance in residential construction. The show is an informal but vigorous conversation about the techniques and principles that allow listeners to master their design and building challenges.
Links related to this episode: