Podcast Episode 115 — Martin Holladay Redux!
Rebroadcast of an interview with our green building expert.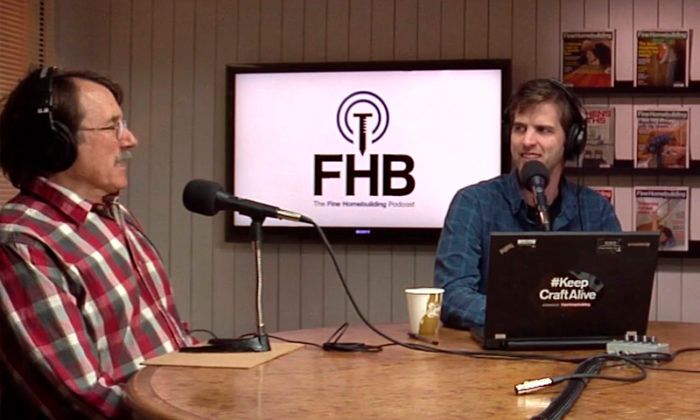 The guys have the week off for this episode, so we're taking a second listen to Podcast Episode #37, an interview with Green Building Advisor editor Martin Holladay. We were not shooting video back then, so this is an audio-only podcast.
Martin built his first passive-solar house in northern Vermont in 1974, and he has lived off the grid since 1975. But he does not necessarily recommend off-grid housing in general, partly because of the environmental advantages of a connection to the grid and because of the cheap energy future that he sees coming, with a couple caveats. "It's somewhat of a fetish for green builders and energy-efficiency nerds to say, 'You can't have too much insulation.' Well, frankly, you can. Energy won't be expensive forever, and energy won't be dirty forever." The guys have a lively discussion on the ways that the building trades can — and can't — contribute to the fight against global warming.
Martin has worked as a Fine Homebuilding editor since 1999 and is now senior editor at both Fine Homebuilding and GreenBuildingAdvisor.com. His weekly blog at GBA, "Musings of an Energy Nerd," focuses on energy-efficient residential construction.
Can't get enough Martin? We've had him on the show three times in all. Here are the other two episodes:
---
This episode of the podcast is brought to you by our sponsors, FibaFuse and Danner.
Born from logging and exploration, Danner is a Pacific Northwest original. Every boot is hand made to hold up in unforgiving conditions and live up to their unyielding standards. Stronghold work boot is what happens when more than 85 years of legendary quality, durability, and heritage runs into modern construction, technology, and materials. You get tomorrow's classic today. The Stronghold work boot. Visit Danner.com for more.
FibaFuse Paperless Drywall Tape applies just like paper tape but is stronger, thinner, lighter, and easier to apply. It's natural mold and mildew resistance properties makes it ideal for use on all types of gypsum board. The porous design allows compound to flow through the tape, making every finishing job easy and efficient. FibaFuse eliminates bubbles and blisters commonly found with paper tape for a smooth professional finish. FibaFuse can also be used for patch and repair. FibaFuse is the contractor's choice for superior performance. Visit FibaFuse.com for more information and to request a sample.
And as Justin mentioned, you can enter the Festool prize give-away sweepstakes at FineHomebuilding.com/Festool.
We hope you will take advantage of a great offer for our podcast listeners: A special 20% off discounted rate to subscribe to the Fine Homebuilding print magazine. That link goes to finehomebuilding.com/podoffer.
The show is driven by our listeners, so please subscribe and rate us on iTunes or Google Play, and if you have any questions you would like us to dig into for a future show, shoot an email our way: [email protected]. Also, be sure to follow Justin Fink, Rob Yagid, and Fine Homebuilding on Instagram — and "like" the magazine on Facebook. Note that you can watch the show above, or on YouTube at the Fine Homebuilding YouTube Channel.
The Fine Homebuilding Podcast embodies Fine Homebuilding magazine's commitment to the preservation of craftsmanship and the advancement of home performance in residential construction. The show is an informal but vigorous conversation about the techniques and principles that allow listeners to master their design and building challenges.
Links related to this episode: