How-To
Thin-Brick Chımney Chase
Give a metal chimney a historic look with brick veneer.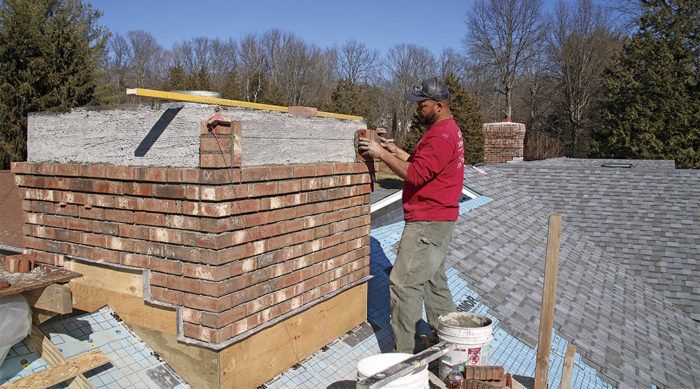 Synopsis: Metal flue pipes can be an eyesore coming out of a roof, even when hidden in a wooden chase. This article describes the process of covering a wooden chase with thin-brick veneer, which weighs and costs less than traditional brickwork without sacrificing the look. The installation of the brick is shown in a series of photographs, from covering the sheathed chase with felt paper, to sticking the brick to the mortar, to creating a corbelled effect near the top of the chimney with courses of real brick, to stacking the L-shaped corner pieces, grouting the joints, and capping and flashing the chimney.
Manufactured metal fireplaces and their matching metal flue pipes are a popular option for homeowners and builders because they cost less and have greater installation flexibility than a similar-size masonry fireplace and chimney. But these manufactured fireplaces have a significant downside: You either have to live with the shiny stainless-­steel flue pipes coming through the roof, or you have to hide the pipes in a wooden chase. Unfortunately, a large wood box sticking out from the roof is an eyesore on an older home, especially one with existing masonry chimneys, which is exactly what we were dealing with on the project shown here.
The solution that we came up with is a wooden chase covered with lightweight thin-brick veneer. Because thin brick is real brick, the veneered chimney looks like traditional brickwork, but it weighs and costs less. To add some visual interest and to better match the existing chimneys, we corbelled the top with increasingly thicker layers of brick veneer that we cut from full bricks on a wet saw. The finished result is a real brick chimney, a lower price, and a happy homeowner.
To see the steps in this process, with photos, please click the View PDF button below.
View PDF