Makeup Air for Tight Houses
As houses get tighter in order to save energy, makeup air for range hoods and woodstoves becomes a more pressing issue.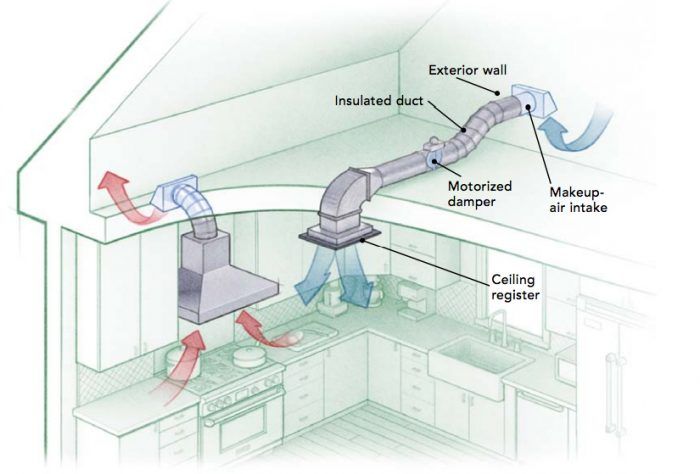 Houses with very low air-leakage rates are a boon for energy efficiency and indoor comfort. But maintaining healthy indoor-air quality in a tight house can pose challenges, particularly if you're thinking about a big range hood in the kitchen.
Here's the problem: When a range hood sucks a large volume of air out of the kitchen, replacement air will be drawn in from somewhere else to replace it. When that source of air is a chimney where a gas-burning furnace or water heater is vented, carbon monoxide can come with it. That's called backdrafting, and it's dangerous. Replacement air also might come from a damp and moldy crawlspace, or a dusty attic.
Range hoods can be very powerful — jettisoning as much as 1500 cubic feet of indoor air per minute. The International Residential Code doesn't require makeup air for a range hood rated at less than 400 cfm. But above that threshold it's a problem that should be addressed.
Although not as powerful, a variety of other households appliances also contribute to pulling air out of the house — bathroom fans, clothes dryers, fireplaces, woodstoves, and central vacuums. Should they, too, get makeup air? Maybe.
Here's how to tackle the problem
Tight houses often have a heat-recovery or energy-recovery ventilator, but this equipment is not capable or providing enough makeup air for a large-capacity range hood.
There are several possible solutions. One is to install an outside air duct connected to a grille in the ceiling or wall. Rhode Island builder and FHB editorial adviser Mike Guertin has used a variation on this approach by drawing in makeup air from the outside and routing it under a kitchen cabinet. An automatic mechanical damper on the intake duct opens when a venturi switch on the exhaust duct senses air flow.
In a paper for Building Science Corp., Joseph Lstiburek recommends a two-tiered approach for range hoods that draw more than 400 cfm. Some makeup air is provided by what he calls a modified backwall approach in which unconditioned air is introduced at floor level. This volume of air should not exceed 60% to 70% of the hood exhaust. A second system provides the rest of the makeup air, plus a little extra, at ceiling level at the perimeter of the kitchen. In Lstiburek's approach, these interlocked systems separate the kitchen from the rest of the HVAC system in the house. The kitchen is "uncoupled."
There are a few other ways of providing makeup air or otherwise addressing the problem:
Connect an outside air duct to the plenum on the furnace (if the house has a forced-air heating and cooling system).
Install a makeup air kit from Fantech or Electro Industries. These are through-the-wall systems that balance the amount of outgoing air with an equal amount of incoming air. Incoming air can be heated with electric resistance strips.
Skip the range hood altogether and install a recirculating hood with a replaceable charcoal filter. That's a tactic that Passive House builders may use, although it won't satisfy cooks who are fond of blackened redfish and other smoky recipes that produce a lot of vaporized grease.
Woodstoves are another issue
Lstiburek would provide makeup air for clothes dryers, fireplaces and kitchen range hoods drawing less than 200 cfm by installing a duct for makeup air in another part of the house. This tempers the incoming air.
What about woodstoves? In a very tight house, a woodstove may not draw well if it doesn't have a source of outside combustion air. Air can be ducted to an area near the stove — which is called "proximity air" — or it can be routed directly into the stove.
A direct connection to the stove (if the stove is manufactured with this option in mind) means the stove is getting only the air it needs. Plus, should the stove burn out overnight, a direct connection is not introducing a lot of cold air into the house as a proximity air duct would.
A disadvantage of a direct connection is the risk of fire. If the duct is plastic and the stove backdrafts for any reason, a hot ember could find its way into the duct and start a fire.
Some experts don't see any need to provide makeup air for a woodstove. But Peter Yost, the technical director at Green Building Advisor, thinks a dedicated combustion air duct is a good idea. A metal duct can be fitted with a back-pressure damper to eliminate the chance of embers entering while it gives the stove a chance to draw properly.
Get the details to effectively provide makeup air for your home
Don't rely on this overview of where you need makeup air and how to provide it; for a detailed account of reliable solutions for nearly any home read How to Provide Makeup Air for Range Hoods.
More about tight houses: