Podcast Episode 162: Live from the Builders' Show: Windows, Roofing, and Building Your Business Culture
The Fine Homebuilding editors sit down with Caleb Klein of Pella Windows and Doors and Janice and Kelly Stitzer of CIG Construction in Colorado about new windows and window trends, and building a business and business culture in a time when fewer people are interested in joining the building trades.
Sponsored by Pella Window and Doors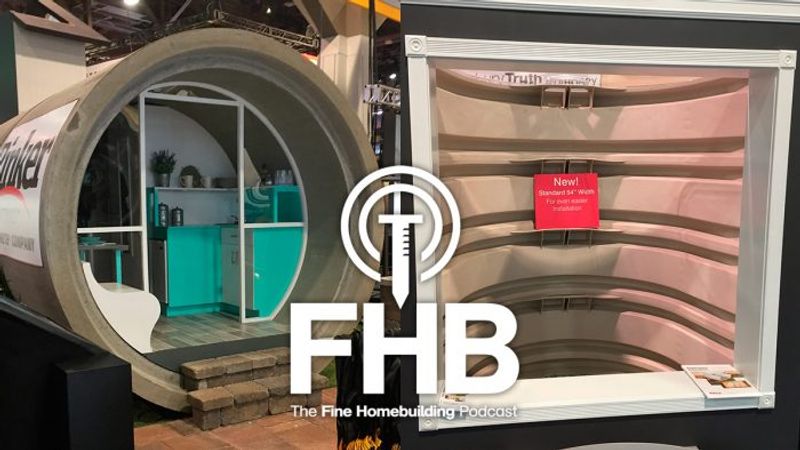 Follow the Fine Homebuilding Podcast on your favorite app. Subscribe now and don't miss an episode:
This week's podcasts are from the 2019 International Builders' Show in Las Vegas, Nevada.
Patrick and Matt talk with a window and door manufacturer about window trends and a push toward putting higher-end features on mid-line windows, and chat with the owners of a Colorado roofing company about the dangers of being the lowest bidder, keeping good employees, and building a business culture that attracts and retains top talent.
This episode of the podcast is brought to you by Pella. Visit Pella Window and Doors.
---
Fine Homebuilding at the 2019 International Builders' Show

If you can make it to IBS (Feb. 19th – 21st) in Las Vegas this year, you can get FREE tickets to the floor show courtesy of Fine Homebuilding.
Also, if you definitely plan to be at the show, email us at [email protected] if you would like a chance to join us for the taping of one our 6 episodes at the Fine Homebuilding booth (at 10am and 3pm each day of the show).
Buy a #KeepCraftAlive hat or t-shirt.
---
We hope you will take advantage of a great offer for our podcast listeners: A special 20% off the discounted rate to subscribe to the Fine Homebuilding print magazine. That link goes to finehomebuilding.com/podoffer.
The show is driven by our listeners, so please subscribe and rate us on iTunes or Google Play, and if you have any questions you would like us to dig into for a future show, shoot an email our way: [email protected]. Also, be sure to follow Justin Fink and Fine Homebuilding on Instagram, and "like" the magazine on Facebook. Note that you can watch the show above, or on YouTube at the Fine Homebuilding YouTube Channel.
The Fine Homebuilding Podcast embodies Fine Homebuilding magazine's commitment to the preservation of craftsmanship and the advancement of home performance in residential construction. The show is an informal but vigorous conversation about the techniques and principles that allow listeners to master their design and building challenges.
Other related links