Design
Patio vs. Deck Throwdown
Two Fine Homebuilding editors face off on the pros and cons of these popular exterior spaces.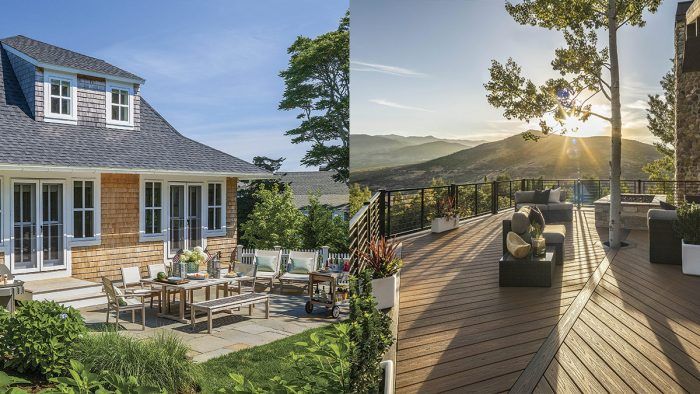 Synopsis: Two FHB editors face off on which is better: a patio or a deck? Citing the need for continual upkeep and the possibility of human-caused disasters, Matthew Millham argues that patios are a safer bet. Kiley Jacques counters that decks have a much higher return on investment, and can have lower maintenance costs.
---
Matt Millham: Decks are dangerous; plan for a patio
Both patios and decks serve the same general purpose: providing a surface on which to comfortably enjoy an outdoor space adjacent to a home. Both can be great places to hang out and grill. Both essentially extend the living space when the weather's right. Both require maintenance (sort of). Both can add value to a house.
But when you consider all the things we use these spaces for and the life of a home, one is inherently safer than the other (not just for people, but for the structure it sits next to): patios.
Most decks last 20 years on average, according to the National Association of Home Builders (other estimates are even lower). They're typically attached to the house and can do major damage when they fail. The average patio, meanwhile, lasts the lifetime of the home, according to NAHB. Built to code, a patio should never hurt a house.
This is not to say that I'm anti-deck; there's one on my house, and I use it plenty. A well-built deck can be a beautiful, useful thing. What I don't like is avoidable risk, and to me that's more or less the definition of a deck.
The fact that prescriptive building codes gave exterior decks their own section starting in 2015 seems a tacit acknowledgment of this risk. Why it took so long for decks to get more attention is anybody's guess, but I suspect the code council didn't want to highlight the myriad ways decks are known to fail and hurt people and buildings. Incidentally, that's exactly what recent code updates have done. Fire, frost heave, termites, rot, detachment, overturning, and water infiltration are just some of the things the code addresses…
To read the entire article, please click the View PDF button below
---
Kiley Jacques: Patios are persnickety; your best bet is a deck
I have a deck. And I have a patio. Both are modest affairs. The former requires a coat of weatherproofing stain in the spring and another in the fall—a total of maybe five hours. Easy peasy. The latter demands regular edging, weeding, and re-leveling. On my deck, I lie on a comfortably even, sand- and insect-free surface. On my patio, I watch ants work while the blood rushes to my head.
A few years ago, we published a story titled "Why Decks Fall Down." The author, David Grandpré, notes that prescriptive codes don't typically cover decks with hot tubs, large grills, multiple levels, and lots of curves. Instead, they provide guidelines for building decks that are basically rectangular in shape and that meet certain size requirements. He lists six common reasons decks collapse, noting that most failures occur when more than one problem exists. The average healthy lifespan of a deck is estimated to be between 10 and 15 years, though advances in hardware and engineering know-how continue to increase their longevity. A no-frills, code-compliant deck within the range of its predicted lifespan is unlikely to collapse. For proactive deck lovers like me, the North American Deck and Railing Association has a handy checklist of things to watch for and measures to take to head off the disasters Matt forecasts.
Wood decks are consistently rated as one of the top home updates that will pay off. According to a 2018 Cost vs. Value Report, a midrange deck costing $10,950 has a resale value of $9,065—that's an 82.8% return on investment. And a meaty selection of building materials allows for good control over the budget. Pressure-treated lumber is laudable for its affordability, availability, and the fact that it's easy to work with. Red cedar offers a natural, chemical-free alternative. And then there's the world of composites and recycled plastics, which are extremely weather- and stain-resistant; plus they don't splinter, warp, rot, or split. That is to say, decks are a flexible investment…
From Fine Homebuilding #282
To read the entire article, please click the View PDF button below.
View PDF