High-Performance HVAC
Ductless minisplit heat pumps are becoming the go-to choice for heating and cooling in well-insulated, tight houses.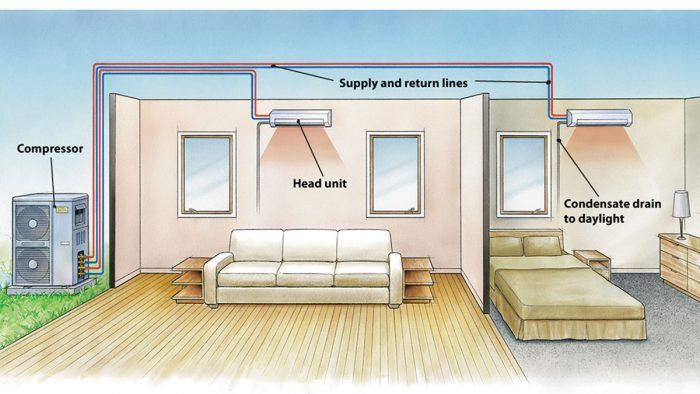 Few pieces of heating and cooling equipment have won as much attention in the last few years as the ductless minisplit, a variety of air-source heat pump that's often the first choice of builders who specialize in all-electric, high-performance houses.
Air-source heat pumps have long been an HVAC staple in the Southeast, where winters are relatively mild and the need for air conditioning is high. But new-generation heat pumps, pioneered by such companies as Mitsubishi, Daikin, and Fujitsu, are capable of operating efficiently in much lower temperatures than those old standbys. Many of them can produce heat when outdoor temperatures are 10° or more below zero.
Unlike conventional heat pumps, these newer versions have inverter-driven, direct-current compressors that can operate at different speeds—not just "on" or "off"—so output better matches demand. Tests by the National Renewable Energy Laboratory found that the coefficient of performance (COP) ranges from 2 to 7 depending on the outdoor temperature, meaning the heat pumps were from two to seven times as efficient as electric-resistance heat.
Minisplits come in two versions—ductless and ducted. Both can heat and cool. A ductless minisplit consists of an outdoor compressor and an indoor head (a fan-coil unit) that's mounted on the wall or the floor. Ceiling-mounted cassettes are another option. There are no supply and return ducts that you'd find on a conventional forced-air system. One or two heads might be enough to heat and cool entire house, provided the house is very well insulated and has very low air-leakage rates. A single outdoor compressor can supply a number of indoor units.
A Massachusetts builder named Carter Scott did much to popularize ductless minisplits by building a high-performance house and heating and cooling it with just two minisplit heads. These units he used were rated at just 12,000 Btu/hour, compared with a furnace or boiler that might be rated at 80,000 Btu/hour in a conventionally built home. At the time, it seemed a stretch of the imagination that two minisplits would be able to keep the house warm on a frigid winter night, but many builders since have used Scott's strategies to accomplish the same kind of performance. When paired with rooftop photovoltaics, the $5250 heating and cooling system eliminates utility bills.
Ducted minisplits are another, although less common, option. They are sort of a middle ground between a fully ducted furnace and a ductless minisplit. Their blowers are limited in power, so they are able to heat and cool a fairly limited zone with a single fan-coil unit and short runs of duct.
Ductless minisplits are good candidates for energy-system upgrades or adding whole-house air conditioning in houses that are heated with a hot water system. It's easy to spot houses that have undergone this conversion: You'll see a bulky white pipe traveling from the outdoor compressor up the side of the house. Inside, someone is happy to be burning less oil or natural gas and seeing lower energy bills.
---
More on HVAC systems: