Podcast Episode 170: Is There Really a Skilled-Trade Gap?
One listener wonders why he's not seeing much demand for experienced carpenters in his part of the country.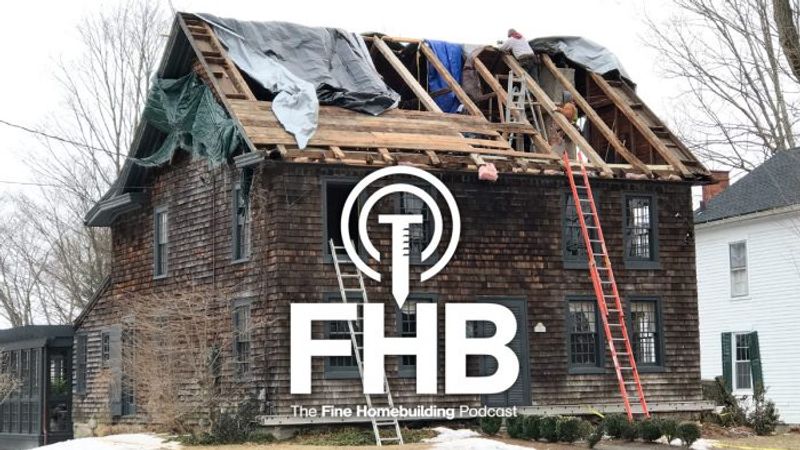 Follow the Fine Homebuilding Podcast on your favorite app. Subscribe now and don't miss an episode:
Inspired by details unearthed during the renovation of a local 19th-century home, Patrick, Justin, and Rob dig into the history of high-quality house design and discuss Jonathan Hale's book, The Old Way of Seeing. Then it's on to listener emails, starting with feedback about the trade gap, where one builder asks why the work everyone is talking about is not materializing where he lives. Another listener tells the story of his company's experience losing money by overdoing a big job estimate, and he suggests devising a clear job-estimating plan that strikes a balance between efficiency and due diligence. Of course there are also listener questions to answer, including how to tell stucco lathe from skip sheathing, whether or not to make an addition more airtight and watertight than the original house, and how to safely detail an at-grade entryway.
---
Editor Projects
Rob: The Old Way of Seeing, and appreciating the construction details of old homes.
Patrick: Costly cabinets: why are simple boxes so expensive?
---
Listener Feedback
Where is this trade gap that everyone is talking about?
Paul writes: I appreciate your efforts to reinvigorate interest in the trades. I think you've convinced me, but I'm having trouble actually finding the jobs I keep hearing so much about. Let's say I'm a good trim carpenter with his own tools, looking to return to the trade after a long absence. I don't have a network of contacts, but am good enough that I'll rebuild it quickly. How do I find the work? I've watched the job boards, Craigslist, talked to contractors, called remodelers and no one seems to be in as much need of good help as the people on your podcasts. It's not that I'm not finding good work. I'm not finding ANY work, aside from "general labor." So what gives?
We got several responses from our discussion in podcast 167 about how detailed a remodeling estimate should be. Here are two:
Keith writes, Regarding the level of detail in contractor estimates, one best practice is to provide a very detailed scope of work so that the customer understands what's involved, and then provide pricing related to each payment or draw.  The scope of work informs the customer and holds the contractor accountable.  It also gives you an opportunity to highlight the coordination items you discussed like disposal and surface protection.  The quote, broken out for payments like demolition, framing, rough-in, and finishes gives the customer some detail while withholding specific trade quotes.
Ian writes: I enjoyed the recent FHB podcast discussion on estimating.
Since early February I've been working on an estimate for an engineering heavy job. The company spent about 400 hours estimating and researching this job. Upon finishing the estimating and realizing that the "cost" was 30% higher than the clients budget, we decided to present the cost totals for individual chunks of the job: site work, framing, interior finishes, exterior finishes and mechanicals along with multiple schemes for covering our profit and markup. Cost plus, fixed cost etc… In the end the clients have decided to put the job on hold while they assess their needs and budget options.
I'm now working on systems to make sure we never need to dump that many hours into an estimate again. David Gerstel's book Nail Your Numbers has been a big help as well as delving back into the training I received from the Associated General Contractor's Supervisor Training Program.
It has been a Sisyphean feeling task but we started to see the benefits of it this past week as we knocked out several estimates for hammer ready jobs for past clients.
Related Links:
---
Question 1: Should I renovate exterior walls to match my old house or upgrade with ZIP system?
Bradley, from Ferndale, MI writes: Gentleman, I wanted to pick your brain regarding the installation of the ZIP System in a partial remodel.
We are getting ready to begin a renovation to a 1951 bungalow. The scope is generally interior, but we will be removing the back-half of the roof to create a full-width dormer on the second floor to add a bathroom.
The obvious choice is to clad the new dormer wall and roof in ZIP System and then install shingles and siding. However, I have some concerns that there would be negative ramifications to having only a portion of the structure so well sealed and much better insulated.
I have not done more exploratory demo, but I'm guessing the exterior walls are all 2×4 construction, with little to no insulation. They likely have slat sheathing, maybe a conventional house wrap, and vinyl siding. The interior walls are plaster on lath. The roof is constructed of asphalt shingles on OSB (over slats), again, minimal insulation.
Would you take a more conventional approach to match or proceed with the ZIP System. No plans to swap the existing vinyl and upgrade insulation / sheathing exist.
Would love to hear your thoughts.  Climate Zone 5 BTW.
And thanks for the always great content!  ​​​
Related links:
---
Question 2: Is it a good idea to add foam insulation under a floor above a crawl space?
Tom of Carbondale, CO writes: Hi Fine Insulation and Air Sealing Podcasters, I have a home built in the 80's that has a (poorly) vented crawl space with no insulation on the underside of the floor that covers the crawl space. There is 2″ of rigid blue foam on the knee wall in the crawl space. The house has hydronic baseboard heat with the pipes for the ground floor heat, along with the plumbing supply and waste lines, and electrical running through the crawl space. Also, there is no vapor barrier in the crawl space. Since I insulated the hot water pipes in the crawl space, the ersatz wood floor (plastic laminate of some cheap ilk) is always cold. I want to add insulation underneath the floor and a vapor barrier on the dirt floor of the crawl space to improve the comfort factor on the ground floor (and reduce my heating bill a bit). I was planning to put fiberglass bats in the joist cavities until you commented in a recent podcast that it will turn into a mouse tenement. What are my alternatives? Spray foam does not appeal to me since there is so much infrastructure running through the joist cavities. Thanks for your thoughts, and keep up the great work. I love the podcast.​
Related links:
---
Question 3: How should we detail new siding on walls once covered with stucco?
Stephani, Louisville, KY writes: Hey guys! My husband and I bought our first house, a 1914 side gable with large front/rear shed dormers, making it look almost like a Four Square. It wasn't kept in great shape but was recently flipped, looking nice from a distance, but poor (sometimes horrifying) quality if you look closely. There's new vinyl siding with a grand total of 1/4" of Foamular (R-value of 1!) Under that, there are 1-1/2″ horizontal wood strips with small gaps, almost like an exterior lathe. The siding had been stucco, but we think it's been completely removed. If you open up one of the lathe & plaster walls, you can see the pink Foamular through those exterior horizontal strips (see photo). There is no house wrap or wall insulation.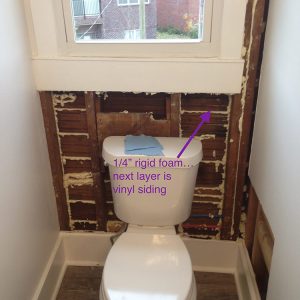 #1 – Are those horizontal strips considered sheathing? I'm not sure what their original purpose was and haven't been able to find other houses with a similar layer. We're planning on re-siding, starting with 2 layers of 2" XPS rigid foam, house wrap, furring strips, and topping it off with 6" horizontal shiplap-style aluminum from Bridger Steel. Would you start off with a layer of plywood for proper sheathing on top of those horizontal strips? Zone 4 calls for R5 continuous R13 cavity or R20
#2 – We'll have to build out the windows for trim (I want to replace them at the same time, but we lack funding to replace 33 windows). I have Marianne Cusato's book and have learned to despise picture-frame exterior trim seen on updated old homes. The interior trim has a Craftsman feel, which is what the house used to have exteriorly as well (looking at old photos on Google Maps). My question is, how is the best way to replicate that style on top of aluminum siding? What material is best, regarding durability and aesthetics? Aluminum? PVC? Wood? The only contractor we've spoken with so far looked at me like I was insane for trying to keep the trim in keeping with the home's original style. (He has also never heard of using so much rigid foam on the exterior or the existence of 7" screws, so we're still looking for a more knowledgeable contractor, hopefully one who is aware of Fine Homebuilding and the tenets of building science).
Thank you for any advice! I love the podcast, keep 'em coming!
Related links:
---
JLC-LIVE and #KeepCraftAlive

Join us at JLC-LIVE in Providence, RI and don't forget to support the trades! Buy a #KeepCraftAlive hat or t-shirt.
---
This episode of the podcast is brought to you by MiTek, ZipSystems, and Danner boots
This episode of the Fine Homebuilding Podcast is brought to you by MiTek for Breakthroughs in Building. MiTek offers integrated Solutions… for more affordable, sustainable, safe, healthy, efficient and resilient homes. As a diversified, global supplier of software, engineered structural connections, engineering services and automated manufacturing equipment, MiTek provides a technologically advanced, high-quality, and reliable approach to building better homes with better technology.  Work with the industry leader to solve the labor shortage, reduce cycle times and eliminate waste. 
Also brought to you by ZIP System building enclosures. With thirteen flashing tapes, stretch tapes, and liquid flashings that can be applied between zero and one hundred- and twenty-degrees Fahrenheit, ZIP System products offer a seam sealing solution for every twist and turn. Easily flash corners and curves, including door and window frames, pipe penetrations, and panel seams, using an enhanced acrylic formula. Find your flashing fit at your local lumberyard or Amazon.com. ZIP System building enclosures – the fastest way to a tight, dry house.
Also brought to you by Danner boots. We're not fortune tellers, but when you lace up our new Stronghold work boots, it's easy to see that the future looks strong. We're Danner, and after 85 years of making boots for the unforgiving Pacific Northwest… well, that means our boots come with deep roots. And the new Stronghold work boot is no exception. This is what happens when iconic quality runs into modern technology. You get tomorrow's classic today. Get into the Stronghold for strength that starts right from where you stand. Find your local store at Danner.com.
We hope you will take advantage of a great offer for our podcast listeners: A special 20% off the discounted rate to subscribe to the Fine Homebuilding print magazine. That link goes to finehomebuilding.com/podoffer.
The show is driven by our listeners, so please subscribe and rate us on iTunes or Google Play, and if you have any questions you would like us to dig into for a future show, shoot an email our way: [email protected]. Also, be sure to follow Justin Fink and Fine Homebuilding on Instagram, and "like" the magazine on Facebook. Note that you can watch the show above, or on YouTube at the Fine Homebuilding YouTube Channel.
The Fine Homebuilding Podcast embodies Fine Homebuilding magazine's commitment to the preservation of craftsmanship and the advancement of home performance in residential construction. The show is an informal but vigorous conversation about the techniques and principles that allow listeners to master their design and building challenges.
Other related links