How to Frame an Arched Doorway
Plywood and ripped-down studs provide solid backing to create drywall arches.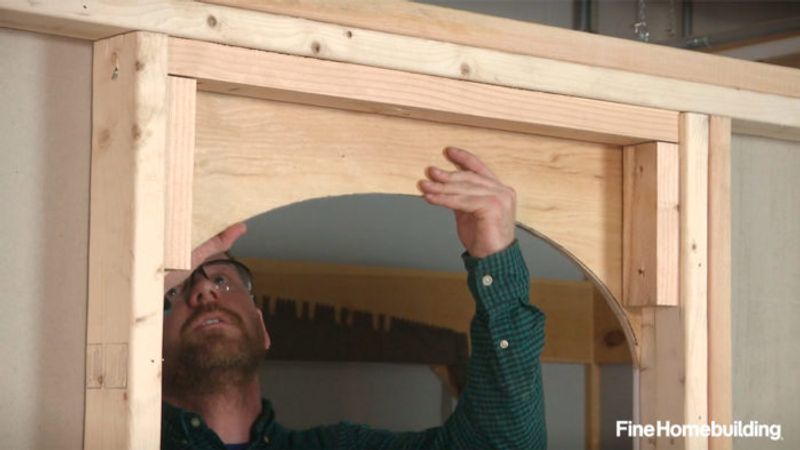 Adding an arch to a doorway is a great way to bring architectural interest to a room. Here's how to frame it.
1. With two studs framing the door opening, mark both sides of the opening 80 in. up from the floor—the common height for interior doors. This will be the bottom plane of the arch. You can adjust this height up or down as desired if allowed by local code.
2. Measure the width and the height of the space above the 80-in. mark, and cut two identical pieces of 1/2-in. plywood to fill the space. Test their fit.
3. Draw the desired arch on one piece of plywood. (We used the pin-and-string method to draw ours.)
4. Get ready to cut the arch by ganging the pieces of plywood together and clamping the stack to a table.
5. Grab a jigsaw with a wood-cutting blade and cut along the line, keeping the shoe firmly seated against the plywood. Don't force the cut; let the blade do the work.
6. For blocking, rip 1 in. from stud material to compensate for the two 1/2-in. pieces of plywood.
7. The first piece of blocking is cut to span the width of the door at the top of the opening. Cut two more pieces to span the distance between the top piece of blocking and the edge of the arch.
8. Then, cut shorter pieces and use them to fill in the curve of arch.
9. Center the top piece of blocking at the top of the opening and fasten it in place with nails or screws; you can use a scrap of plywood as a guide to hold it back from the edges of the studs to allow room for the arched pieces of plywood. Attach the sides in similar fashion.
10. Install the plywood, and fasten it into the blocking along the top and sides. (We used drywall screws to fasten it.) Then fill in the curve with the shorter blocks, fastening them as you go.
The framing is now complete and ready for drywall.
More framing video tips on Finehomebuilding.com: