An Inside Look at Work Boots
See what construction details and materials make boots safer, more durable, and more comfortable.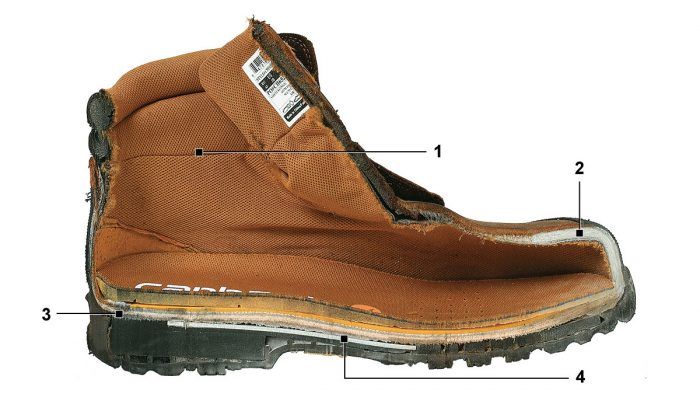 When your feet feel good, your whole body feels good, and knowing what goes into a boot makes it easier to find the right one for the way you work. For pros, the most critical decisions are related to a work boot's insulation, safety toe cap, shank, and sole construction. Shown here is a cross section of Carhartt's CMF6380 6-in. work boot (about $145).
1. Insulation
Most boots are insulated—insulation equals comfort. But insulation levels vary widely. For those working in mixed climates, the best advice is to have different pairs of boots for the summer and the winter, with insulation and breathability chosen to match the conditions. For winter work, consider sizing the boot up to leave room for additional layers of socks.
2. Toe cap
Toe caps prevent crushing injuries, and are often required by employers. Steel is the traditional choice for toe caps, and still favored by many for its thinness and light weight. The one major knock against steel is its tendency to make toes cold in the winter. Toe caps made from aluminum or a composite—plastic, kevlar, or carbon fiber—solve the cold-toes problem, but typically must be thicker than steel to reach the same level of protection. The plus here is that even when thicker than steel, they are still lighter.
3. Construction
Soles typically are joined to the upper part of the boot in one of two ways. The first option is cement, which is often higher in comfort but lower in durability, and is not able to be re-soled when worn out. The more traditional and durable option is a Goodyear welt, in which a tough strip of leather, rubber, or plastic is stitched to the upper piece and the sole, locking the boot together. This type of construction is built for the long haul, and designed to be re-soled.
4. Shank
The shank of a boot is what provides support and structure for the foot. Like toe caps, steel is the most traditional choice here, providing excellent protection against punctures and offering a lot of support for those working on ladders or uneven terrain. Composite shanks are lighter and more flexible, providing a bit of natural give under each footstep, but are more expensive and often aren't as puncture-resistant as steel.