Wall Framing and Sheathing
Insulated sheathing and 2x4 framing offer an economical alternative to 2x6s with no exterior foam insulation.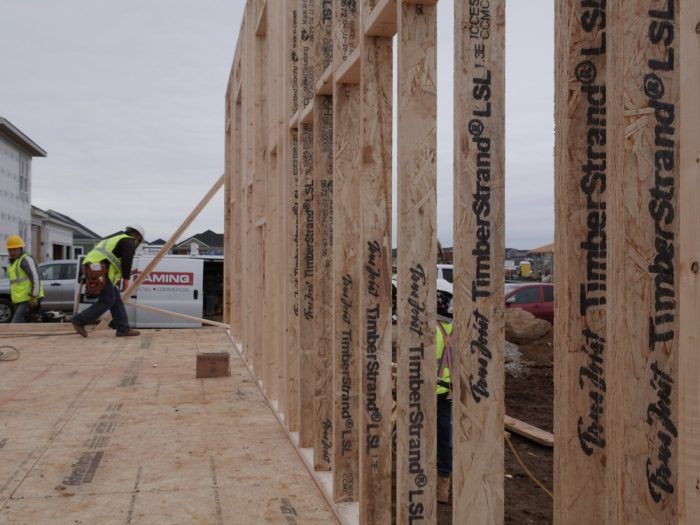 Building a spec house is always a matter of finding the right balance between cost, building performance, and level of finishes. One place where these all come into play is the materials we chose for the framing.
After the floor is sheathed, the framing guys snap wall layout lines on the floor deck and begin scattering lumber. We use a mix of 2×4 studs in the walls: Much of the walls are framed with standard 2x4s, but in the kitchen we use Timberstrand LSLs. They're more expensive than dimensional lumber but they are dead straight; no twist, bow, or wane. With cabinets, countertops, and backsplash on these walls a plumb, straight wall makes for a better-looking kitchen and a more efficient installation.  The benefits of engineered studs over Douglas fir studs on these kitchen walls is magnified by the fact that we are required by the town plan to have 10-ft. tall first-story walls.
Why 2×4 walls, you might ask? They are code compliant in our area and it came down to the cost and performance tradeoffs with our sheathing. We've used Zip System for a number of years for its integrated WRB (water-resistive barrier) and its air-sealing ability. The R-Sheathing version is newly available in our area and we're using it for the first time on the FHB House. The R-Sheathing has a layer of polyiso rigid foam bonded to the back side. (We're using the 1 in. R-Sheathing version that has 7/16 in. panel with ½ in. of foam for a combined R 3.6.) We wanted to use the R-Sheathing because it provides a continuous layer of insulation that will reduce thermal bridging. The sheathing offers some additional R value and it's a continuous insulation layer outside of the framing. From a comfort standpoint here in climate zone 4, we think this will be a good tradeoff to using 2×6 walls that have a moderately higher R value but a bit more thermal bridging.