Tools & Materials
How Water Affects Buildings
In his book Water in Buildings: An Architect's Guide to Moisture and Mold, research architect William B. Rose makes building science both understandable and interesting.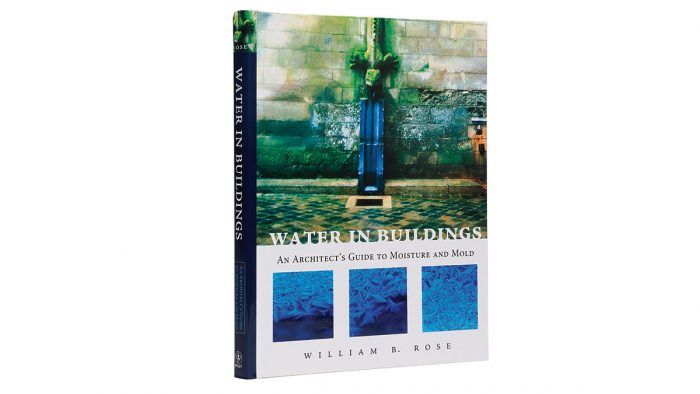 Shortly after beginning as an editor at Fine Homebuilding, I worked with Bill Rose, a research architect at the University of Illinois at Urbana-Champlain ("Details for a Dry Foundation," FHB #111). Bill struck me as an architectural iconoclast, arguing against such standard practices as crawlspace and roof venting. I'd only recently left my job as a carpenter, so I was initially aghast at these blasphemies. But the longer I worked with Bill, the more my own views changed.
Very few people I've known can make science understandable and relevant the way he can. In fact, he's such a good writer that I dropped $100 to buy his book, Water in Buildings: An Architect's  Guide to Moisture and Mold.
It begins by explaining the behavior of water in basic scientific terms, teaching about the effects of surface tension, vapor pressure, and capillary action. It sounds dry, but I assure you it's not. It does take some focus to read, because the content is so richly detailed—not because it's boring.
Once you're through the initial chapters, Bill takes you into his world, which includes distillations of others' research, results of his own research, and case studies of building failures. He takes a historical approach, explaining how inconclusive research and primitive materials from the 1930s and 1940s led to the codification of crawlspace and roof venting. He then explains why neither works very well and offers alternatives.
Despite its title, Water in Buildings isn't just about water. It also explains air movement in houses and offers some good advice for making buildings last. Two of my favorite building tricks come from this book. The first concerns crickets.
Most crickets terminate at the upper corners of the chimney and drain right onto the step flashing. It's a fussy detail to get right. Bill suggests simply making the bottom of the cricket a little wider so the valleys drain a few inches away from the side of the chimney. It's easier to flash, and directs the water further away from the chimney.
The second is simply spreading a layer of gravel below a porch or deck. This keeps your feet out of the mud as you're building, and it short-circuits capillary movement of ground water, helping to keep the structure above dry. I don't have space to explain the why of that here, but it's a real effect that Water in Buildings covers in depth. Buy the book. It will make you a better builder.
Water in Buildings 
by William B. Rose
Jon Wiley & Sons, Inc.; 2005
288 pages; $100
Andy Engel, a lead carpenter for Hudson Valley Preservation in Kent, Conn.
From Fine Homebuilding #284