Podcast Episode 179: Redundant Housewrap, Hybrid Timberframes, and an End to Vented Crawlspaces
The Fine Homebuilding editors offer their opinions on adding two layers of Typar, suggest affordable alternatives to building a full timber-frame house, and wonder why anyone thinks it's OK to build house on top of a mold farm.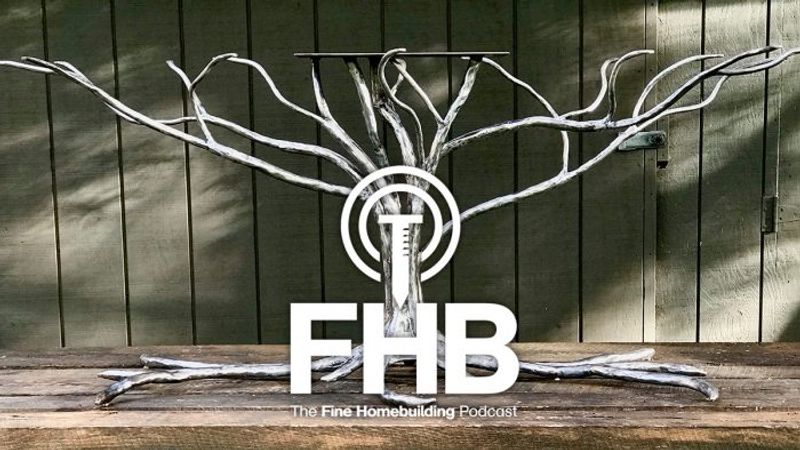 Follow the Fine Homebuilding Podcast on your favorite app. Subscribe now and don't miss an episode:
Patrick, Matt, and Rob start of the episode by digging into the details of their own projects, including a custom metal project, a modest garden shed, and cabinet choices for a closet. Then it's on to some constructive feedback about educational and business resources for tradespeople before tackling the typical assortment of construction questions.
---
Reader Feedback
Can we hear about tools more often on the podcast?
A listener writes: I am a longtime listener of the podcast and appreciate all the information you provide.  I always look forward to seeing what topics you discuss on the podcast, and always learn from the discussions.  I appreciate all your efforts in 'keeping the craft alive'!
Over the years, I do have a favorite podcast which I still listen to frequently – Episode 55.  In this podcast, each of you selected tools for a job with a $2,500 budget.  Since you publish an annual tool review issue, and each issue of Fine Homebuilding includes a column on new tools, can you incorporate a discussion on tools more often into your podcasts?  Some suggestions include doing a similar episode to #55 once a year with a smaller budget for a different project (bathroom, kitchen, basement, addition, etc) and/or for different trades (roofing, masonry, electrical, plumbing, finish carpentry, etc).  Also, maybe include a part of each podcasts a discussion on some new tools which are being released, a review on some tools, and/or a discussion of tools which assisted you in a recent project and are worth consideration.
---
First-hand account of the Canadian Red Seal program
Curtis from Canada writes: Hey guys, You had someone from Canada write in about going to school to obtain their Red Seal in a trade, or find a job and learn a trade that way.  I am a journeyman carpenter with myRed Seal certification. I worked for about 10 years prior to my 4 years of school – 2 months in class and 10 months work experience is how this is typically broken down. They require a certain number of hours of work experience per year of school, so in my case I had enough onsite hours to take my school all at once if I wanted to. The problem with the carpentry program here (Calgary, AB) is you become a generalist – we spent more than one year on concrete which I have no interest in. Also, some of the learning material is years behind industry. Europe's model of breaking the trade down and offering more specific aspects of carpentry is, in my opinion far better. You can however take specific programs for cabinet making, tile setting, masonry and of course electrical and plumbing. At the end of the day, I would recommend that if someone is looking to make a career change, they should find a job with a renovation company and see what sparks interest and dive into that through school or a patient mentor.
---
More advice for craftspeople starting their own businesses
Aaron from Pittsburg writes: Greetings Gentlemen, In Episode 174 Hunter from Southern California wrote in regarding the lack of reliable resources for Craftsmen trying to start their own business.  You gave some great feedback, but I would like to add another resource – Small Business Development Centers.
Most states, California included, have Small Business Development Centers.  These are federally funded, so there is no fee and they will help you write a business plan, learn how to incorporate, understand your taxes, think about Marketing, etc.
A wonderful, and probably under-utilized, resource: CaliforniaSBDC.org
Best Regards From the Steel City.
---
Editor Projects
Rob's forged-steel table: Rob rambles about metalworking tools and techniques he uses to forge and fabricate projects like his recent tree table base.
Matt's garden shed: He just couldn't settle for a simple shed roof.
Patrick's bedroom: Affordable box-store, oak-faced cabinets will fit the bill for Patrick's bedroom-closet remodel.
---
Question 1: Will it be a problem to add a second layer of housewrap?
Paul from Canada writes: Hi guys. Love the podcast. I'm building a new 2- story home and my framers added Typar over the OSB before tilting up the walls. Since then, we've added the windows. But the cladding has not been installed.
I'm a little concerned that my WRB has not been perfectly installed. There are slight tears around staples and a few other spots where I'll be relying heavily on the efficacy of tuck tape.
It's a hip roof so I have a nice level soffit to work against and I have a 2' overhang. But I want this house to last more than 100 years.
My question for you is: will it be a problem to add a second layer of Typar? It's a fairly low cost product and the effort seems low for when we add the cladding. But I have this feeling that "double protection" might just make my situation worse (because I'm creating a whole new problem and I don't see the negative consequence)? Any help?
Follow up question. I need to horizontally strap the exterior before adding vertical cement board cladding. My concern is water damming on the top side of the strapping and rotting the wood.
Is that a valid concern and what are my best options? Adding slope to the strapping?
Related links:
---
Question 2: What are the pros and cons of building a true timber-frame home vs. a hybrid timber frame?
Brett writes: Good 'Morrow, I am a college student who is very interested in 'building his own home' (I'm open to using contractors…. sometime in the future when I actually have money). I am rather taken with the look of timber-frame homes, but in my research it seems that many timber-frame architects like to use hybrid timber-framing.
So what are the advantages and disadvantages of a purely timber-framed home vs hybrid?
Related links:
---
Question 3: Should I air-seal or vent a crawlspace when building a new home in a warm climate?
Dustin from upstate South Carolina writes: Hey guys, new to the podcast here and already learning a lot. The reason I'm writing in is because I had a question about air sealing crawlspaces. I recently moved to climate zone 3 and a lot of people build on crawlspaces (which I'm not very familiar with) and I was doing some research where I saw someone say a vented crawlspace is a bad idea because you get hot humid air that can condense on your floor, causing mold and water problems. I am building a new home for my growing family and everyone I worked with does their crawlspaces this way and also says they all have water in the crawlspaces and it's just normal. I don't want to do spray foam because of the cost so my question is, could I insulate with fiberglass between the floor joists like normal and then seal off the crawl space with some sort of plastic and rely on ground temp to keep it at a reasonable temperature, thereby having no moist air coming in? Like I said, new the area and new to crawlspaces (where I'm from every house had a basement) just wondering if this is a reasonable idea or a terrible idea. Thanks for any info.
Related links:
---
Question 4: Should I use Henry Blueskin, ZIP System, Tyvek, or something else to create an air barrier over existing board sheathing?
Jeff from Plymouth NH writes: Dear Fine Homebuilding gentlemen, Thank you so much for all the information you have given me over the past couple years. I look forward to my drive to work on Fridays to listen to the newest episode. You addressed one of my questions way back about building a "good enough" home for under $100,000. The consensus was that it would be nearly impossible! So, I took a different tactic and bought a home for $30,000 on auction and am renovating. I have a million questions for you, but I am most interested in an effective way of creating an air barrier for the walls. I need to re-side the house and will be bringing it down to the board sheathing. This seems like a good chance to use a peel and stick house wrap, like Henry Blueskin. Putting Zip sheathing on would be nice, but seems like a lot more work because the windows would have to come out plus it would be expensive. Tyvek is way cheaper, but I'm not convinced that it could be installed uniformly enough to be effective. What would you guys recommend? The attic, eaves, and rim joists will be sprayed with closed cell foam. I live in Plymouth NH which is cold and snowy. Thank you for your advice!
Related links:
---
And finally…
​What exactly is holding up this cantilevered second-floor vestibule?
---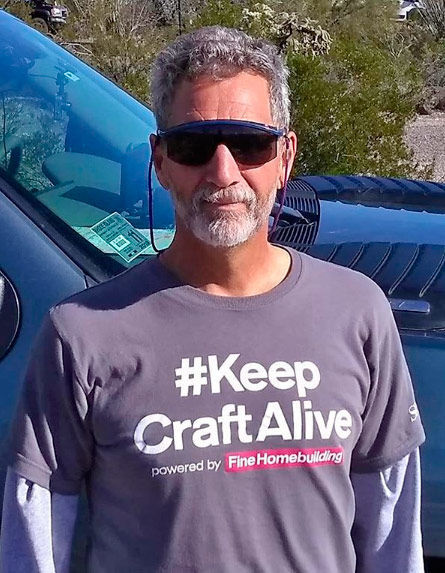 #KeepCraftAlive

Support the trades!
Buy a #KeepCraftAlive hat or t-shirt!
---
This episode of the podcast is brought to you by Windsor Windows & Doors, Protective Products, LP Outdoor Building Solutions, and Deck Wise
This episode of the Fine Homebuilding Podcast is brought to you by Windsor Windows & Doors. Put your personal touch on your next home construction or renovation project by using Windsor Windows & Doors. Offering a full line of Wood Clad, Cellular PVC and Vinyl Windows and Doors, our products come in a wide variety of colors, finishes and optional accessories that give you the perfect look to match your home's style. With our quality construction and industry leading warranty, Windsor Windows & Doors are built to last. Get started on your next project by visiting WindsorWindows.com and find an authorized Windsor distributor near you.
Also brought to you by Protective Products:
The nation's oldest, most trusted, direct-to-you supplier of Surface Protection and Dust Control.  From industry-leading Econo Runner, protection for most hard flooring, to Zipwall, the contractor's choice for building quick containment areas, Protective Products works with you to keep your jobsites protected and your customers happy.  Show that you care about preserving your quality craftsmanship with their full line of Surface Protection and Dust Control Solutions, see it all at ProtectiveProducts.com.
And LP Outdoor Building Products:
Whether you're looking to add a storage unit or an art studio to your backyard, LP offers beautiful and durable products that can help you turn your shed into a stylish extension of your home. Because at the end of the day, your shed says a lot about who you are. Why not shed it your way? For inspiration and to learn more, visit LPShed.com.
The Fine Homebuilding Podcast is also brought to you by DeckWise:
Does your hardwood deck need a makeover? Bring back the luster of the day it was first installed. Let DeckWise reverse time and erase its dullness to make the wood grains burst with natural beauty again. Start with our Wood Cleaner and Brightener and finish with our eco-friendly water-base formula, WiseCoat, or our low VOC Ipe Oil hardwood finish. Protect and preserve your deck to keep it looking brand new this summer! For more info on these products visit DeckWise.com.
We hope you will take advantage of a great offer for our podcast listeners: A special 20% off the discounted rate to subscribe to the Fine Homebuilding print magazine. That link goes to finehomebuilding.com/podoffer.
The show is driven by our listeners, so please subscribe and rate us on iTunes or Google Play, and if you have any questions you would like us to dig into for a future show, shoot an email our way: [email protected]. Also, be sure to follow Justin Fink and Fine Homebuilding on Instagram, and "like" the magazine on Facebook. Note that you can watch the show above, or on YouTube at the Fine Homebuilding YouTube Channel.
The Fine Homebuilding Podcast embodies Fine Homebuilding magazine's commitment to the preservation of craftsmanship and the advancement of home performance in residential construction. The show is an informal but vigorous conversation about the techniques and principles that allow listeners to master their design and building challenges.
Other related links