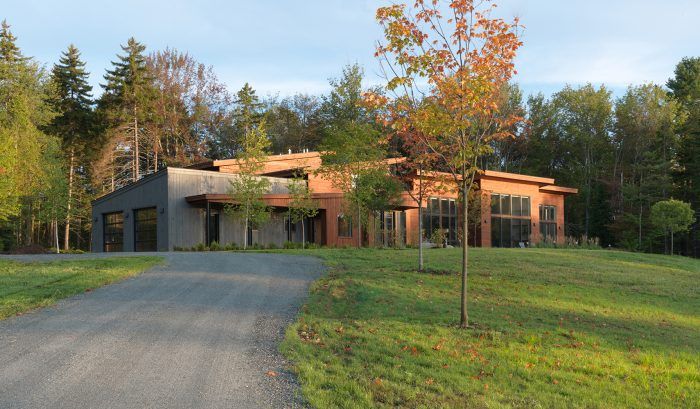 Placed on the edge of a forest overlooking a descending lawn and distant mountains to the east, this new home connects to the outdoors on all four sides. With a family of five, everyone can have privacy, but also gather in the main living space consisting of an open kitchen, a fireplace in the main room, and an intimate dining area.
In this first floor space, there are (2) twenty feet wide / eight feet tall sliding glass doors on both sides facing east and west. During the summer, all of the doors can be opened, allowing a gentle breeze to blow through the house. Just outside the sliding doors are two stone patios.
The back of house has a more private courtyard with a fire pit and seating. The house is long and narrow. The master bedroom and bath are on the first floor with enough separation from the public spaces for privacy and quietness. On the other end of the house, bunk rooms and a casual gathering area are spaces for kids and friends to hang out.
Upstairs are two bedrooms and two baths for family and guests. There are concrete and wood floors throughout the house. Painted poplar trim was used inside, while locally sourced spruce – naturally stained –  was chosen for the exterior siding. The entrance has reclaimed barn-board with hemlock on the ceiling. The exposed steel beams in the house express the structure through the architecture. The many windows in the house create a strong connection to the outdoors, year-round. Summer brings long days of sunshine streaming in all day into every room, and winter lends a carpet of snow surrounding the cozy, warm interior.
Architect: Brian Hamor