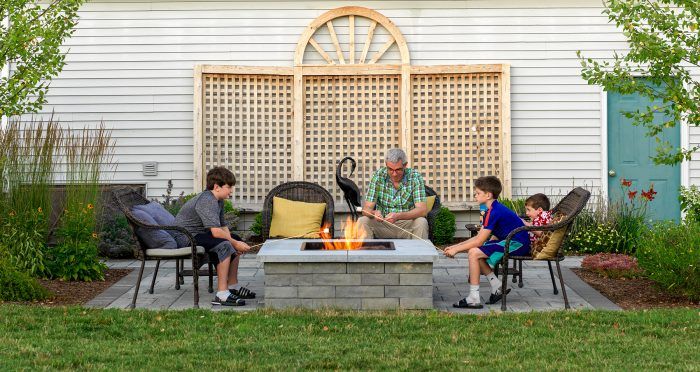 This backyard had a basic back deck with an unnecessary railing, which had to be painted every year. The homeowners look out to the space from their kitchen and access it through sliding glass doors. They wanted to just replace it with a new deck, but a patio accessible from the house by several stone steps created a more welcoming transition to the sweet spot.
With three young boys, the family wanted to maintain their backyard space to allow for kickball games, so the hardscaping was kept close to the house. A pathway, made with concrete pavers designed to mimic natural stone, connects the house to the first outdoor space: a dining area. Since the house is west-facing and sees a fair amount of hot summer sun, the entertaining space was covered with a pergola built with locally-sourced cedar wood. The path then leads to the second outdoor room which includes a fire pit, perfect for roasting marshmallows and making s'mores on summer nights. The dad is a hobby beer maker and wanted to include a trellis for growing his own hops. He also uses the outdoor dining space as a home office during the summer.
The backyard patio is a functional yet low maintenance space for the family of five to entertain and enjoy quality time together outdoors. The landscaping was kept simple so the homeowners only have to do light work to keep the space looking beautiful. River birch clumps frame the space and add shade, while catmint, salvia, and daylilies add color and ornamental interest. Tall Karl Foerster grasses line the walkway and provide texture through the winter season.
Overall the patio made a beautiful upgrade to this Vermont family's backyard, and will provide year-round entertainment and functionality to the space.