Art Auction at the 2019 FHB Summit
Help raise money for the #KeepCraftAlive Scholarship Fund by bidding on any of 21 original pieces of artwork once featured in Fine Homebuilding magazine.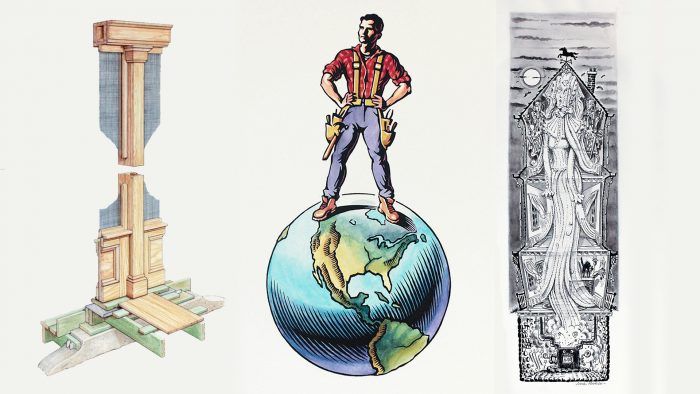 We stumbled upon a lot of great artwork from the FHB magazine archives while doing some spring cleaning a few months ago, so we figured, why let these great pieces of our history go to waste?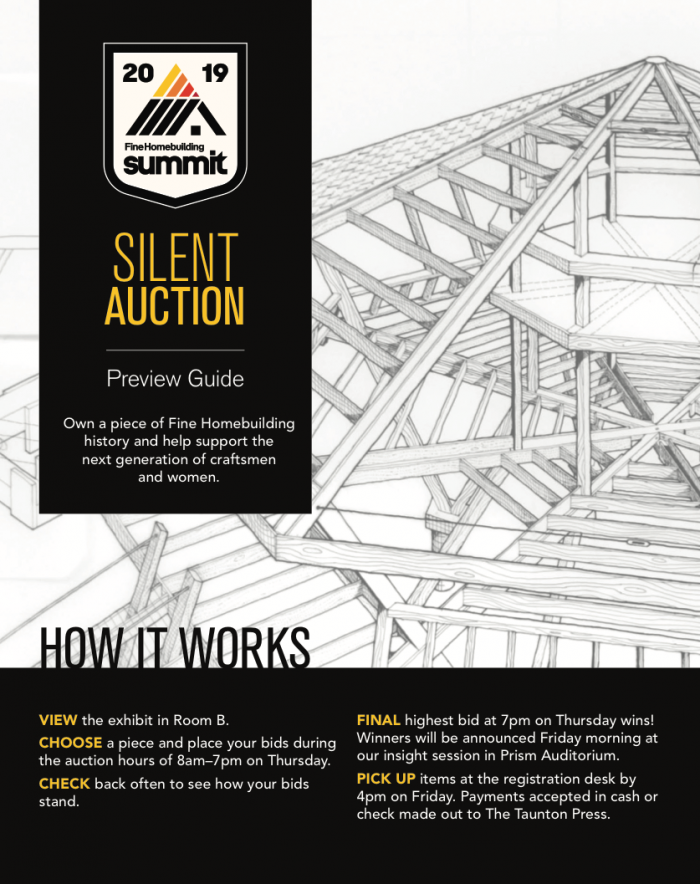 To benefit the #KeepCraftAlive Scholarship Fund, 21 original pieces of artwork will be available at a LIVE silent auction during the FHB Summit. All of the art has appeared in Fine Homebuilding articles–most of them dating back to our early years in the 1980s and '90s. 100% of the proceeds will go towards scholarships for students in the trades.
*Note: The auction is cash-and-carry, so please bring a checkbook or cash if you plan to bid on any of the artwork
Learn more about the FHB Summit
---
Art Auction Highlights
These original illustrations were all commissioned for specific articles in Fine Homebuilding Magazine. We will add more items to this page as we continue to curate the collection for the silent auction. Each illustration will come matted and ready for framing. All bids must be submitted in person at the Fine Homebuilding Summit.
Illustrated by Jackie Rogers
Issue 82, July 1993

"One day I remember as being my ultimate test of Grandpa's patience. We began to lay out the basement steps and the bulkhead. Gramps told me to get my big L thing and handed me one end of a wad of string. He then wandered off into the field with hammer and stake ready to set his stringline. Grandpa told me to lay the square against the foundation and put the string next to it.

'Is it square?' he shouted.
'Is what square?' I shouted back.
'The STRING!' he yelled.

I studied the string held taut in my hand and shouted, 'No, it's round.'

The string suddenly went limp, and I believe we broke for lunch."
Illustrated by Frances Ashforth
Issue 12, January 1983

"The framing chisel is to the timber framer what the racket is to the tennis player: You can't play the game without it. Since every phase of timber framing requires work with the chisel, you will want to own the best possible tool.

A good chisel will not make you a good timber framer, but like a good racket, it will immediately improve your game and make you much happier as you learn.

Those of us who work with timbers a lot look for the perfect chisel the way that King Arthur's knights used to search for the Holy Grail. It's just that elusive."
Illustrated by Mark Hannon
Issue 86, March 1994

"Don't cross your wires. A single GFCI receptacle can provide a ground-fault protection to regular receptacles farther along the circuit as long as the wiring isn't reversed.

Not all GFCI receptacles look exactly like this one, but wires from the service panel should be attached to the line side of the GFCI; the wires feeding additional protected receptacles downstream should run from the load side of the GFCI."
Illustrated by Frances Ashforth
Issue 29, November 1985

Click the linked title for an in-depth article on the anatomy of a deck and discussion of the design decisions that go into making a durable exterior deck.
Illustrated by Illustrated by Jim Meehan,
Issue 87, spring 1994

"When my architect husband, Bob Press, and I began turning our 170-year-old New England farmhouse into a residence comfortable for year-round living, we were well aware that it was haunted.

Sharing our house with a ghost was the last thing on our minds when we moved in. Instead, we were thinking about how pleased we were to have finally finished the heating system, the newest in Scandinavian design, the baseboard barely an inch thick and painted to near invisibility."

"When the heating system erupted again, this time in our own bedroom, we were forced to acknowledge that the problem was more than a faulty installation.

However, it's a relief to have reliable heat back in the house. And Betsey has vanished. Just like that. Don't conclude that the noises from the faulty heating system just made Bob and I think our house was haunted."

Click the linked title for the full story.
Illustrated by Don Mannes,
Issue 177, March 2006

"Insulating concrete forms (ICFs) are green and durable. Made with recycled wood chips and portland cement, Durisol blocks integrate rockwool insulation into the cores, which are filled with concrete. These R-25 walls are fire-, rot-, and termiteproof. The cost is comparable to building walls with Forest Stewardship Council (FSC) certified lumber."
Illustrated by Christopher Clapp
Issue 108, May 1997

Master mason Richard T. Kreh Sr.explains how to build a fireplace that warms the room efficiently. He covers the whole project, from calculating the proportions of the firebox to shaping the smoke chamber and building a stone arch.

This illustrated sidebar shows cross-section views of a properly designed firebox, smoke shelf, and damper.
Illustrated by Bob LaPointe
Issue 96, July 1995


"Cement coatings protect the wooden structure. For maximum protection against fire, construct walls using type-X gypsum wallboard covered with a thick layer of stucco cement, a roof of fire-resistant shingles with bird stops at the eaves, little or no overhang and no soffit vents."
Illustrated by Jackie Rogers
Issue 170, May 2005

"As the tarp roared in its wind-whipped fury, I noticed for the first time that whatever the framers did, they never stood on the tarp. They stood near it or under it. Aaaah. A subtle nuance that had escaped me. Their actions spoke eloquently of experience. The only lasting souvenir of my effort was a 4-in. bruise on my forearm.

At the time, I didn't even realize my arm hit anything. There was also a little soreness in my neck and shoulders, but I had a lucky escape."
Illustrated by Dan Thornton
Issue 178, May 2009

Ranch houses are ubiquitous, but they don't have to be ugly, especially if they sit on a mountain site. Architect Tina Govan took a 1960s ranch that was covered in white vinyl and brick, and using cedar shingles and flagstone, she transformed it into a house that feels as if it belongs in its setting.
Illustrated by Bob Goodfellow
Issue 86, March 1994


"Floor framing and post details:

The porch is supported by a series of hollow posts. Plywood wainscot panels provide lateral rigidity. The wainscot panels and the shop-made screen panels fit into the rabbets cut into the posts."