Mansard-Style Home, Part Two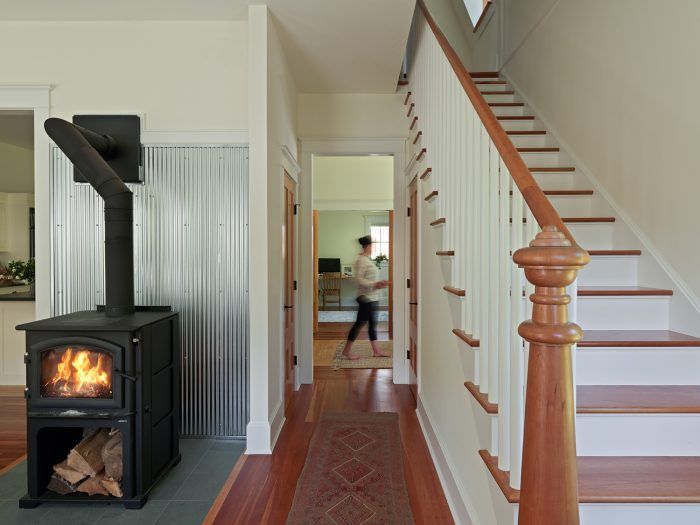 Featured here is the renovated original part of a circa 1890s Second Empire Mansard style house. The once single-family home was remodeled into two private and spacious apartments. The footprint of the main house shown here did not change, but the interior was gutted, and the walls were reduced between rooms to keep the spaces light and open. Because there was an abundance of lead paint in the house, the builder chose to replace the windows and trim. New trim was matched to the time period of when the house was built. The existing maple and cherry floors were simply refinished revealing their unique and quirky patterns. The living room and stairwell were originally separated by a wall, but are now opened up with a hallway in between to create a cozy space focused around a new wood stove. The combination of solid walls and open areas in the kitchen allow it to be the center hub of the main floor. The east facing windows afford lots of natural light, while to the south, window views are towards the quaint village.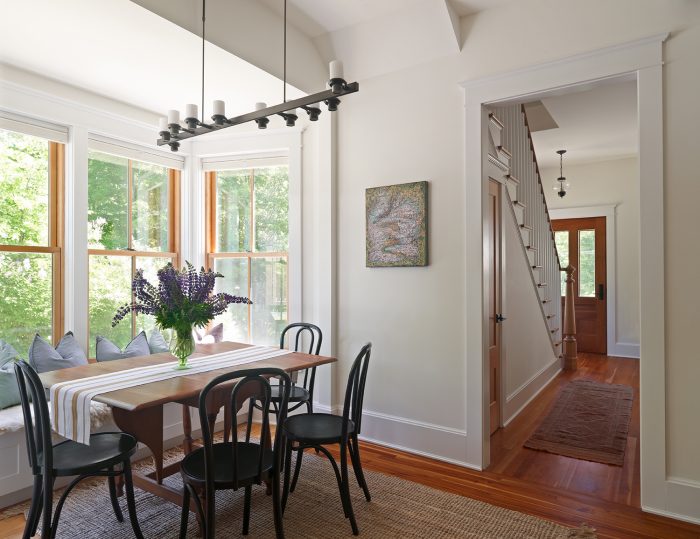 With the new open floor plan, each space looks into another with views to the outside. Including the homeowner and her sweet, well-behaved dog in the photographs contributed perfectly to the feel of the rooms. The balance between old and new, open and cozy, and light and shadow created a beautiful balance of calmness in the apartment.
Even though it is a two family home, both apartments felt very private and separate from each other. Behind the house is a full size barn with a spacious guest retreat on the upper level. All around, the entire property was such a special place to photograph–a place where I would love to live!
Builder: Newschool Builders
Designer: Ellen Strauss, R.A.