Water-Based Lacquer
Target Coatings Emtech EM6500 custom-pigmented waterborne lacquer is a low-VOC alternative to nitrocellulose lacquer.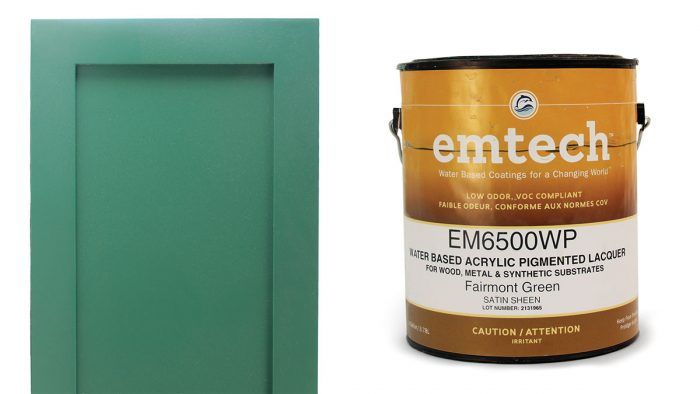 Until recently, if you wanted a quality pigmented finish on cabinetry, you had to go with nitrocellulose lacquer, which sprays easily, dries quickly, and is formulated so each coat burns into the one that came before, making it easier to achieve a smooth finish and allowing for easier touch-ups. But the downsides to nitrocellulose lacquer are many, including high VOCs, high flammability driving the need for explosion-proof fans, and the requirement of lacquer thinner (also a high-VOC chemical) for cleanup.
Meanwhile, Target Coatings, a New Jersey–based manufacturer specializing in low-VOC waterborne finishes, has been quietly perfecting its formula, starting first with waterborne varnishes for marine customers, and eventually introducing the first-ever water-based finish to offer 100% burn-in, mimicking the behavior of nitrocellulose lacquer. Twenty years later, with several product refinements along the way, we now have Target Coatings Emtech EM6500, a custom-pigmented lacquer. The lacquer is spray-friendly (but also brushable), levels out and dries fast, and cleans up with water. Best of all, it can be ordered online—with sizes ranging from a quart (about $24), to a gallon (about $56), to five gallons (about $260)—and tinted to any Benjamin Moore color for no extra charge. If you're looking for clear coats rather than color, the company also offers water-based shellac, lacquer, and varnish with similar pricing.
—J.F.
From Fine Homebuilding #287