Podcast 202: LIVE From the 2019 FHB Summit in Southbridge, Mass., Day 1
Patrick, Rob, and Justin invite special guests Kevin Ireton, Scott McBride, and Micheal Maines on to talk about the past, present, and future of Fine Homebuilding and the residential construction industry.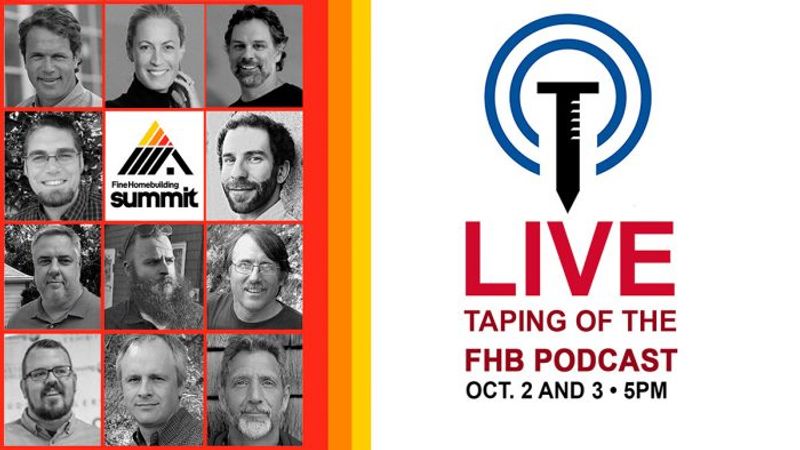 Follow the Fine Homebuilding Podcast on your favorite app. Subscribe now and don't miss an episode:
In this special episode recorded live at Fine Homebuilding's inaugural Summit conference, this gang of magazine editors and contributors reminisce about the early days of the magazine, talk about Scott's impressive historic preservation job at James Madison's Montpelier estate, speculate as to why now was the right time to launch a live home-building event, and discuss how advances in materials and building science enable us to create better homes than we used to.
---
Learn more about the Fine Homebuilding Summit.
---
If you have any questions you would like us to dig into for a future show, shoot an email our way:

[email protected]

. If we use your question we'll send you a FHB Podcast sticker!
#KeepCraftAlive

KeepCraftAlive hats help celebrate the value of true craftsmanship–plus 50% of all proceeds from every hat sold go to the #KeepCraftAlive Scholarship Fund, supported by Fine Homebuilding and SkillsUSA.
Buy a #KeepCraftAlive hat or t-shirt
---
Fine Homebuilding podcast listeners can now get 20% off anything in the Taunton store, including Renovation, now in its 5th edition. This home repair and remodeling bible describes in unvarnished detail best practice for hundreds of renovation projects. Also check out the Code Check series. These sturdy, spiral bound reference books will help you navigate the International Residential Code, The National Electric Code and the Universal Plumbing Code. Use the discount code FHBPODCAST to take advantage of this special offer.
---
We hope you will take advantage of a great offer for our podcast listeners: A special 20% off the discounted rate to subscribe to the Fine Homebuilding print magazine. That link goes to finehomebuilding.com/podoffer.
The show is driven by our listeners, so please subscribe and rate us on iTunes or Google Play, and if you have any questions you would like us to dig into for a future show, shoot an email our way: [email protected]. Also, be sure to follow Justin Fink and Fine Homebuilding on Instagram, and "like" the magazine on Facebook. Note that you can watch the show above, or on YouTube at the Fine Homebuilding YouTube Channel.
The Fine Homebuilding Podcast embodies Fine Homebuilding magazine's commitment to the preservation of craftsmanship and the advancement of home performance in residential construction. The show is an informal but vigorous conversation about the techniques and principles that allow listeners to master their design and building challenges.
Other related links