How-To
Build a Modular Modern Woodshed
Designed to be erected in a day, this shed for storing firewood uses readily available materials and basic tools.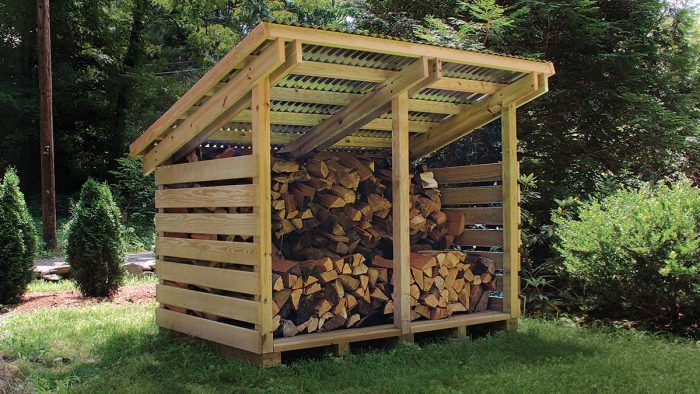 Synopsis: This simple woodshed can be built in a weekend, and sized up or down as needed. A detailed drawing and materials list shows the type and dimensions of lumber and hardware needed for construction, while photographs illustrate the process of building the shed, from preparing the base on concrete and/or gravel, to cutting the parts, to assembling the floor, walls, and roof.
---
A few years ago, I offered to help a friend build a woodshed in his yard. I imagined a simple rack made of 2x4s and a few sheets of metal roofing—but when I found out the shed would need to hold five cords of wood, I had to adjust my plans. The design I came up with is easy to scale up or down, as I did for the much smaller shed shown in this article.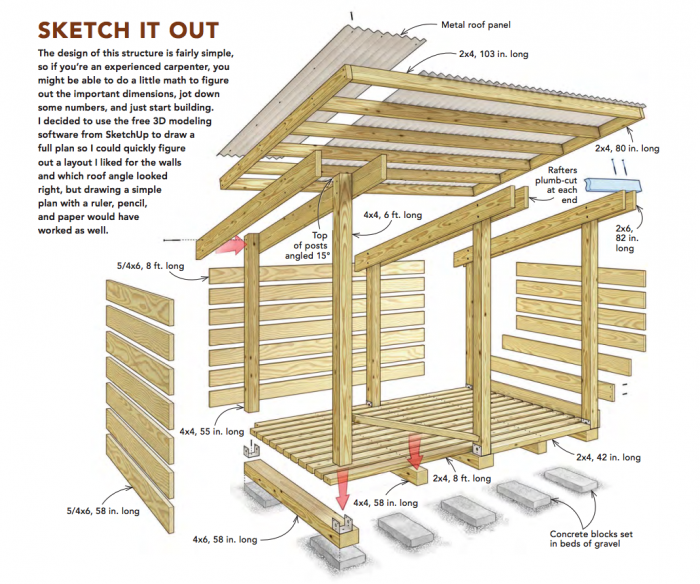 Ideally, a woodshed is sized just tall enough to comfortably walk inside to stack firewood. With a shed roof, the deeper the structure, the taller it needs to be. A cord of stacked firewood takes up 128 cu. ft.—basically a 4-ft. by 4-ft. by 8-ft. pile. When planning your own shed, choose a height and floor layout that works for you, but don't forget to consider adding a decent roof overhang on the front for extra protection from the elements.

This shed measures 5 ft. deep, 8 ft. wide, and 8 ft. tall, so I was able to use standard-size framing lumber with minimal waste, but you can build whatever size fits the number of cords you want to store and the space you have in your yard…
To view the entire article, please click the View PDF button below
---
Related:
Sheltered Woodshed – A removable panel makes loading firewood easy but protects the wood from rain and snow.
A Firm Foundation for a Backyard Shed – Here are four ways of building a basic, on-grade foundation for backyard buildings.
Forum Question: Drying firewood – A discussion with tips for accelerating the fire-wood seasoning process.
---
Drawings: John Hartman; photos: Kiley Jacques
This article originally appeared in Fine Homebuilding magazine titles "Build a Streamlined Woodshed"
To view the entire article, please click the View PDF button below.
View PDF