Tools & Materials
Home-Building Gift Guide
15 tools that any builder, remodeler, or other handy person would love to add to their tool kit.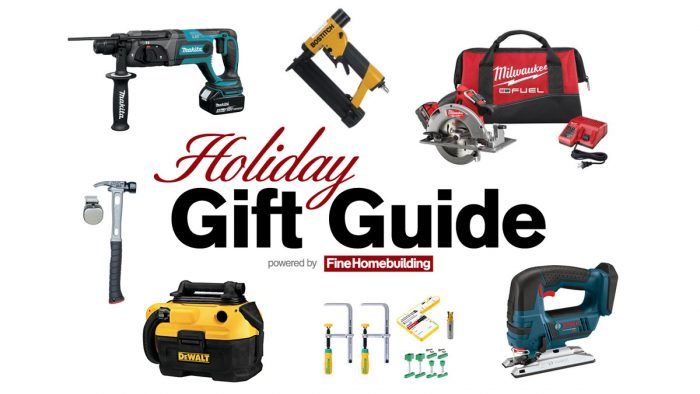 In a Facebook post we asked our readers, "What's the best new tool you've bought this year?" This question yielded a wide range of responses. From saws to drill kits and beyond, we've compiled 16 of our readers' favorite picks into our Holiday Gift Guide. Here, you'll find some of the best tools to get the handy person in your life for the holidays. These tools have held up on the job, and are guaranteed to make the perfect addition to any builder's tool kit.
Since we want to make sure you have everything you need to get started on your next project, we've linked full kits below, unless otherwise noted. If you already have the battery packs, check out our bare tool suggestions below.
If you buy products through the affiliate links in this article, Fine Homebuilding may earn a small commission. 
 

Makita Cordless 7/8-in. Rotary Hammer Kit

Cordless masonry drills aren't a new idea, but this one from Makita has a few features that make it easier and more comfortable to use. A variable-speed motor synchronizes the hammer blows and RPMs for smooth drilling, a shock-absorbing handle makes it less tiring to hold onto for extended jobs, and an automatic clutch keeps the drill from spinning out of your hand if the bit binds in a hole.

You can also purchase a bare version of the tool here.

Milwaukee Cordless PVC Shear Kit

Make any plumbing job cleaner and faster with this electric shear. Its stainless-steel blade cuts up to 2-in. schedule 40 PVC pipe in a matter of seconds, and, unlike with a hacksaw or recip saw, there are no burrs or fuzzy edges to clean up afterwards.

You can also purchase a bare version of the tool here.

Rigid 5-Piece Tool Combo Kit

This robust collection of Ridgid cordless tools has all the essentials for any carpenter at a great price. In the convenient carrying bag you'll find Ridgid's latest hammer drill, impact driver, circular saw, reciprocating saw, LED Flashlight, and single charger, plus two 4.0-amp/hr. batteries and several other accessories.

MATCHFIT Dovetail Clamp Pro

Don't let the limitations of a standard workbench or set of clamps limit your ability to build intricate projects in your shop. With this unique clamp kit and matching router bit, you will be able to build custom jigs to match any hold-down or glue-up job.

Bostitch 23-ga. 1/2-in. to 1-3/16-in.Pin Nailer

This essential trim-carpentry tool is a workhorse and a good value. But unlike most of the other tools on this list, it's not cordless/electric, so you'll need a compressor to run it. A 23-ga. trim gun is on the smallest end of the range (used for very thin moldings)—if you're not sure what size trim gun you need, watch this video, Choosing Trim Nailers.

Makita 18v Compact Cordless 2-Pc. Combo Kit

At a minimum, every tradesperson—or handy person in general—needs a good cordless drill and an impact driver. And because these are often the tools that take the most day-to-day abuse, it's smart to get a sturdy kit, like this one from Makita.

Milwaukee

M12 Fuel 1/4-in. Hex Impact Driver Kit

As small as today's 18v and 20v drills and drivers are, sometimes they're still not small enough for every job. So if you're working in tight quarters, this compact 12v impact driver from Milwaukee could be a good addition to your tool kit.

Note: the M12 Fuel batteries also work in the extra comfy Milwaukee heated hoodie and other jackets.

You can also purchase a bare version of the tool here.

DeWalt 20v Max 4-Port Lithium-Ion Fast Charger

If you've got a full kit of tools on the same brand and battery system, it's a challenge to keep them all charged and ready to use. If DeWalt is your brand of choice, this four-bay, superquick charger is a must-have job-site accessory.

Martinez M4 Titanium Handle 12-oz. Smooth Steel Wide Claw Head Curved Grip Finish Hammer

A high-quality hammer is like a badge of honor for any carpenter, and they don't get any higher-quality than a Martinez. Get this finish model for the trim carpenter in your life, or get one of the Martinez M1 framing hammers if your special someone is a framer.

Milwaukee Circular Saw Kit

This full-size 18v cordless circular saw stands out for a few reasons: The brushless motor provides more torque and longer run times than previous models, there's a convenient LED light so you can see what you're cutting no matter where you're working, and the folding rafter hook help you to keep the saw right where you need it even when working up off the ground.

Makita Lithium-Ion Cordless Multi-Tool Kit

No matter what kind of building or remodeling work you do, there's an endless number of jobs that you just can't get done without an oscillating multitool. This one by Makita stands out because of its slim case, which makes it more comfortable to hold and easier to get into tight corners.

DeWalt 20v MAX XR Reciprocating Saw Kit

If you've ever used a recip saw on a demolition job, you know that fitting the typically long tool into narrow joist or stud bays is one of the biggest snags. DeWalt has solved that problem with this super-compact saw.

You can also purchase a bare version of the tool here.

DeWalt Cordless/Corded Wet-Dry Vacuum with Charger Kit and Bag

It won't replace your full-size job-site vacuum, but this compact cordless vac from DeWalt is great for tidying up after small jobs or cleaning out your work truck. And if you've got access to 110v power, you can plug it in instead of using the battery.

Bosch 18v Cordless Jig Saw

The selling feature of this well-designed saw from Bosch is its light weight and compact size—both important details when you're making precision cuts on the job. But be sure you've already got some Bosch 18v tools or you'll have to buy a separate battery and charger.

Please note: This is only the bare tool.

DeWalt 20v 18-Ga. Brad Nailer

If your tool family of choice is DeWalt and you need to do some trim carpentry, this 18-ga. cordless nailer is a must-have tool. You'll be glad to finally leave your compressor behind with the freedom that this trim gun provides.

Please note: This is only the bare tool.