Design
Net Zero-Ready Community
High-performance, affordable homes characterize this modern pocket neighborhood.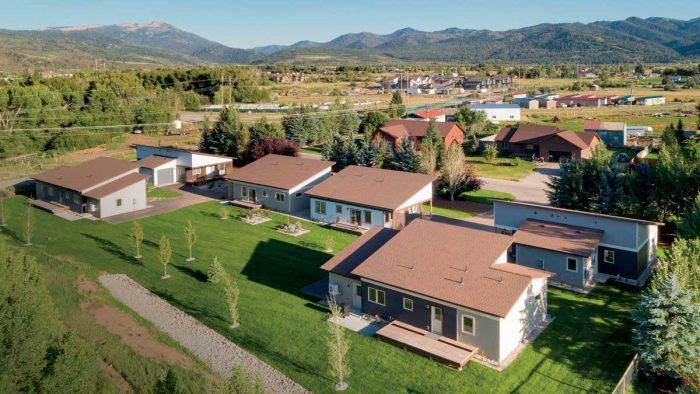 Synopsis: In a group of small towns in Idaho's Teton Valley, there is a need for affordable housing. With approval for a six-house neighborhood on two undeveloped lots, an architecture firm created Cloverleaf Cottage Court pocket neighborhood of affordable houses built around a common space. The cold climate and heavy annual snowfall required some ingenuity in the design, and resulted in a site plan that includes snow storage and parking areas; the development also has a number of private spaces balanced with communal areas. Each semi-custom house was built with simplicity in mind, with the energy-efficient building envelopes as the most complex part of the project.
---
The natural beauty of Grand Teton National Park has long drawn people to Wyoming. Over time, visitors to the Jackson Hole Valley area have shifted their focus away from hunting and trapping and toward pursuits like skiing, rock climbing, and fly fishing. The allure of the setting and lifestyle has spread beyond nature enthusiasts to include hedge-fund managers and Hollywood producers. This influx has ratcheted up the cost of living for people in the city of Jackson and the surrounding communities. Climbing real estate prices are creeping across the border to Idaho's Teton Valley. A group of small towns—including Victor and Driggs—on the western slope of the Teton Range are separated from Jackson by 25 miles and an 8431-ft. mountain pass. Survey data collected from the Western Yellowstone region's Housing Needs Assessment shows high housing costs have impacted three-quarters of Victor's households, which has made affordable housing a concern.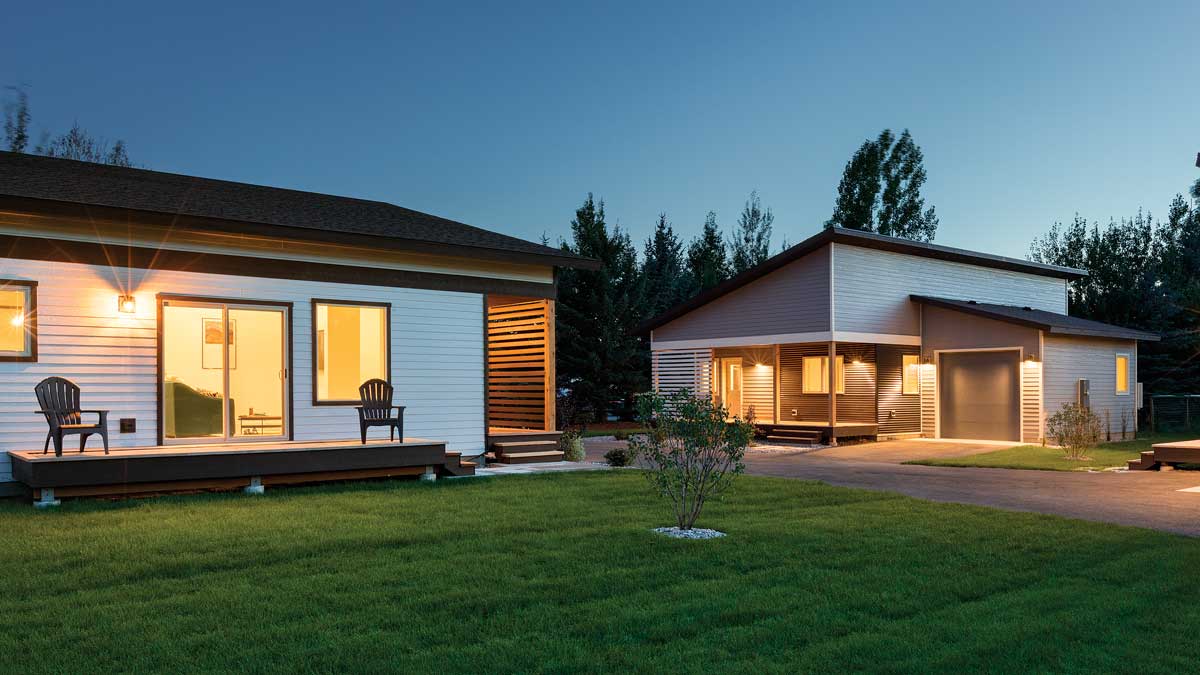 Neither Victor nor Driggs has an affordable housing authority, but a few years ago, the zoning board changed the rules to allow "cottage courts" in some parts of those towns. The cottage courts—also referred to as "pocket neighborhoods" (see sidebar, facing page)— are a way to allow high-density development of small homes. The first such development was designed with the aesthetic sensibility of a trailer park, making it unpopular with neighboring residents. The public backlash resulted in the temporary elimination of the zoning category—highlighting the importance of good design to help towns embrace unconventional ideas for new housing.
Increasing density
Despite the inaugural failure, a local developer liked the idea of cottage courts. Higher-density development uses resources more efficiently, reduces costs, and helps maintain a profit margin while lowering purchasing costs for homeowners. The developer got approval for a six-house neighborhood by subdividing two undeveloped lots in an existing neighborhood. With the permit approved, he approached Lindsey Love and Lindsay Schack of Love Schack Architecture to design a small pocket neighborhood. They devised a plan for a group of modest, high-performance houses that rely on a common footprint for efficient construction. The schedule was such that a new house was started every two to three weeks, and the trades moved sequentially from project to project over the nine months it took to finish the houses.
To view the entire article, please click the View PDF button below.
More about net zero homes:
Best Energy-Smart Home 2018: Neighborhood Net Zero – This builder-friendly spec house fills out a narrow lot in a contemporary community.
Affordable Net Zero – The ProHOME team finds a ­balance ­between improved ­performance and ­construction costs.
Passive Solar Design – Pointing to his Net Zero Escape project as an example, Texas-based architect Peter Pfeiffer shares his thoughts on climate-responsive design.
View PDF