Steel Garage Storage
Turn a messy garage into an organized and attractive workshop with NewAge Products' modular cabinets and slatwalls.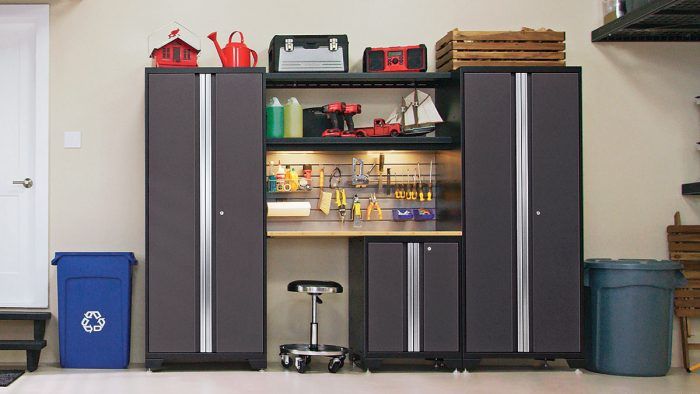 You wouldn't settle for cabinets and shelves in your kitchen made out of rough plywood and 2x4s, so why should you in your garage? In many of today's houses, the garage is the first thing anyone sees when they come home, so it makes sense to give it the same attention you would any other room you spend a lot of time in. The Bold 3.0 Series cabinet collection by NewAge Products might be just the solution for converting your neglected garage into a tidy storage space, workspace, or both.
The modular steel cabinets come in a variety of shapes and sizes, and can be ordered as individual pieces or complete sets to perfectly match the amount of wall space you have and the type of stuff you intend to store in them. The base cabinets are the most versatile components, available with just drawers, just doors, or a combination of both. You can add more functionality with a matching stainless-steel or bamboo countertop, a slatwall backsplash, and a wide array of hooks, racks, and other accessories. All of the steel surfaces are powder-coated for durability—cabinet cases in black, slatwall in silver, and a choice of either deep red or charcoal gray for the doors and drawers.
NewAge offers several cabinet lines with a range of price points, but the Bold 3.0 Series appears to have the perfect balance of style and value to make it a welcome addition to nearly any garage. Individual cabinets can be had for as low as $95, and full collections run from several hundred to several thousand dollars. A modest but complete setup for a small garage will run somewhere between $1000 and $2000.
—Rob Wotzak, digital brand manager
From Fine Homebuilding #290