Podcast 237: Holes in Block Walls, Uninsulated Shops, and Keeping Cool Upstairs
Justin, Colin, and Patrick hear from listeners about butchered floor joists and housing affordability before taking questions on making holes in block walls, improving a garage shop, and temperature differences in two-story houses.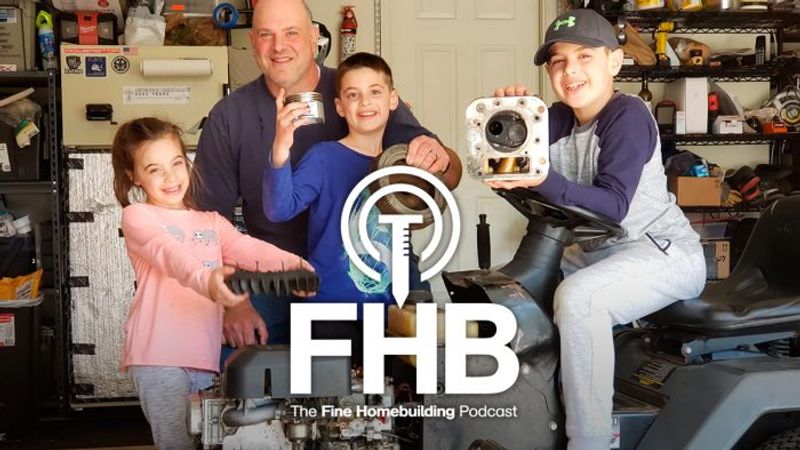 ---
Follow the Fine Homebuilding Podcast on your favorite app. Subscribe now and don't miss an episode:
Big Tuna offers an update on the cut up I joist under his shower and talks about keeping his kids amused during a pandemic. Andrew writes with his thoughts on housing affordability. Bob wants to know how to make a hole in a block wall. Austin asks for the best way to insulate his presently unconditioned garage shop and Chris wants to know why his upstairs is 5 deg. warmer than the downstairs.
---
Editor Updates:
Justin: Talk about company initiatives since the pandemic, Video Webinars, your possible remodeling projects
Colin: Talk about Polcyn assembly table and corbels, sister's house siding project
Jeff: Trimming basement
Patrick: Second Pro Talk podcast,  new windows.
---
Listener Feedback:
Listener feedback #1:  
In episode 235 we talked about how Big Tuna discovered when he went to fix the drain in his shower that the plumber completely hacked through the I-joist nearest the trap. Shortly after the show aired, Mike Guertin sent me a link to the Metwood joist reinforcer. I in turn sent this to Big Tuna and I asked him if he had heard from Weyerhauser technical services.
"I have to send an email answering their questions. With a house full of kids and a healthcare worker wife… let's just say I didn't get around to it yet.
I will and keep you updated.
I will be watching the podcast where you discuss my floor joist with the kids. Between their studying and playing, I have the kids "help" me with household projects I normally do on my own nights and weekends. Current projects: landscaping and planting knock out roses and other perennials that have been sitting in store pots since last spring, rebuilding their granddad's lawn tractor engine, building a desktop computer, getting the garden ready, etc. We spend about an hour or two everyday on one of the ongoing jobs.
My customers miss me, but since my wife's job is more important right now I have had to refer emergency jobs to friends in the trade and simply postpone the rest.
Today's project is to replace the bad circulation pump motor on our 2 1/2 year old Kitchenaid dishwasher. I'm picking up the part from the appliance part supplier this afternoon so I can replace it while the kids watch.
So why am I letting you know everything I am up to? Cabin fever.
Hope you and your family are doing well and staying safe
Thanks, Big Tuna"
---
Listener feedback #2
Andrew writes, Hey everyone, Recent episodes have touched on the touchy topic of affordable housing. The blame for tight household budgets is frequently placed on housing costs. As your mortgage or rent payment is often the largest payment in your budget I understand the impulse to point the finger at the construction industry, but I think this avoids the larger picture. Wages in the USA have largely not changed in over twenty years while other costs have dramatically increased. All types of insurance, vehicles, and other regular bills have outpaced worker wages. In my area the skilled trades are underpaid and most rely on government programs to make ends meet. I know workers in other industries suffer as well, but I'm most familiar with the trades. Raising workers' wages may appear to be the solution, but that would lead to increased prices for the goods we purchase. I don't have a solution to the tight budgets of American workers, but I feel that by quickly giving in to the assertion that housing is too expensive is the first step down a dangerous path.  Thank you.
---
Question 1: How careful do I have to be when cutting a hole for a duct through an old concrete-block foundation?
Bob from Arlington, Virginia writes, Hello, We bought a 1925 Arlington, Virginia cape(ish) home a few years ago and after "getting to know" the house, I believed it had a terracotta block foundation due to the smaller block size and ridges on the inside surface of the blocks. However, after researching how to deal with a planned penetration through an inside wall and doing some testing, I realized that the block, which was painted, is actually concrete.
Question: With older block foundations like this, can I treat it like modern block for purposes of penetrations, or do I need to be more conservative/cautious? My goal is to run an 8″ round duct return through the wall, so I'm thinking about how I'll perform the penetration and how I'll maintain the structural integrity of the wall, e.g. normal lintel or precast round support.
Any guidance/best practices would be much appreciated. Thanks also for keeping the podcast running!
Related links:
---
Question 2: Is it a problem to have my garage be a "hot roof" and the rest of the house have a "cold roof"?
Austin writes, Hey FHB gang, I am starting to plan some garage improvements in my 2-stall attached garage that I also use as a workshop. The current space is not insulated (aside from the shared wall with the house), but I'll be installing fiberglass batts on all the walls.
My question is around attic/roof insulation. The ceiling joists are currency on 4′ centers and spanning about 25 feet, which is fine, because they don't need to support anything but the garage door opener. I'm wondering if I can insulate between the rafter bays on the underside of the roof deck, as opposed to installing ceiling joists on 16′ or 24′ centers, drywalling, and blowing cellulose. Is it a problem to have my garage be a "hot roof" and the rest of the house have a "cold roof"? The soffit on the outside of the garage (and house) is vented every 6 feet or so. The rest of the house has an unfinished attic with about 18′ of cellulose.
Thanks!

Related links:
---
Question 3: can a mini split be a good supplement for a poorly balanced HVAC system?
Chris from O'Fallon, IL writes, Good Day, New listener here. My question deals with a two-story house that has a single heating/cooling system. Our two-story house built in 2003, has a single zone system that during the summer has a rather large split in temperature between the first and second floors in the afternoon and evenings. The upstairs has 4 bedrooms each with a supply duct, however I have only found one return. Needless to say, the system doesn't seem very balanced. The A coil and outdoor condensing unit were replaced 2 years ago, and I've air sealed the attic and increased the insulation in the attic last fall to around R60. Do you think adding a single small/cheap mini split in the upstairs would be a good solution? Is there a way to calculate the cooling load of 4- or 5-degrees delta on the 1,200 square feet upstairs?
Thanks for the great podcast
Related links:
---
End Note: Do you recognize this guy?
---
If you have any questions you would like us to dig into for a future show, shoot an email our way:

[email protected]

.
If we use your question we'll send you a FHB Podcast sticker!
#KeepCraftAlive

KeepCraftAlive hats help celebrate the value of true craftsmanship–plus 50% of all proceeds from every hat sold go to the #KeepCraftAlive Scholarship Fund, supported by Fine Homebuilding and SkillsUSA.
Buy a #KeepCraftAlive hat or t-shirt
---
This episode of the Fine Homebuilding podcast is brought to you by Danner.
If you believe in timeless ideas like quality, craftsmanship, and blazing your own path, I want to introduce you to our friends at Danner who sponsor this podcast. A Pacific Northwest original for over 85 years, Danner makes boots for people with purpose in their step. Boots like the new Steelyard family—featuring 8 different models with game-changing comfort, legendary durability, and performance features for any jobsite. Earn a pair and join the family at Danner.com.
---
Fine Homebuilding podcast listeners can now get 20% off anything in the Taunton store, including the Renovation 5th Edition.
Use the discount code FHBPODCAST to take advantage of this special offer.
---
We hope you will take advantage of a great offer for our podcast listeners: A special 20% off the discounted rate to subscribe to the Fine Homebuilding print magazine. That link goes to finehomebuilding.com/podoffer.
The show is driven by our listeners, so please subscribe and rate us on iTunes or Google Play, and if you have any questions you would like us to dig into for a future show, shoot an email our way: [email protected]. Also, be sure to follow Justin Fink and Fine Homebuilding on Instagram, and "like" the magazine on Facebook. Note that you can watch the show above, or on YouTube at the Fine Homebuilding YouTube Channel.
The Fine Homebuilding Podcast embodies Fine Homebuilding magazine's commitment to the preservation of craftsmanship and the advancement of home performance in residential construction. The show is an informal but vigorous conversation about the techniques and principles that allow listeners to master their design and building challenges.
Other related links