Tools & Materials
Job-Site Rolling Kneeler
The Racatac provides comfortable support for tilesetting, installing baseboard, and other low-down work.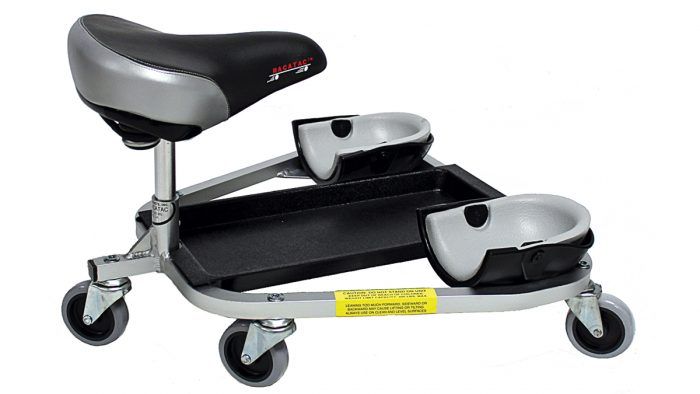 I dread working on my knees, even with good knee pads. When I first saw a tilesetter gliding around the floor on a Racatac, alternating between kneeling and sitting and propelling himself
with his feet, it was a revelation. I thought a similar setup might be good for measuring and installing baseboard and shoe molding, so I ordered one for $135. The Racatac isn't only good for baseboard; I use it for installing wainscoting, assembling balustrades, and low-down caulking and painting. It's one of those tools that makes me wonder how I ever got along without it. The tool tray allows you to take a break from wearing a tool belt and it's large enough to hold a gallon of paint. My only regret is not getting the chest-support option (an additional $80), which is worth- while even if you use it only occasionally. One caution: It's important to keep the wheels and floor clean where you're working, or the Racatac can scratch the floor. I inspect both the wheels and the floor each time I use it and I have not scratched a finished floor yet, but a grain of sand could easily mess up my track record.
Brian Campbell, a carpenter in Minneapolis.
Photo: Courtesy of the Manufacturer
From Fine Homebuilding #292