Square Sander, Round Paper
When you're out of standard sandpaper, sanding dics fit well in a quarter-sheet sander.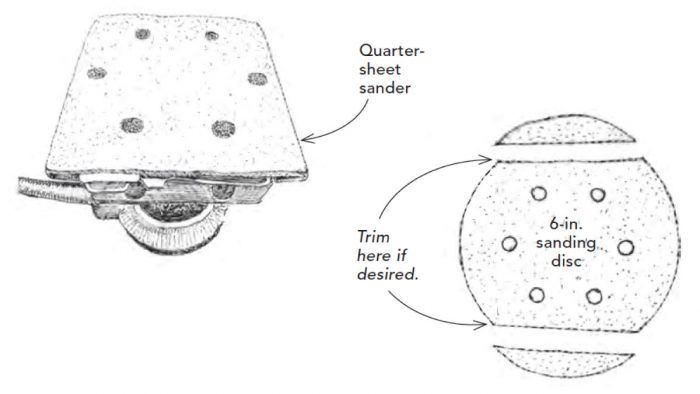 We were out of standard sandpaper for our quarter-sheet sander, but we had plenty of 6-in. discs for the random-orbit sander. I found that the 6-in. discs fit quite well in the quarter-sheet sander. I trimmed the disc's unclamped edges to make them flush with the pad, but this isn't necessary. The sturdy hook-and-loop backing on the disc makes it incredibly durable, and because it's a little thicker than normal sandpaper, the sander's clamps hold the disc tenaciously.
—Ed Hostetter, Pleasant Valley, N.Y.
Edited and Illustrated by Charles Miller
From Fine Homebuilding #292
More sanding tips:
Cheap Sanding Sponge – Extra life for worn-out products.
Simple, Effective Sanding Block