Fix a Timber Retaining Wall
Rather than repairing a failing wood wall, replacing it with a dry-laid modular concrete-block system is a more durable option.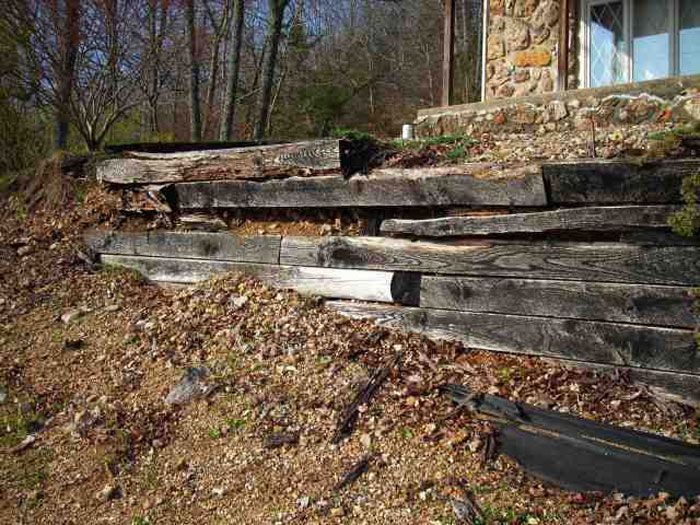 I have a wood retaining wall made from 6×6 timbers on a slope behind my house. The top tier has poor drainage and no vertical timbers to buttress the retaining wall. A crevice is opening up in the dirt because the wall has slowly tilted farther and farther out due to the pressure of the saturated clay soil. I thought about taking out the top of the wall and rebuilding it with deadmen and a drainage system, but I'm wondering if I should consider an alternative system?
—Jonathan via email
Carpenter Scott McBride replies: Timber retaining walls became popular in the 1980s as an inexpensive solution to an age-old problem. Contractors and homeowners alike appreciated the simplicity and speed of this option compared to masonry. Although I have written how-to books and articles about building timber retaining walls in the past, I have soured on them as I witnessed their long-term performance. They just rot, especially where the timbers have been cut.
My preference now for a budget retaining wall would be one of the many dry-laid modular concrete-block wall systems. I first saw one of these systems (Keystone) used in the mid-1990s for a large estate project. They go up fast, and, although less esthetically appealing than a traditional stone or brick wall, they are at least as handsome as a timber wall. All of the engineering for these systems is available on their manufacturers' websites so that a designer or homeowner can plan a project with confidence.
I recently spoke with the general contractor for that first project. He had nothing but good things to say about modular block. There is a long iron patio railing that was installed atop one of the tallest walls, and he tells me that after 25 years, the railing still sights straight as an arrow.
From Fine Homebuilding #293
More about building landscape walls
Stone Walls That Stay Built – A master waller shares how to dry-lay stone walls that hold their ground for centuries.
Four Retaining-Wall Choices – Hold back the earth with blocks, concrete, timbers, or stone. Here's how different systems stack up.
Build a Sturdy Stone Sitting Wall – Keep the look of a traditional dry-stack stone wall, but strengthen the core with mortar and finish with a bluestone cap.