Getting Back to Work in the Time of COVID-19
A starting point for thinking about safety plans and company policy.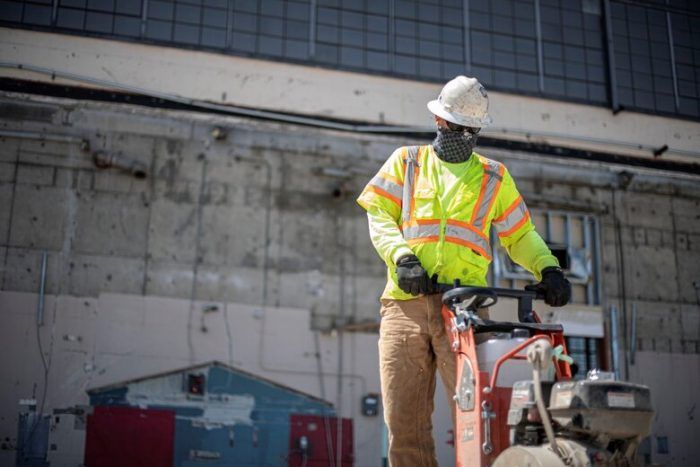 You've gone through the shock of through unprecedented work stoppages; made a wrenching decision about whether to keep your crew on the payroll, or furlough them, or lay them off; jumped through hoops to apply for a Payroll Protection Program loan; and settled into a weeks-long period of anxious waiting for things to open up again.
Now that a tentative opening up is underway, you're finding the process as uncertain and anxiety-inducing as anything that has come before. What am I supposed to be doing? How much will it cost me? Can I charge for it? What liabilities am I incurring? Will we need to shut down again in the fall or winter? When will this all just go away?
I can't present any definitive answers in this article—I'm also finding my way through this, right alongside you. But I have done research, talked with companies who have not shut down their projects during the pandemic or who are preparing to reboot operations now, and looked at guidelines that various national, state, and local authorities have published regarding construction activities.
I'm sharing that knowledge with the hope it will help you gain traction and confidence, break the process into manageable chunks, and be able to plan ahead to avoid potential pitfalls down the road.
Job-site safety measures
Much remains unknown about the spread of the virus that causes COVID-19. Until we gain a better understanding of the various mechanisms by which the virus is transmitted from person to person, public health officials have to make educated guesses based on what they do know. It's important to keep that uncertainty in mind, because what you'll be expected to do in the coming days or weeks may be different than what you'll be doing a few months from now.
The following list of safety measures consistently shows up on COVID-19-related checklists, safety posters, and safe-work plans offered on the websites of national, state, and municipal authorities (see links to various sites at the end of this article). Post signs prominently on each site to remind workers of these regulations, in as many languages as needed to communicate with all the workers. Pretty much wherever you work, the guidelines you'll be following will look very similar to these.
Stay at home if you are sick.
Quarantine for 14 days if you have been in close contact with someone who is known to have had or is strongly suspected of having had COVID-19.
Limit or prohibit carpooling.
Stay at least 6 ft. apart while on the job site.
Avoid in-person job-site meetings when possible; hold them online instead.
Wear masks, gloves, and other appropriate personal protective equipment (PPE).
Don't share PPE.
Limit or prohibit sharing tools.
Don't share phones.
Refill hand sanitizer dispensers promptly.
Clean contact surfaces regularly (1x to 3x daily).
Clean and disinfect portable toilets regularly (1x daily to 2x weekly).
When cleaning, use soap and water, diluted bleach solution, or a disinfectant or sanitizer with at least 60% ethanol or 70% isopropanol content.
Don't share food or drinks.
Safety plan
Just as important as these measures is the way in which they're put into place. It will require team-wide training for implementation that includes not only your own crew but your subcontractors and in some cases suppliers. (Some states are making this training mandatory.) You'll also need a designated safety officer on each job site with the responsibility and authority to enforce the plan.
Many of the details regarding how to implement the safety measures will be left up to the company in charge of the safety of the job site—typically you, the general contractor. The list will likely evolve as new information, products, and protocols emerge. Mandatory guidelines imposed by states and municipalities—and interpretations of those guidelines by authorities— will hopefully evolve at the same pace, so that we aren't forced to choose between current regulations and best practice. You can also be sure that there will be paper-work requirements—so know what they are and provide the safety officer the necessary tools for meeting them.
Even with the best plan and the best training, erosion of job-site discipline over time poses a big risk. Most of us are familiar with this phenomenon—right after a safety training or (sadly) after a job-site accident, crews are initially more vigilant, but then there's a tendency to relax standards over time. This gradual and almost inevitable loss of adherence to the new safety protocols will pose two risks: One, it could contribute to a possible resurgence in cases of COVID-19, thereby causing subsequent state or regional work stoppages; and two, it could lead to legal liabilities.
To help minimize these risks, involve your crew closely in the development of your safety plan. Help them understand all the reasons for COVID-19 safety—from obvious personal and public health reasons to maintaining good client relations and your good reputation—and give them room to take leadership. Something imposed by injunction will likely not stick as well as something developed and implemented more organically (guided by any parameters established by local or state health authorities). So make development of the plan a group responsibility and provide resources and time for regular retraining.
Carefully choose who the safety officer will be on each job, and provide ample, visible appreciation and support for that person. Display added gratitude to those on the job who are doing the relentless cleaning— ideally, that will be everyone. The goal is to keep adherence to the measures fresh and relevant and to head off cynicism and unhealthy skepticism about the new job-site procedures, many of which may be unpleasant and burdensome.
The company-specific safety plan should include policies and expectations around how the plan is implemented, including:
Names of safety officers for each job site

 

Contact information and chain of command for questions about compliance or noncompliance

 

Lists of approved equipment and supplies and where to find them

 

Procedures for gathering contact information for all workers and visitors to the site for notification in the case of possible COVID-19 exposure (some software, like Buildertrend and CoConstruct, have digital methods for capturing this in daily logs)

 

Daily reports that include wellness checklists, cleaning logs, notes regard- ing supplies that are running low, and other important information

 

Notifications about confidentiality requirements regarding workers who may be infected

 

If appropriate, special considerations for renovations of occupied homes that as- sure a comfortable separation between workers and occupants

 

Guidelines regarding what's considered safe travel from home to work and
back home (are stops at coffee shops allowed, for instance?)

 

Guidelines regarding what's considered a safe trip to the lumberyard, hardware store, or other supplier
Guidelines regarding the extent to which non-employees—subcontractors, delivery drivers, inspectors, architects, engineers—will be expected to comply with your procedures, how those procedures will be communicated to them, and by whom

 
Legal liabilities and client relations
It's essential to consult with your lawyer to manage your legal liability. Construction industry organizations such as the National Association of Home Builders (NAHB) have come up with draft language to give you a jump start. Given this moment in time, there is likely minimal case law providing guidance about appropriate contract language in the event of a pandemic, so giving your lawyer something to respond to and work with may save you some legal fees over just asking her to come up with something on her own.
Implementing and maintaining good job-site safety practices and including the right clauses in your contracts only get you part of the way. Absent a high level of respect and trust between you and your clients, even the best contracts and practices may end up meaning very little. Particularly in the case of residential remodeling projects, it is as important to involve your clients in the development and communication of your safety plans as it is to involve your crew.
One way to involve clients
Once you've drafted a good general safety plan with the help and buy-in of your crew and you've made sure it meets or exceeds guidelines established by your state government, find out if the town or city the job is in has its own expectations. For instance, Cambridge, Mass., where my firm often works, has quite a detailed mandatory guideline compliance process. Adjust the plan as needed based on any municipal regulations in effect.
Then, set up a video conference with the client. Make it clear you want everyone to feel safe and to be safe, to the extent you can make that possible. Walk through the plan with them; get their feedback and approval. Be clear about what you expect of them. Show leadership; get out ahead
of the situation by not being afraid to talk about what the client should do if they see anyone violating the agreed-upon protocols, and what will happen if anyone—crew member or household member—tests positive for COVID-19. Review any new contract language. And be prepared to talk about added costs.
How you handle the added costs conversations will probably depend on the current stage of the project. Here are some things to keep in mind:
• Absorbing or at least sharing the cost of the additional safety measures could be a wise investment—in goodwill, in preventing loss of work for your crew, and perhaps in buying yourself some time to figure out how to implement all aspects of your safety plan.
• If you do decide to charge extra for the measures, it becomes even more essential that those measures are adhered to. You are upping the ante considerably.
• It may be that the added costs are not as great as you fear. Remember when the EPA's lead-safe remodeling practices became law? There was a lot of grumbling at first, and then the realization that it wasn't all that hard to comply, after all.
• To recap: Develop your plan with your crew; train your crew, and then frequently re-train your crew and your subs and suppliers as needed; involve your clients in the process; and figure out how, or if, to charge for the additional time it will take to effect these changes. Don't proceed until you have buy-in from everyone.
The bigger picture
Finally, it's important we not forget that our job sites rely on myriad supply chains to function—supply chains that provide the broad range of materials and products that go into the construction or renovation of a home or building, that assure the availability of the gasoline and maintenance that vehicles require to get crew and materials to the job, and that support a host of other economic activities that need to happen for us to be able to do our work.
What we do on our job sites cannot assure the safety of every worker in those supply chains, and many of those workers are undoubtedly not safe. So, we also need to make it a practice to ask what our suppliers, the manufacturer's reps for the products we use, the owner of the portable toilet company—even the managers of our local coffee shops—are all doing to look after their workers. We need to be as diligent about pushing for "COVID-19 worker-safe" products and services as we have been about specifying FSC-certified lumber, or low-carbon building materials, or alternatives to foam insulation. In fact, we need to be more diligent. The burdens of this pandemic are not equitably distributed—over the entire length of every one of our supply chains, lower-paid workers are bearing most of the risk.
If all we worry about is the safety of our own job sites, then we will have missed a chance, and fallen short.
---