Podcast 291: Overdriven Nails, Indoor-Air Quality, and What is This Attic Insulation?
Kiley, Rob, and Patrick hear from listeners about homemade blower doors and a supposed urban exodus before taking listener questions about overdriven fasteners in Zip System sheathing, unknown attic insulation, and indoor-air quality.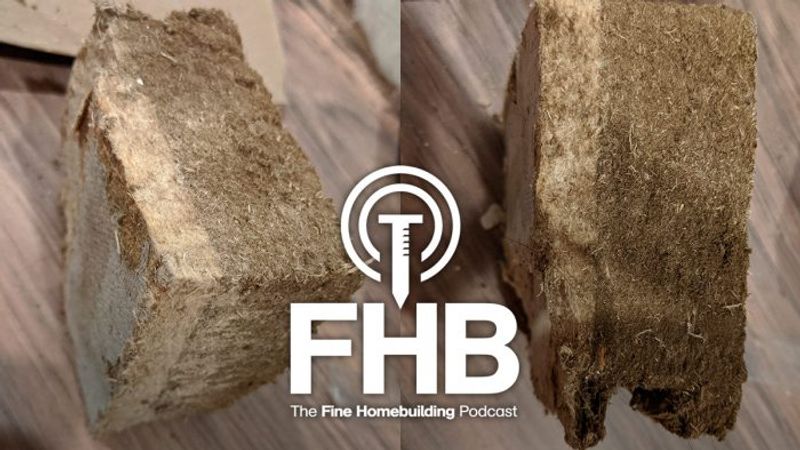 ---
Follow the Fine Homebuilding Podcast on your favorite app. Subscribe now and don't miss an episode:
Help us make better episodes and enter for a chance to win an FHB Podcast T-shirt:
www.finehomebuilding.com/podcastsurvey
Ryan tells the story of a homemade blower door. John offers his candidates for secret-weapon tools. Carroll talks about his experience living in a log home. Dr. Eric writes in saying the recent urban exodus caused by COVID-19 is a myth, but eye injuries from bungees are real. Eric wonders if overdriven fasteners in Zip System sheathing are a problem. Derek wants to know the best way to insulate his California attic, and David the architect asks if indoor-air quality is more important than airtightness. Jon suggests using PVC pipe for ventilation duct.
---
Editor Updates:
---
Listener Feedback 1:
Ryan writes: Hello! I've been listening to your pod case for about 2 years now and it's become mainstay of my podcast rotation. Every time you guys talk about blower door tests I kick myself for not having shared my story.
I'm a 30-year-old site supervisor /assistant project manager in Philadelphia.
The last builder I worked for did a fair amount of LEED homes in the city. We used a 3rd party inspector who was very particular about the details, which could be frustrating at times but in retrospect was actually reassuring. After my first few blower door test and retests on some builds, I'd decided to create my own blower door, so I wouldn't waste the inspector's time while I ran around looking for leaks while he waited.
The project began with a large HVAC blower that was bolted to a shop dolly. It must have weighed 75 pounds. To make the door, I took a tarp and strapped it over some 2″x2″ cut from 2x stock so the edges were square and not rounded over. I used a ton of roofing nails to fasten the tarp to the frame. The frame was sized to fit inside 36-in. door that we used across 6 LEED builds. I would screw the to the jambs behind the weatherstrip. I used a piece of the tarp with industrial Velcro to fashion a collar to fit around the blower outlet. A little additional tape completed the job.
My makeshift blower door worked better than expected. We would run the fan and have ample time to inspect the entire building and seal with caulk and spray foam were needed and I was quite proud of the airtightness numbers we were getting.
Our biggest challenge was preventing subs from damaging the Sika air barrier between fire-separation walls in row homes. They would blow nails through it constantly and some would cut it when it was in the way.
Understandingly the blower motor fan was way overkill. I know we were way over pressured one day when the city inspector arrived to a meeting early (a rarity in Philly) and decided to enter the row home from the rear parking lot and into the kitchen area while the building was depressurized. He must have had a decent grip on the door handle because the pull of the door and "Whoosh" of incoming air pulled him through the doorway and made him stumble into the room. He caught himself and gave a laugh, saying "that's a first for me".
I love what you guys do and I'm sure I will have a podcast worthy question at some point. I bought a 1930 row home fixer upper in a really interesting Philadelphia, East Falls neighborhood along the Schuykill river (I'd love to hear how you pronounce that one!). I'm 2 years into intermittent weekend warrior projects. I'm sure there are behind wall surprises that I will need answers to. Thanks!
---
Listener Feedback 2:
John from Nichols Hills, OK:  I've been a listener for about 6 months and subscriber 25 years. Really enjoy the content! The sawhorse segment was good. I want to plug the Rockwell Jawhorse. Not exactly a straight-up sawhorse but very versatile for my projects.
Also a mention for the Japanese pull saw. I could never get my band saw to cut square and true through the old growth, twisted Oklahoma oak for my table project. Not the straight and true midwest lumber. Every piece out of square and I would loose too much material to plane (which I don't have other than Bosch power hand planer). Us Festool track saw to get edges of planks to meet. The pull saw took some patience but cut the tenons so precise, just had to smooth with chisel/sandpaper. Still need tips on the mortising technique for out of square legs and braces.
Keep up the good work and let me know if you have any questions about broken bones bleeding!
Related Links:
---
Listener Feedback 3:
Carroll writes: Hello members of the podcast, I was listening to podcast 283 when someone said log homes. I started to get a sick feeling in my stomach that I used to get when I would pull into my driveway and see that box of firewood looking back at me. All I can say to your listener is run and don't look back.
My wife and I built a log home back in the late 70's and I was 24 and It was the cool thing to do at the time. I thought that the happiest days in my life were when we moved into our new home. I was wrong. It was when we sold it and moved out. Log homes look nice at first but they fast turn into a maintenance nightmare and a money pit. After just 6 years we sold it and from what I know that house is on its 8th or 9th owner.
The house was a full log shell and full log interior walls. After about a year you could see the outside around the stone fireplace and the chinking between the logs. Windows and doors became harder to open and insects were an ongoing battle. Also don't get me started about heating the place. I just remember burning all my copies of Mother Earth News my first winter. I know that they are built better now because of the mistakes of the past but they still are a maintenance nightmare.
Related Links:
---
Listener Feedback 4:
Eric writes: I regularly listen to the Fine Homebuilding Podcast and also some NPR podcasts on my daily commute. There recently was an NPR On The Media podcast from September 2 about the misreported move of Americans out from cities and into the suburbs. The whole, short episode was about how this actually wasn't really a thing but was an over-interpretation and mis-reporting of a realtor survey. Since this directly affects your market, and the myth of moving out of urban centers was recently mentioned (briefly) in your podcast, I thought you'd be interested in a more objective take.
One other comment: in the same podcast someone had wondered if only survivable job-site accidents show up to the ED (and thus most accidents that show up at an ED might end your career rather than end your life.) At least in a few places where I've worked, people are routinely *not* declared dead at the scene of the injury. For multiple reasons, they are brought to the ED by EMS and then declared dead at the hospital if their injuries were lethal. So, it's likely that your emergency medicine physician Dr. Art Henderson would see many of the lethal job-site injuries in addition to the career-ending injuries. (As an aside, I'm an ophthalmologist and only see the blinding injuries that sometimes end careers, more often from bungee cords and hammers than power tools.
---
Question 1: What should you do if you overdrive nails in Zip System sheathing?

Evan from Boone, NC writes, Hey there podcast crew, I have a question about ZIP sheathing in relation to fasteners. I am personally a believer in the ZIP product and its advantages, but as one that's never had the chance to install it I am left with a question about what happens after it is fastened. Would it not seem that the WRB layer would be torn or split when a nail or screw is driven through? Additionally, if a fastener were driven somewhat below that layer, the sheathing would be exposed. What happens when water comes in contact with this spot? The worst-case scenario mindset would say that the sheathing layer would end up deteriorating at that point over time. I understand that the majority of the fasteners would end up under the tape around the edges, but sometimes it would be in the center of the panel too, would it not? I have attached a picture of such an instance that I found in an article of the November 2020 issue of Fine Homebuilding. I hope you can shed some light on what might go on, thank you, Evan from North Carolina.
Related links:
---
Question 2: Can I leave this old fiber-board insulation in place and still do a good job of air-sealing my attic?

Derek writes, Hi all, Long time listener, first time questioner.
An Australian ex-pat that has been living in the US for a decade. I met and married my American wife in California, and recently we purchased a 1950's cottage style (not sure our house has a style) house in the Tahoe 'foothills' of California. It's been heavily added to over the years, I count at least, 3 or maybe 4 different additions/modification of various sizes and scopes. We love it. It has a lot of potential and we are already many projects (and projects in motion) deep with many more to go. We are on the border of climate zone 3 and 4, and dependent upon what I'm doing I generally choose the most 'advantageous' zone ;).
Todays email and question looks at the undone attic insulation project. As you would expect, the house is, for the most part, under or un-insulated and the attic was not spared in this regard. The attic has none of the commonly expected insulation products. The only thing I can seem to find in the attic that may have originally functioned as, or at least was hoped to have functioned as, insulation is a thick fiber type board of some kind that seems to sit between the attic rafters, more or less in direct contact with the ceiling drywall. I have attached images of the product I am talking about.
My question is 2-fold. Firstly, what is it that I am looking at? Should I be worried about this fiber board (is it unsafe)?
Assuming it is all fine and 'safe', rather than attempting to remove it all from my cramped attic space (we have a fairly low sloped roof line, probably not more than 3/12 or 4/12 at the best), I was hoping to 'utilize' it in helping me air-seal the attic space by sealing that fiber board product to the rafter bays in the attic (probably with can spray foam) before then stacking as much blown-in cellulose as I can on top of it all.
I get that this might not be the best practices approach but think it might be the 'easiest' approach to achieve a relatively well sealed attic space without the hassle of necessarily hunting down leaks, as I hope this approach will put virtually all the air-sealing in the same 'plane', all sealing being done on the 'top' of the fiber board.
What do you think?
Related Links:
---
Question 3: What's the most practical way to ensure that our homes have good indoor air quality?

David writes, Hi Air Sealing Team, I am an architect that designs institutional buildings and enjoys making improvements to my home, attached are some images from my big project last year . . renovating my garage into a kitchen.
I listen to you regularly, I enjoy the open discussion. My clients usually want a more definitive answer.
I believe in the whole air sealing cult, I have not gotten there yet with my home but I am in the planning stages. However, I am reading a fascinating book,
Healthy Building, How Indoor Spaces Drive Performance and Productivity by Joe Allen and John Macomber. My simple synopsis of it is, Creating a healthy environment is more important than saving Energy. They understand that building is about making choices and setting priorities. They start by pointing out that we spend a HUGE amount of time indoors so the indoor environment is really important. If we can make the quality of the indoor environment such that we are 2% or 5% more productive or we feel that much better, how much is that worth?
What I am realizing is that yes, Air Sealing is important (don't throw me out of the cult) but that Air Quality is more important. The problem is, how do you test air quality in your home? I don't think many of us can afford to put monitoring systems into our homes (although as I am writing this I am thinking about the Radon systems that are widely used and I have a CO monitor in the house since we use a gas furnace). I have worked on office buildings were we have installed CO2 monitors.
What do you think? Maybe having a leaky house is not such a bad thing? A tight house with an air exchange system would be ideal but a tight house without good ventilation may be the worst choice.
Related Link:
---
Question 4: Can you use PVC pipe as a duct for a bath fan?
Jon from St Louis writes, Hey guys. I'm wondering if you could vent a bath exhaust fan with thin wall PVC pipe. Crazy? Brilliant? Or none of the above.
Thanks for all you do.
Related Link:
---
END NOTE:
Visit the Taunton Store  •  Magazine Index  •  Online Archive   •  Our First Issues   •  All Access
---
---
Help us make better episodes and enter for a chance to win an FHB Podcast T-shirt: www.finehomebuilding.com/podcastsurvey
---
If you have any questions you would like us to dig into for a future show, shoot an email our way:

[email protected]

.
If we use your question we'll send you a FHB Podcast sticker!
---
FHB Podcast T-shirts!
Represent your favorite podcast! Available in several styles and colors. Made from 100% cotton. Find the Podcast t-shirt and more cool products in the Fine Homebuilding Store.
---
Fine Homebuilding podcast listeners can get 20% off anything in the Taunton store, including the Renovation, 5th Edition.
Use the discount code FHBPODCAST to take advantage of this special offer.
---
We hope you will take advantage of a great offer for our podcast listeners: A special 20% off the discounted rate to subscribe to the Fine Homebuilding print magazine. That link goes to finehomebuilding.com/podoffer.
The show is driven by our listeners, so please subscribe and rate us on iTunes or Google Play, and if you have any questions you would like us to dig into for a future show, shoot an email our way: [email protected]. Also, be sure to follow Fine Homebuilding on Instagram, and "like" us on Facebook. Note that you can watch the show above, or on YouTube at the Fine Homebuilding YouTube Channel.
The Fine Homebuilding Podcast embodies Fine Homebuilding magazine's commitment to the preservation of craftsmanship and the advancement of home performance in residential construction. The show is an informal but vigorous conversation about the techniques and principles that allow listeners to master their design and building challenges.
Other related links