Tools & Materials
Legit Cordless Roofing Nailer
With as much strength as its air-powered cousins, the DeWalt cordless roofing nailer's only drawback is its battery life.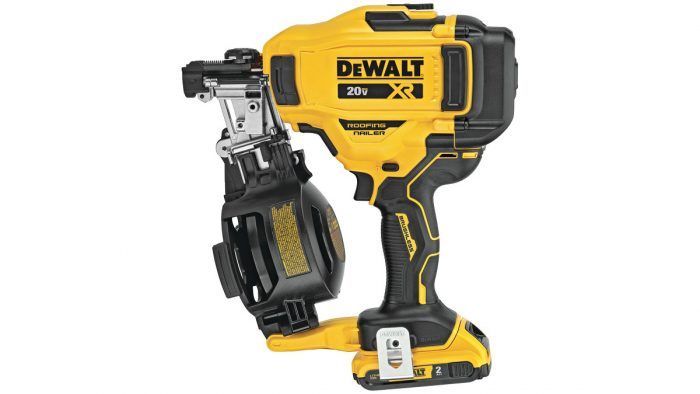 I thought DeWalt's new cordless 20v coil roofing nailer would be a toy compared to a pneumatic version. I was wrong. This tool operates and is configured the same as its air-powered cousins. It fires standard 15° coil nails from 3⁄4 in. to 1-3⁄4 in. It can bump-fire up to three nails per second and has great balance. The belt clip is nice for freeing your hands to climb ladders, and you don't need tools to clear jams—though ours hasn't jammed yet.
It's a full pound heavier than our air-powered roofing nailers, but the convenience of not dragging a hose all over the roof makes up for the extra weight. The main drawback is battery life. DeWalt claims you can nail a square of shingles on a fully charged 2-amp-hr battery, based on four nails per shingle. I fasten shingles with five nails, so I didn't see that kind of run time. You can use higher-power batteries, but their larger size makes the nailer unwieldy. I don't see the runtime as a problem, though, because this nailer is for repairs­—and for that type of work, it's perfect.
Andrew Grace, a remodeler in Ligonier, Pa.
Photos: Courtesy of the Manufacturers
From Fine Homebuilding #296