Exterior Finishes
Take a look at some of the key design details and materials used to clad the outside of the Connecticut FHB House.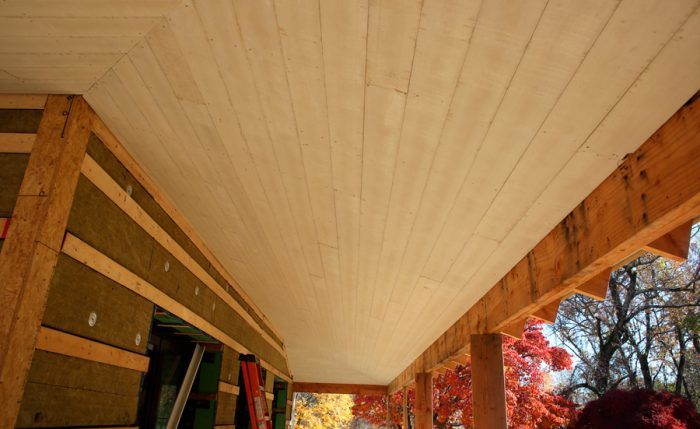 The exterior finishes on the 2020 FHB House are coming together. The crew installed Boral TruExterior Reversible Shiplap-Nickel Gap siding on the porch ceilings, which can be installed with either the smooth side or wood-grain side exposed. On this application, the team decided to use the smooth side facing out and butt the joints together. In other locations on the exterior, they are using the nickel-gap side. The beams at the edge of the porch roof will be wrapped with hemlock, and supported by solid hemlock posts.
The crew installed cement backerboard and a fluid-applied WRB as a substrate on walls that were clad in Eldorado Stone masonry veneer. A light-colored grout was chosen to blend in with the light-gray stone veneer and the off-white siding, and the grout depth was kept low to highlight the texture of the veneer.
Decorative lintels made of Kebony, a durable, sustainable wood product, cap the tops of all the windows and doors. The lintels were cut to size and then lightly sanded to retain a rough texture for a slightly rustic look. The crew assembled them with Titebond III Ultimate exterior wood glue, and because the lintels are heavy, they need to be attached with structural screws. Plugs were cut out of the Kebony to hide the fasteners.
There was just enough time to tackle the exterior paint job before the weather got cold. After considering eight samples of various off-white colors, the homeowners chose Benjamin Moore's Glacier White. Boral TruExterior siding comes preprimed, so the team only needed to apply two coats before topping it off with a Low Lustre finish for just a hint of sheen.