Pulling Nails From Redwood
Use pieces of scrapwood to free nails without bending the nails or splitting the wood.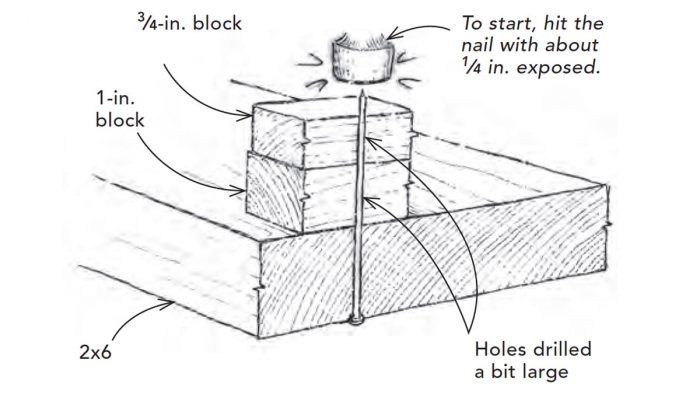 I had to remove 2×6 redwood exterior trim that the homeowner wanted to repurpose. Unfortunately the 31/2-in. box nails bent every time I tried to pound them out from the back side. Years and years of paint covering the nail heads didn't help. With a hundred of these nails to remove, I needed a solution. I decided to drill a hole just slightly larger than the nail shank in 1-in.- and 3/4-in.-thick pieces of scrapwood.
With the two holes aligned, I put the drilled scraps over the nail, leaving only about 1/4 in. of the nail sticking out. With a hard tap on its pointed end, the nail was freed. I removed the 3/4-in. piece and struck again, further driving out the nail without bending. A third hard tap drove the nail out enough to pull it out, leaving a clean hole and mostly intact redwood.
—Scott Gillespie, Richmond, Calif.
Edited and Illustrated by Charles Miller
From Fine Homebuilding #298