Design
Building for a Changing Climate is a Necessity
Architectural designer Marianne Cusato draws on her experience designing disaster-recovery homes to offer insight into climate-responsive housing development.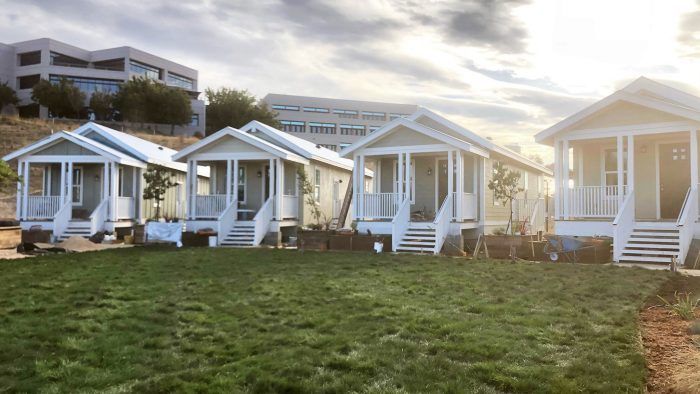 "We're blocks away, in some cases, from safety," said Marianne Cusato. She's referring to entire residential communities that are at-risk of flooding or other climate-induced disasters that will (if they haven't already) render those communities uninhabitable. And as the designer of the Katrina Cottages, Marianne would know.
After Hurricane Katrina hit in 2005, Marianne, currently a partner at Cypress Community Development Corp and a member of the faculty at the University of Notre Dame School of Architecture, was invited to Mississippi as part of a team of architects, designers, and planners to assist in the redevelopment of devastated neighborhoods and cities. Tasked with coming up with an alternative to the FEMA trailer, Marianne's 300-sq.-ft. Katrina Cottage design was chosen and implemented.
Since then, Marianne's workload hasn't let up as climate-related disasters have continued to strike communities across the country and displace countless people. From the California fires came the Sonoma Wildfire Cottages. From Hurricane Irma came the Keys Cottages. And now, three years after Hurricane Michael made landfall in 2018, Marianne is working on housing recovery in Panama City, Fl.
"Katrina was a turning point. It started the mega hurricanes that we now see every few years," said Marianne. "They are hitting with more force, and they are hitting a housing stock that is not set up for this. If you build to code, you are most likely fine. But the hurricane is not going to know if your house was built in the '50s or after 2008."
So for Marianne, building safe homes that are responsive to the climate needs of the community is of utmost importance—because it has to be.
Making it safe, affordable, and lovable
Rebuilding post-disaster isn't just about getting houses up quickly—it's about rebuilding a community, and integral to that process is weighing the delicate balance of the cost, safety, and design of each house that will become a home.
Fortunately, there are some surprisingly simple principles and tactics that Marianne and her team at Cypress employ that are applicable to anyone looking to remodel or build a custom home: raise the ceilings up, have windows on multiple sides, and have a livable outdoor room.
"Square footage itself is irrelevant," said Marianne. "As houses grew, they got dumber. You would go into some of these McMansions and you couldn't find a bed wall in a bedroom—you couldn't furnish them! Taking a house that doesn't make sense and making it smaller, makes it miniature. Size is literal, but scale is relative."
Vaulting the ceiling, like Marianne did in the Keys and is currently doing in Panama City, makes a room feel larger. Windows on different sides of the house capture light at different times of the day and enable cross-ventilation. And having a porch that is actually usable is like having another room in the house.
They use James Hardie engineered siding and put on metal roofing where possible. In Panama City, they are building above-code by installing impact windows, and while most of their work is stick-framing, they have used SIPs in the past and would like to be able to use that method more in the future.
"We are working in places that have been hit, which means they are likely to get hit again, so we are both building back after and building better before," Marianne said.
Central to accomplishing the goal of rebuilding a sense of community—and not just a smattering of buildings—is what Cypress calls creating a lovable design, because, as Marianne said, "the most sustainable building is the one you love enough to maintain." In a departure from trends that have dominated suburban home building in the United States for the past half a century, urbanists like Marianne are looking to tap into and replicate the design of much older homes whose aesthetics have proven to have longer staying power. Often, the owners of these types of homes are the very communities particularly impacted by climate disaster—people of color.
"There is a disproportionate impact on communities of color because those communities have been disinvested," Marianne said. " We redlined, we created racially restrictive covenants, we carved freeways, which disinvested. So when those communities that have less infrastructure and have less resources are hit, the impact is greater."
Building for our communities' future
Marianne's work is not only inspiring, it's absolutely necessary.
For homeowners, while a home-design that takes into consideration more sustainable elements such as insulation that more naturally regulates heating and cooling is important, these aren't the only relevant factors. Marianne pointed out that we've spent a lot of time overbuilding and building in unsuitable locations, and then being surprised when environmental situations such as flooding or fires damage or destroy homes and communities.
What is Marianne's answer? If the arm is coming off, she challenged, we can choose to go knuckle by knuckle (which is what we have been doing so far), or we can take the whole arm off at once. It's certainly a hard-to-stomach but apt metaphor for describing a way forward that challenges us to plan for a dignified retreat from areas that don't make sense to build on anymore.
"We have to decide as a country how we're going to build, where we're going to build, and what we're going to build. At my company, we're trying to create models that address these things that are first and foremost safe, and balance affordability and design—design absolutely gets a seat at the table because it's part of the resilience and the fabric of the communities."
—Photo courtesy of Marianne Cusato
---
RELATED LINKS