The Value of a Diversified Workforce
A more diverse industry will help close the skills gap, offer more qualified workers to builders, and create much-needed social change.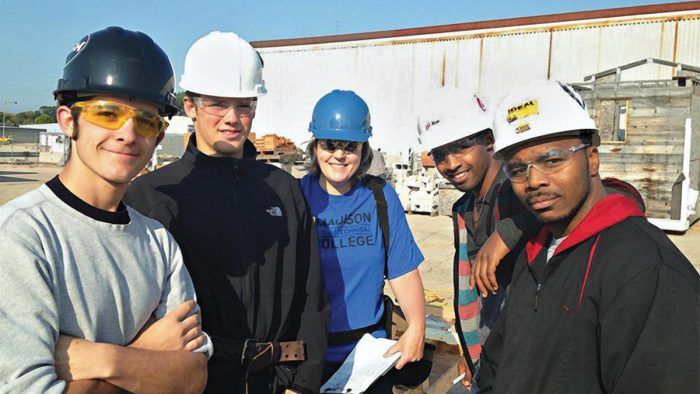 Synopsis: Construction and remodeling instructor Allie Berenyi discusses the barriers to entering the trades as a woman or person of color, plus she talk about Madison College's effort to recruit a more diverse student body for their carpentry program.
---
In 2005, the Construction and Remodeling program at Madison Area Technical College (now Madison College) was a solid, if unremarkable, pathway into a carpentry career. Each fall, 16 students began a nine-month program that taught them how to use a carpenter's tools and build a home. By the following spring, between 10 and 14 of the students graduated and joined South Central Wisconsin's residential building workforce.
As I transitioned from a career in home remodeling to become the lone full-time faculty for the Construction and Remodeling program, I saw that the program and this model for skilled-trades education, while adequate for the few who completed it, was also flawed. For one thing, it didn't keep up with the demand for skilled construction workers in Wisconsin's second-largest population center. For another, the students were all mostly male, White, and under 30 years old.
A broader base
The first steps to increase capacity were relatively simple, though they required a commitment of resources, which the college and its statewide leadership provided. We easily doubled enrollment by making more classes available. But doubling capacity did nothing to change the makeup of our student body. That required imagination and a commitment to meeting and talking up the benefits of decent pay and pride in work to women, people of color, and people who were tired of dead-end or otherwise unfulfilling jobs. We talked to people everywhere—English-language classes, Centro Hispano, Boys & Girls Clubs, farmers' markets, community centers, alternative high schools, and prison re-entry programs.
It wasn't enough to sell people on the idea that they could go to a technical college to become a carpenter. We had to make it a realistic option, adjusting for the reality that many people will continue to work while they go to school and that some people can't afford to or aren't ready to attend college full time.
We created a bridge program as a pathway into our program, helping students who lacked the skills or confidence to jump in feet first, providing supplementary math and communications support as they transitioned into our credit courses. Noel Brown used the bridge program to help him keep up in the Construction and Remodeling classes while simultaneously earning his high school equivalency diploma. He needed evening courses so he could keep working while earning his degree, and we provided them. Without that support, and the option to take courses in the evening, he probably could not have pursued his degree and carpentry career. Our program's approach to recruiting has been "yes and," not "either/or."
Our evening classes are diverse (one cohort had students from six countries), with incredibly committed students, some working 40-plus hours per week and attending classes four nights a week. When employers complain about how hard it is to find people who will show up, we point them to our evening students. They show up for their jobs, show up for school, and show up for their families.
Sewa Mensah emigrated from Togo with his wife and young family. He worked days at a hotel and attended evening classes for over two years. Even before he walked across the graduation stage, he began working for a local builder, making over twice what he made at the hotel. Within a few months of beginning his construction job, he and his wife bought their first home.
Eventually, our students have begun to reflect the diversity of our community. Today, roughly 40% of our students identify as people of color. Although we have more women in our classes than when I began at the college (I taught one woman in my first three years), women still only make up roughly 10% of our students.
Creating opportunity
In 2018, we created a program for incarcerated men who were near their release and in need of work and opportunity. As students, the men were focused, lacked distracting drama, and proved to be some of the most skilled and successful graduates of any of our programs. Their correctional-center support staff helped match them with employment upon graduation and most maintained this well-paid employment for the remainder of their sentences, improving their chances of a successful reentry from prison.
Ian Bowers was among our first cohort of incarcerated students. Each morning Ian and his classmates arrived together and spent the day on campus, learning tool use, framing techniques, and exterior finish work. They earned OSHA 30-hour cards, brushed up on their math, and prepared resumes.
Ian didn't come to carpentry by working summers for a relative's construction company, like many young White men do. But he did grow up with curiosity about how things work. As a kid, he took broken bikes out of the dumpster behind Goodwill and pieced them together. He took wood technology classes in high school and excelled. When he worked at a roofing-supply center, he took home the installation manuals of the different products and read them cover to cover, teaching himself how to install shingles and siding without ever actually doing it.
After high school, he joined the Army and planned to use the GI Bill to fund higher education, but when he ended up in prison, that plan was off the table. With a short time left on his sentence, Ian jumped at the opportunity to participate in the first run of the program.
Ian excelled in the program and prepared his resume. He was offered employment at Findorff, a Madison-based union contractor that builds schools, convention centers, and other commercial buildings throughout Wisconsin. He began working there while still incarcerated, but was able and welcome to continue with the company upon his release. Now, he's working as an entry-level project manager. In a supervisory role, he helps to nurture and mentor other African Americans on the job. He's witnessed the cultural differences that hamper communication between the majority of union carpenters, who are primarily White and come from rural communities, and the people of color who "grew up a different kind of way" in the city.
"I think more leadership training and more diversity training on how to deal with different types of people would be key to opening up more opportunities for urban people who want to be in the trades," Ian said.
The challenges ahead
As a technical college program, we respond to industry advisors who have implored us to find people and train them in the basics of carpentry and the industry. Most companies understand that they can no longer sustain a workforce based strictly on hiring the young nephews of the guys who've been at the company forever. There simply aren't enough young nephews with an interest in the trades. But companies willing to widen their lenses will find plenty of people to maintain a robust workforce.
Twenty-eight years ago, when I began my career, contractors talked about hiring a more diverse workforce and some of them actually did. After all, it was the local construction industry and the unions that championed the Tools For Tomorrow program offered by Madison Area Technical College for women seeking careers in the trades that started me on my career path in 1997. But giving someone a job is not the same as giving them the opportunity to succeed. Women and people of color are still met with hostility, a cold shoulder, or thinly veiled isms.
Recently, my heart broke for a graduate of the program— Andy, a Black man—who stopped by to talk about how things were going. Four years after graduation, he's working for a roofing company, not making very good money, not using many of the skills he learned in the program. I asked him how he gets along with the others on the job. He answered, "People are always asking me if I can sell them weed, and I'm like, what makes you think I sell weed? They usually don't talk to me much after that."
Does everyone treat the Black man at their job that way? Certainly not. But when the "diversity hires" speak up about harassment, management frequently shrugs off their complaints. When these employees leave, the company blames the "fit," never acknowledging that there might be room to improve the workplace culture.
Today, we are facing a skilled worker crisis, but there are many people who don't know that they are perfect for these jobs. Contractors can get involved in building the workforce, teaming up with their local vocational programs, advising them on the skills they need new hires to have, providing internship or apprenticeship opportunities, and encouraging their workers to look for training opportunities at the nearest technical college.
Construction programs without students are not sustainable; even as the industry needs more workers, programs are shuttering due to a lack of enrollment. But the industry needs to evolve its thinking on its workforce, hiring people that reflect their community and then creating a workplace culture that works for everyone, from the employee about to retire to the newbie with a shiny new tool belt.
Clearly, progress has been made in diversifying the workforce, but there's still much to be done, and workplace culture needs to improve if women and people of color are going to be successful. A more diverse industry will help close the skills gap, offer more qualified workers to builders, and create the social change needed throughout our society. As for Ian Bowers, he bought his first house in 2019 and he plans to use his equity to buy another to fix-up. That's a success story.
Allie Berenyi is an instructor of construction and remodeling at Madison College and an advocate for women and people of color in the trades.
Photo: courtesy of the author
From Fine Homebuilding #300
---
RELATED LINKS