Mess-Free Seal for Plumbing Penetrations
Innerlynx EPDM mechanical seals come in nearly any size and make it easy to waterproof where pipes pass through concrete foundations.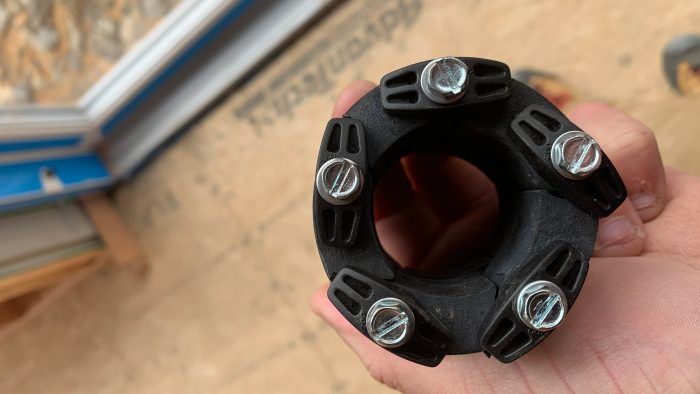 Sealing foundation penetrations can be tough; the common approaches using hydraulic cement and sealant fail more often than not. I've found Innerlynx mechanical seals by Advance Products & Systems to be a reliable alternative. Each seal is a "chain" of compressible links, connected together and sandwiched by small plates and bolts.
They are placed in the annular space between a round hole in a foundation and the pipe passing through it. When the bolts are tightened, the plates compress the links so they expand outward to form a tight seal that can hold back nearly 100 ft. of head pressure.
For residential use, the seals include EPDM rubber links, composite plates, and steel nuts and bolts, but there are other options for high temperatures, chemical/oil exposure, and firewall assemblies. The seals can be inspected and tightened if needed over the life of the building. Pricing depends on pipe and hole sizes—use the manufacturer's chart or online calculator to choose the right size for your application.
A seal for a 1-1⁄2-in. pipe through a 3-1⁄2-in. sleeve is about $30.
Photos courtesy of Ben Bogie