What to Do About This Damaged Concrete-Block Foundation?
A homeowner suspects her contractor is dragging his feet. But are these shifting blocks really a problem?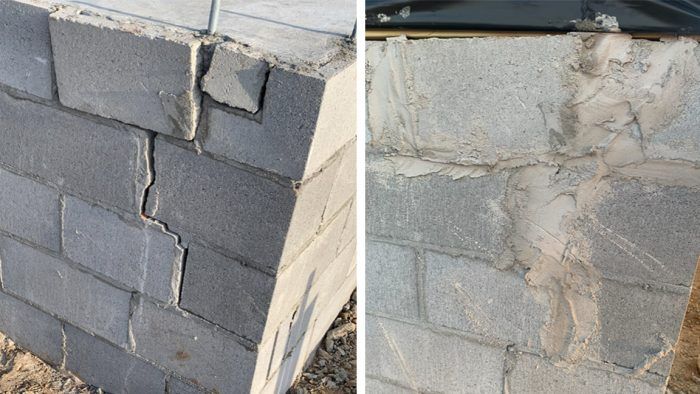 Heather Dex has a problem. In the process of backfilling the block foundation on her new home, the contractor has caused some damage and he doesn't seem eager to do anything about it.
"The damage is on the corner of the house and has wide cracks and bulging and busted block," Dex writes in a recent post in the FHB Forum. "The builder did nothing and the concrete was poured and now the framing is nearing completion."
Dex approached the builder and told him something had to be done. "He told me it was no big deal and he would fix it," she said. "His fix was mortar. Can someone please tell me if this is an actual fix or just a Bandaid?"
The block wall will be faced with brick, but in the meantime Dex worries that problems may lie just below the surface.
Nothing or something? That's the question for this Breaktime Spotlight.
That is not fixed
"It wasn't fixed at all," Florida says. "It was patched, which just won't do. That's a serious structural corner and is already leaning out. It all needs to be torn out and repaired. Apparently, you didn't hire a builder at all."
Florida suggests that Dex hire an engineer, at the builder's expense, and Dex replies that the builder has already arranged for an engineer to take a look.
"I think he was hoping because I'm a female I wouldn't know that this was a big deal and would have just tried to cover it up," Dex writes. "I talked to multiple other contractors who said it is not OK to just mortar over it, and now they have almost all framing complete."
The engineer says it's fine
As Dex reports the next day, the engineer has made his appearance and concluded nothing needs to be done about the corner.
"He said he wasn't worried about anything structural at all," Dex says. "I still feel extremely uneasy about it. He said he will be typing up a full report and I will have a copy."
The engineer tells Dex that the only thing he's troubled about is that water might be retained near the site of the repair because some of the mortar bulges out from the face of the wall. What the builder should do, he adds, is to "file the brick down so that it is level and won't get any water buildup."
"He said he felt good about it because around the corner was plumb," she adds, especially since the area is filled with concrete. But Dex is not feeling so good about it. Her only consolation is that she'll have some documentation saying that the wall was sound should something every go wrong.
Still, she plans on calling a lawyer to make sure that the PDF the engineer plans to send over will hold up in court.
Is a PDF of the report good enough?
A PDF file is short for "portable document format files," a common document format developed by Adobe. Is this good enough for Dex's situation?
"Make sure that the engineer signs and seals his written report with his PE [professional engineer] stamp," saws Sawdust Steve. "That will make him fully accountable for what's contained therein."
When an engineer signs and seals drawings and reports, it shows that the work has been done by a qualified and licensed engineer, and that the engineer is taking professional responsibility for the work done, adds Catmandeux.
"This is a legal requirement in most jurisdictions," Catmandeux continues. "Generally, a PDF copy of a report is not sufficient unless it is controlled by some Digital Rights and eSignature control system that can prevent altering the PDF, and the seal and signature can be traced back to the engineer."
An emailed PDF report without electronic security is not sufficient, Catmandeux says. What Dex needs is a properly signed and sealed paper copy, an original rather than a photocopy.
"The building inspector will likely need a properly signed and sealed report," Catmandeux says. "I can't imagine that passing inspection without some supporting documents. Your insurance company may need one as well."
Who does the engineer work for?
Mikeljon notes that the engineer is coming at the request of the builder, meaning the builder selected him. "If this was mine," he says, "I'd get my own engineer, and I'd probably not trust much else the builder says."
MisterEd1957 agrees, saying that the builder might have selected a buddy to provide a biased opinion. "It's time for a second opinion from an unbiased source, and a proper repair!" he says.
"Also," he adds, "the building inspector should be your advocate on this problem. Stop by the local building department for a discussion to enlist support. The problem shouldn't be that difficult to fix by a qualified mason."
Not an easy fix
Mikemahan3 puts aside the question of why the damage was not repaired before the slab was poured, but he adds this:
"It could well be that fixing it now could be worse than leaving it," he adds. "There is probably vertical and horizontal steel in the wall. Removing the block and grout could structurally compromise these. Certification by a licensed engineer should be satisfactory as to structure, and brick veneer should fix any cosmetic defects. In providing an engineering report the contractor has done what should be expected of him."
Not so fast, says Rog956. "As an old mason, works look bad." he says. "I think you should contact an attorney. I would have trouble trusting your builder."
Our expert's opinion
Mike Guertin added these thoughts:
I cracked a corner on the foundation of my own house when backfilling. I just pushed the damaged area back so it was straight and square and didn't make any extensive repairs. The foundation was reinforced with steel and I knew it would tie the cracked portion to the rest of the wall. I did pay extra attention to waterproofing the area on the outside, figuring the fracture is a pathway for water leaks.  And I have monitored the small visible crack on the inside of the foundation for the past 24 years—so far, so good, and I don't ever expect any problems.
Unless there is a concentrated load on the damaged portion of your foundation it can probably do its job despite the damage—that is,  transfer the loads of the structure to the earth below. But the details matter. Is there reinforcing steel running horizontally and vertically, and if so, where? It sounds like the block cells were grouted with concrete after the damage was done. That means the concrete is solid and can hold the damaged blocks together. It's too bad the contractor didn't realign the blocks flush with one another.  It would have been simple to do before pouring the concrete grout.
Other commenters recommended having an independent engineer survey the damage and provide a written assessment of the quality of the foundation and repair. This is a good idea. Ideally, the engineer should be one that both Dex and the builder agree on. And any recommendations to repair the damage should be completed at the builder's expense.
In addition to structural recommendations an engineer may make, I recommend a waterproofing membrane or fluid-applied coating be applied over the damaged area on the exterior side if there is a crawlspace or basement on the inside of the foundation.
Someday, Dex may sell the house, so she has to consider resale issues related to the damaged foundation area. Even if the damage is just cosmetic, the cracks in the blocks may be flagged by prospective buyers or their home inspector. A damage assessment letter will help quell a buyer's concern. Make sure to photograph each step of any repair work done on the foundation and waterproofing applied.  These will help support the engineer's letter and demonstrate the work that was done.
---
Scott Gibson is a contributing writer at Fine Homebuilding magazine and Green Building Advisor. Mike Guertin is a Rhode Island builder and an editorial advisor and frequent contributor to Fine Homebuilding.