How-To
Footing Retrofit in a Day
Using helical piers to add footings to an old house is faster, less disruptive, and comparable in cost to excavating and pouring concrete.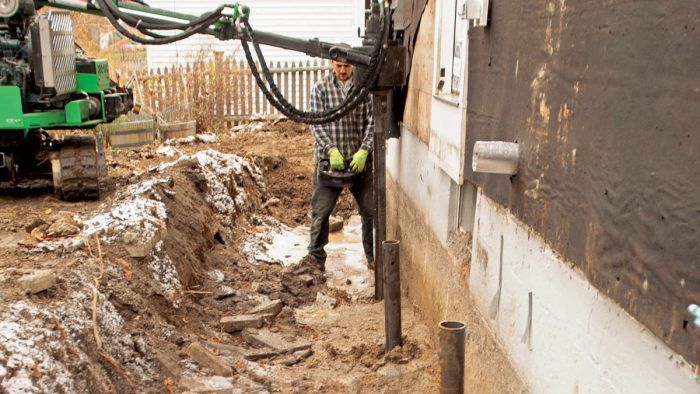 Synopsis: Builder Dan Kolbert details the process of using helical piers to add footings to a structure whose foundation couldn't support additional loads.
---
Maine has the oldest housing stock in the country, so dealing with hidden conditions before we can start with the contracted work is par for the course. At best, this means some wiring needs to be updated during a kitchen remodel, a header needs to be beefed up, or we run into some rot when replacing windows or doors. It's not uncommon, however, for us to find that more costly structural issues need to be addressed. Worst-case scenarios often involve the foundation. 
When the problem is all the way down at the footing, the work is usually riskier, dirtier, and more expensive than a lot of other repairs. This helical-pier solution to a footing retrofit solved for two of those challenges—we didn't have to shore up the house or worry about trench safety, and we didn't have much digging to do. The cost was about the same as retro­fitting a concrete footing, but the work got done faster and less intrusively.
| | |
| --- | --- |
| Pile driver Helical piers are installed with a hydraulic machine that screws the pier into the ground. For most residential jobs, a small machine can be used, which makes site access possible for many applications. Photo: Scott Gibson | Angled in. Because the crew is working tight to an existing home, the piers are driven on an angle for proper placement. When the full depth of the pier is reached, the top is pushed toward the foundation. Photo: Scott Gibson |
Support for additional loads
We'd been hired for an "add-a-level," turning a 1951 Cape with an unfinished attic into a two-story home with a big mono-pitch roof. Most of the structural work was straightforward—we were using clear-span I-joists to frame the new second-story floors and the same for the new roof rafters. This means that all the additional loads were on the existing bearing walls. Joe Leasure, our structural engineer, gave us specs for the headers we needed for the increased load, which we met by adding jacks to the existing headers and hiding new LVLs in the rim of the second floor. Leasure also told us to inspect the footings before starting the project.
We were planning to rent an excavator to help with the roof demo, so we waited until we had it on-site to check out the footings. I haven't dug out very many existing foundations, so I didn't have any idea of the likelihood of our foundation meeting what we typically assume to be required in our area—concrete footings at least 16 in. wide by 8 in. deep, set on clay with a bearing capacity of 2000 psf (lb. per sq. ft.).
Unfortunately, we discovered that not only were our footings not up to spec, they were nonexistent. The house showed no signs of movement or cracks, so it seems the foundation had worked for the existing structure. But we couldn't add more load onto it safely.
Note: The print version of this article includes an overview of common foundation footing types, which can be found online here:
Three Types of Footings to Support Foundation Walls
Dan Kolbert is a builder and remodeler in Portland, Maine. Photos by Scott Gibson.
From Fine Homebuilding #301
To read the entire article, please click the View PDF button below.
View PDF