Gazebo Grows Up
A freestanding, two-level gazebo addition complements the architecture and scale of this Cape Cod home.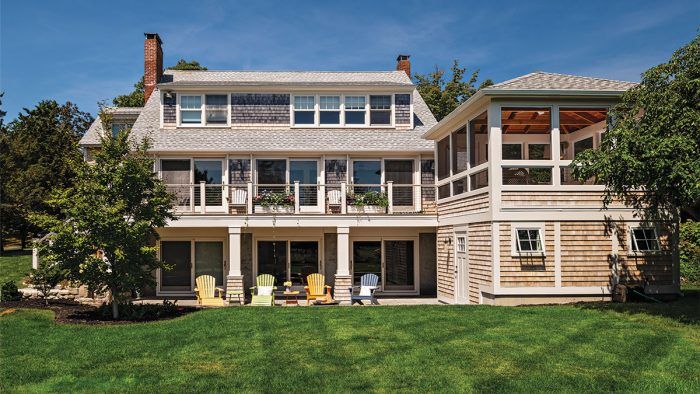 The coup de grâce of a substantial back-of-the-house-living space renovation is a freestanding, two-level gazebo. The challenge was to locate the gazebo in a spot that didn't block the views of the spacious backyard from either inside the house or from the deck and patio. Connected to the deck, but not to the house, the gazebo satisfied the homeowners' desire for a moderately sized, low-profile structure separate from the main house (not an attached screened porch) that was architecturally interesting yet didn't break the bank. Consistent with the architecture and scale of the colonial-style house, the gazebo's hip roof is less obtrusive than a gabled one would have been, and its shape creates a cathedral ceiling inside that offers great opportunities for design with its exposed timbers. The gazebo's windows are screened panels with transparent glass below. Practically speaking, the lower level of the gazebo is a boon, as the ample space is used for storing bicycles, gardening paraphernalia, outdoor furniture, and more.
See more photos of the project on the builder's website: Screened-In Gazebo

Designer AAM Architecture & Design, aamcapearchitect.com
Builder The Valle Group, vallegroup.com
Location Falmouth, Mass.
Photographer Dan Cutrona Photography
From Fine Homebuilding #301