Podcast 372: Raising a Ceiling, Drilling in Concrete, and What Kind of Windows?
Brian, Rob, and Patrick hear from listeners about FHB Anniversary interviews and hated home features before taking listener questions about raising a ceiling, fastening to concrete, and air-sealing versus insulating.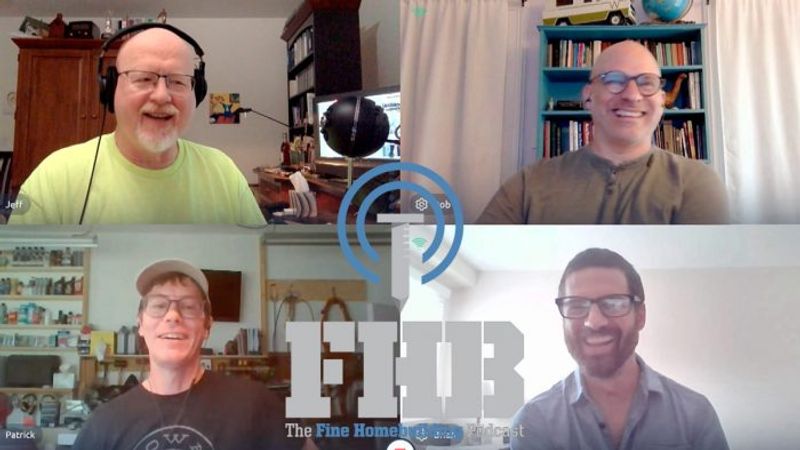 ---
Follow the Fine Homebuilding Podcast on your favorite app. Subscribe now and don't miss an episode:
Help us make better episodes and enter for a chance to win an FHB Podcast T-shirt:
www.finehomebuilding.com/podcastsurvey
Mike pitches a podcast interview. Andre has thoughts on duct design and comfort. Brent shares his list of hated home features. Jim asks for help with his ceiling assembly. Hammer needs a better drill. Alex asks which is more important, insulation or air-sealing? A Dallas, Texas, listener wants a talk about windows.
---
Editor Updates:
---
Listener Feedback 1:
Mike writes: Hi Patrick, For your next 40th interviewee I recommend Myron. You mentioned him in the recent podcast and he is a great choice. He's very funny and his background in construction is a lot deeper than drywall. He started as a builder and moved to drywall. And ask him about his experiences with raising chickens – lots of stories.
And I may have suggested this before but being old I forget a lot. I think you should try doing a 'Live' podcast recording where you line up a couple of people with questions to be brought in to ask their question and then you answer it. At 'live in the sense that other people can listen in at the time.
Related Link:
---
Listener Feedback 2:
Andre writes: Hi Podcast Crew: Continuing to enjoy the podcast and the listener commentary – we are a great audience, aren't we?
After a year in our 30+ year-old house in the PNW, I can sympathize with Corey's issue with a/c only running in the lower floor. I found the original house plans. The builders used a stock plan as the basis of the building plan and it's apparent that the house was designed for heating and not for cooling. A generation ago the need for cooling was less and a/c equipment was not as commonplace -at least here in the Pacific Northwest.
The open plan portion allows for heat to rise and fill the upper floor. Of course, this happens both summer and winter. The design also has no floor plate allowance for ducting between floors. As I'm sure you've heard, when it comes to ducting, size matters. For a/c to work effectively, the warm air needs to be returned to the air handler. With no return duct from the upper story it won't work. The air handler has enough jam but the circulatory ducting volume has to be increased to the upper floor.
I enjoyed Patrick's interview with Peter Pfeiffer and his regional driven expertise on dealing with heat. He had some insight on not trying to a/c entirely with floor registers and return register positioning. Some ducting upgrades are in the future for this house. Linen closet – I'm looking at you! Take care out there.
Related Link:
---
Listener Feedback 3:
Brent writes:  I don't build new homes; I remodel and repair existing homes. I get to know the families and the homes AFTER they've been lived in for years, and I learn of the design features that end up being very bad. Perhaps architects might want to take out a pad and pen.
1. Spa tubs. These things might have been nice selling features for luxury homes, but in my 30+ years of working in homes, I've met only ONE family who liked theirs. Their kids were under the age of 8 and played in it. All the rest have been used for everything from holding plants to clothes drying racks. They take too much hot water to fill, the spa action cools the water very quickly, and they simply are a huge waste. I regularly take out 20-30 year old tubs that have been used one time.
2. Laundry room entries from the garage. Nobody, and I mean NOBODY, enters their house from the front "show entrance." They go through the garage, which is barely wide enough to allow the car doors to open, much less accommodate bikes, scooters, golf bags, mowers, and still allow people to walk through. Then, the laundry, which was laid out on a drafting table, is a major choke point for the endless traffic in and out. There is not nearly enough room to get past the appliances, which must sit 6-8" from the wall to allow for utility hookups (not factored in to the room design) and any laundry sitting ready to go in, or out of the room is in the way of foot traffic. Then, for homes with basements, the garage floors are 16" lower than the first floor, and there are two crappy wooden steps to traverse. Consider a mother with a small child on her hip with a diaper bag, or folks carrying in groceries, etc., trying to wrestle through the constricted garage and even more constricted laundry, and you see why so many of my female customers look at their situations and say; "You can tell that a MAN designed this!"
3. Fireplaces for any home in climates that experience more than a month of sub-freezing weather are useless. In fact, they suck more heat out of the house when burning than they give off. Most of my customers here in PA tell me they light theirs on Christmas eve, and that's it. I know; it's traditional to put in a $15-20K fireplace, but MUST it be placed in the most important location in the entire house? That's right…the place where EVERYBODY wants their big screen TV! No architect on earth would DARE to put a fireplace off to the side, or in a corner, but I can introduce you to hundreds of homeowners who have cursed the darned thing for making itself the visual center of the living space – and forcing the most important appliance in the home to occupy a lesser location. Face it; everybody watches hours of TV a day. The fireplace just isn't much more important than that ridiculous hot tub upstairs.
4. Skylights in bathrooms. The people who build in skylights never seem to get the memo that the tunnel must be insulated on its sides. When the hot, steamy air hits a cold skylight, it condenses and ruins the trim and walls inside the tunnel. Try this; put a step ladder in your bathroom. Fire up the shower good and hot. Give it ten minutes, then climb the ladder. Your head will be in 90 degree steam while your feet are in 65 degree normal air. Take that up another several feet into a skylight tunnel, and you'll see why folks like me get lots of calls.
5. Stucco. This is a good product in very dry climates. But, to work in a cold, humid, environment, you gotta know a LOT more than the average stucco guy about how to install it. Unfortunately, production stucco companies only need it to last until the check clears. PA leads the nation in terrible stucco, and it's regularly being torn off 3-6 year old homes all over our area.
I guess I should not complain. My kids got to go to college because of terrible design features like these. My dream home, you ask?
• Three car garage with 12' wide bays and NO obstructions (it can be done).
• Second floor laundry (where 99% of it is generated) with 25% more space than a normal layout.
• Large curb-less showers and only ONE shower/tub in the house (on the first floor). The only people who use tubs are babies and the elderly. Otherwise, they are dangerous.
• No fireplace. Or, if one is needed, put it in a corner with a gas flame….so it can be enjoyed while watching the big screen TV.
• No stucco. Vinyl is still the very best siding for wet climates.
• No skylights.
Then, you won't need guys like me so much.
Related Link:
---
Question 1: What's the best tool for drilling holes for fasteners in concrete?
Hammer writes: Hi, hope all is well. I started building basement walls on top of slab and have been drilling and tap-conning my bottom plates in with a 18v cordless drill. Needless to say, it is taking forever and I need more power. I keep burning and recharging batteries for every 2 holes. I don't need to go through like butter but at least make some progress with a few minutes. They have a cheap corded 7amp hammer drill at the box store for $60. Will that be strong enough or I need to up it to more power. Also, I'm going to be attaching 1×4 furring strips over 2in rigid foam. What is minimum tapcon size I need. I think the box store has 3 1/4 is that deep enough?
Related Link:
---
Question 2: Which is more important—an airtight envelope or insulation?

Alex writes: While I recognize that both an airtight envelope and more than ample insulation work together in concert to create a high-performance build, if one were to put more weight on either component, how would you rate it.
Related Link:
---
Question 3:  What are the pros and cons of using vinyl, aluminum, or fiberglass for my windows in hot and humid Texas?
Tex from Dallas writes: Hey y'all quick question regarding windows. You have addressed this in multiple podcasts but pulling it all together might be helpful to me and others. I'm in the process of building a single-story 3,800 under roof 2,700 living in Dallas, TX. It's muggy. Using modern material as far as zip & foam as appropriate, conditioned attic etc. My question on windows first relates to vinyl / aluminum / fiberglass? Can I get a quick high-level pro/con list on these? This may be a basic question, but it can get confusing for someone that doesn't live and breathe windows.
Other consideration, I haven't opened a window in 15 years except for the one time I smoked out the kitchen. I want to go with mostly picture/fixed frames where possible, any thoughts on this? If opening or egress isn't an issue i don't see why not. I can confirm for you, if there is any doubt from the group, nobody opens windows in Texas. Thanks a bunch love the podcast.
Related Link:
---
Question 4:  What is the best way to insulate my cathedral ceiling as I renovate?
Tom writes: Hi FHB Crew, I'm renovating my house which includes a partial cathedral ceiling. Page 6 of the attached document has the perinate drawings (the 2×8 rafters are new additions prescribed by my engineer). My plan is mostly in place but I continue to question some of the implementation details. It is hard to have confidence in any cathedral ceiling plan after reading the comments from Martin Holladay. I often feel like he is reaching through my computer screen, shaking me, and yelling "WHAT DA HELL ARE YOU DOING MAN". My house is a 1959 ranch with 8' ceilings and a 5/12 pitch roof. The lack of elevation doesn't leave me with many options for insulation in the sloped part of the ceiling, even closed cell foam only provides a questionable amount of insulation. I'm planning to use site built vent baffles made with rigid foam which is essentially a cut & cobble exercise. I'm open to paying the money for spray foam insulation but it is a little hard to justify when I consider that the baffles may represent the majority of the cut and cobble work. This assumes that I can use 3" foam board for the baffles which would fill the remainder of the 2×6 rafter bays after the vent channel. After the 2×6 bays are filled, the rest of the cut & cobble exercise should be comparatively easy since it involves bigger sheets and regular shapes that require little notching/trimming. (As a reference point, if I were to use spray foam, I would use a Bonfig configuration on the 2×6 rafters and spray the bays full to the level of the furring strips.)
This leads me to a few questions:
Would you recommend spray foam for any or all of the cathedral ceiling?
— I know the eaves can be difficult to seal. Do you think spray foam is the prudent choice here?
— If I conclude that spray foam it required for the eaves, I'll probably spray the rafter bays as well although I would still plan to do the vent baffles myself. If I'm going to spray the rafter bays, what thickness of foam board to you recommend for the baffles? Thicker board would reduce spray foam costs but I suspect it will also be harder to work with which will probably take more time and make it harder to get a good seal.
I've been trying to locate the state of the art process for cut and cobble although I'm not finding much beyond fitting rigid foam pieces loosely and filling the gaps with spray foam. You guys have stated multiple times in the podcast that spray foam in the gaps is a flawed practice since it eventually cracks. My inability to find recent online recommendations/discussion combined with your statements about known issues with the standard method is definitely concerning to me.
— You have suggested that a tight fit and with sealant is better but I can't find anything that details this. I'm particularly interested in the best sealant for this application.
— It is unrealistic to think that I'm going to get a tight fit everywhere and I know that I'll have to fill some gaps with spray foam. Should I put sealant over the top of the spay foam in an attempt to maintain an air seal when the spray foam cracks?
— You have also stated on many occasions that tapes generally perform better than sealants and I'm wondering if there are any tapes worth considering for this application. The original lumber is a little rough/fuzzy in spots and I do question if tape would seal well.
This project is not a full gut to the studs so I need to be thoughtful on how I keep the renovations air tight while the rest of the house is leaky.
— I'm not planning to strip the plaster from the walls below the new vaulted ceiling. Should I seal the ceiling's vapor barrier to the wall's top plate? Is there anything I can do that will make it easier to create a continuous vapor barrier with the wall if I end up stripping the plaster from walls in a future project?
— Do you have any general suggestions or words of wisdom separating the new renovations from the existing house?
If you see anything else in my plans that concerns you, I'd love to hear about it.
Keep up the good work you guys are both informative and entertaining. I look forward to them each week.
Thanks, Jim
Related Link:
---
End Note:
I'd like to thank all the folks who listen to the podcast who helped me with my hi-tech HVAC story. There were several and hopefully we'll hear from them more in future podcasts. You guys may have noticed a short video in the assets folder. It was sent to me by Eric who lives in Minneapolis. The video shows his heat pump's outdoor unit. Did you catch that, I said Minneapolis and heat pump in the same sentence? You can hear how quiet it becomes when it goes from stage 3 to stage 2 and it's a perfect example of why I think this technology is so cool.
Thanks very much for the video Eric and if your wife Jenni is listening. Jenni if you want us to goad Eric into cleaning up the utility room again, just write to the podcast email box and we'll take care of it. We'll think of something else Eric can take pictures of. The condensate pump jumps to mind.
---
Check out our new 2021 FHB Houses:
Visit the Taunton Store  •  Magazine Index  •  Online Archive   •  Our First Issues   •  All Access
---
Help us make better episodes and enter for a chance to win an FHB Podcast T-shirt: www.finehomebuilding.com/podcastsurvey
---
If you have any questions you would like us to dig into for a future show, shoot an email our way:

[email protected]

.
If we use your question we'll send you a FHB Podcast sticker!
---
FHB Podcast T-shirts!
Represent your favorite podcast! Available in several styles and colors. Made from 100% cotton. Find the Podcast t-shirt and more cool products in the Fine Homebuilding Store.
---
Fine Homebuilding podcast listeners can now get 20% off anything in the Taunton store, including Insulate & Weatherize.
Use the discount code FHBPODCAST to take advantage of this special offer.
---
We hope you will take advantage of a great offer for our podcast listeners: A special 20% off the discounted rate to subscribe to the Fine Homebuilding print magazine. That link goes to finehomebuilding.com/podoffer.
The show is driven by our listeners, so please subscribe and rate us on iTunes or Google Play, and if you have any questions you would like us to dig into for a future show, shoot an email our way: [email protected]. Also, be sure to follow Fine Homebuilding on Instagram, and "like" us on Facebook. Note that you can watch the show above, or on YouTube at the Fine Homebuilding YouTube Channel.
The Fine Homebuilding Podcast embodies Fine Homebuilding magazine's commitment to the preservation of craftsmanship and the advancement of home performance in residential construction. The show is an informal but vigorous conversation about the techniques and principles that allow listeners to master their design and building challenges.
Other related links