Podcast 378: Preventing Window Condensation, Conditioned Crawlspaces, and $150K Home Improvement
Kiley, Rob, and Patrick hear from listeners about heat-pump water heaters and expensive homes before taking questions on preventing wet windows, sealing a crawlspace, and improving the livability and efficiency of an existing house.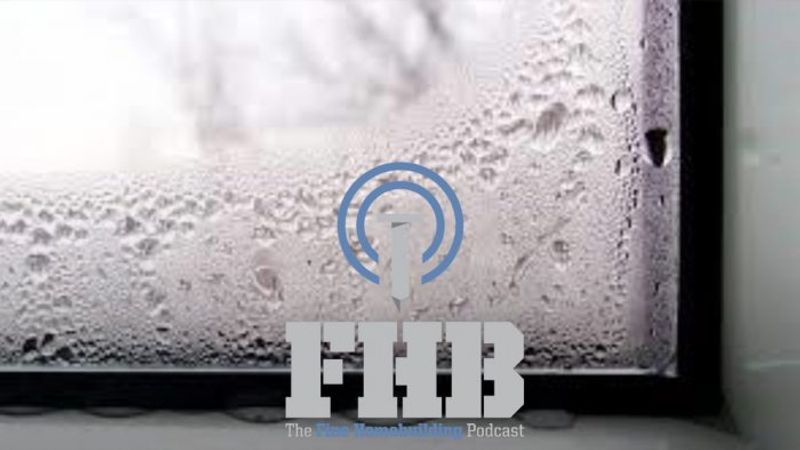 ---
Follow the Fine Homebuilding Podcast on your favorite app. Subscribe now and don't miss an episode:
Help us make better episodes and enter for a chance to win an FHB Podcast T-shirt:
www.finehomebuilding.com/podcastsurvey
Jim shares some thoughts on his heat-pump water heater. James want his expensive house to be comfortable. Barbara wants Rodney Yee to make yoga for tradespeople. Lucas asks about controlling window condensation. Michael wants to know if he needs poly and insulation on his crawlspace walls. Justin wants to spend $150k improving his new house.
---
Editor Updates:
---
Listener Feedback 1:
Jim writes: I have a Rheem heat pump water heater that I installed in my basement not only for energy savings but also to dehumidify and cool the basement. For the first several months, I'd frequently be greeted by a cold shower in the morning. Calls to tech support we largely a waste of time, although I did eventually get a controller board replacement but that didn't help much. I finally had luck by using the "heat pump only" (HPO) mode and then switching to "high demand" (HD) mode when we have house guests.
It turns out that the recommended "Energy Saver Mode" (also called "ECO") that they use to get the advertised fabulous energy savings is a joke. The chart below from their service manual shows that in "Energy Saver Mode" the controller allows the water temp to fall to 95F before starting the heating cycle. Yeah, that's right, 95 degrees Fahrenheit which is also known as lukewarm. I'll bet if they let it drop to room temp they'd get even better energy numbers. In the modes that work (EPO, HD, and EO-electric only), the heating starts at 105F which, while not hot, is more reasonable. Another case of a company doing anything they can to appear "green."
Related Links:
---
Listener Feedback 2:
James, a s software engineer at Facebook writes: No one says "this is an expensive house"? I do! "This is an expensive house, let's spare none of it" pretty tidily summarizes my approach toward the deep energy retrofit on our $1.35M 1900 sqft house. If it's going to cost that much, it should at least be comfortable!
This is our first home, but I could see us living here until we retire or beyond; it's less than two miles from the apartment we rented for four years prior and the previous owners lived in this house for over 40 years, raising 4 kids! 1900 sqft is selling it a bit short since there's another 1200 sqft of not-quite 7′ ceiling basement. We're actually out in Seattle, not California, but it'd be pretty cool to be TimberHP's first customers in the region.
As for my introduction to high-performance building, I guess I've been steeped in the ethos of green building for a while now. My first year in college was the year they opened their new LEED platinum science center and climate change/sustainability were a big topic around campus. I sang with the St. Olaf Choir during my time there and our tour during my senior year was a celebration of the choir's 100th anniversary, featuring several world-premiere commissioned pieces including On Horizon's Brim, a setting of a poem written to accompany a sculpture that was created for a climate change symposium and included the poetic-yet-awkward-to-sing line "reach along the endless shore of global warming." Upon graduating, I moved out to Seattle and so much of our regional identity is built up around sustainability. So, I guess I've considered sustainable high-performance construction to be a noble goal for at least a decade and by becoming a homeowner I now have an opportunity to put that into practice! More concretely, I started diving into research and thinking about this project after I realized that everything in our house is natural gas (furnace, hot water, range, and even the clothes dryer) while we live in a city with some of the cleanest electricity available (>93% of it is carbon-free). It just doesn't make sense to me for us to be burning so much fossil fuel in our home when we have such an abundance of clean energy available.
Related Links:
---
Listener Feedback 3:
Barbara writes: After listening to Kevin Ireton on the ProTalk podcast and his endorsement of hip-opener yoga, I've been doing several YouTube yoga videos a day to try to get fit enough to take on a big remodeling project. I found a bunch of Rodney Yee videos and made a playlist. I've had to sort of cobble together advice. YouTube physical therapists have a list of things to never do if you've already damaged your spine, so I skip the toe-touching type stuff. And I'm having a real problem with my arthritic hands from all the planks and downward dog type stuff.
So here's my idea. What if Taunton hired Rodney Yee to make a series of specific Yoga for the Trades videos? Then instead of me watching ads on Gaiam's channel every day I'd be watching them on your channel instead. See if you can get a real yoga expert to figure out a way to limber up my spine without aggravating my hands and wrists. In fact my hands are killing me right now so I'm gonna stop typing.
Related Links:
---
Question 1: Is there a way to ensure I won't have cold temperature condensation issues in my zone 5 new build?
Lukas writes: New build in western Massachusetts (zone 5) and we are using Loewen double pane windows, with 6-in. wall cavity fluffy insulation and hiR (r13) exterior continuous foam. Other pertinent details: windows installed at exterior (wrb (typar?)) plane, ~r60 unvented roof, central ac/erv ducting, radiant floor heat. I am concerned by a few other similarly detailed local examples where cold temperature condensation issues have come up. Is there a way to ensure we won't have the same problems? Do we need an engineer to look at all this and give a report?
Related Links:
---
Question 2:  Should I insulate my crawlspace on the inside, outside, or both?
Michael writes: Hello GBA community. I am a homeowner acting as a GC.  I am ready to encapsulate my crawl space and make it a conditioned space in Zone 5A.  I've researched here and several other places on how to insulate the interior (CMU) crawl space walls. Some call for Poly sheeting on the wall and then polyiso rigid foam board. Others called for just rigid foam board attached directly to the wall.
What might be the reasoning to add both? Advantages and disadvantages? It seems to me that the easiest and cost-effective way to go is to directly attach the rigid foam (2″ Atlas energy shield) to the wall using an adhesive and foregoing the poly sheeting between the rigid foam and wall. Also – I plan to add 2″ of Rockwool comfortboard to the exterior down to the footing. Will these two types of insulation on either side be compatible for the crawl space wall/rim joist?
Related Links:
---
Question 3: What would you do if you had $150,000 to bring a house into the 21st century?

Justin writes: Hi FHB Gang, I'm a long-time subscriber to the magazine and a huge fan of the podcast. I am writing because I am scheduled to close on a new home and would love for your thoughts on what you would do if you had approximately $150,000 to bring the home into the 21st century. Any thoughts and suggestions are appreciated! Here's the listing. Also, I've attached a few photos and the home inspection report, if you really want to get into a deep dive. Thanks for all the great content!
Related Links:
---
Question 4: What can I do to make sure my new guardrails are safe and sturdy (because they aren't right now)?

Matt on GBA writes: Balcony on my new construction is getting finished up. They completed the railing this past weekend, so my wife and I went up to check it out. Got up there, leaned lightly against the railing, and the railing and post moved. I then wiggled it some with my hand (see video). It gives a good 1-2″ with very lightly applied pressure. The decking is Trex, and there is a rain collection system (the name has escaped me) underneath the Trex that drapes over the joists and funnels water out of a gutter to keep the front porch underneath dry.
How are the guard rails attached you ask? Well, there is a Simpson Strong-Tie of some sort (can't tell exactly which one) attached to the Trex decking, which the cedar post sits in. The Simpson Strong Tie is attached to the cedar post with deck screws (see attached image). What else is going on? There is also a MiTek angle bracket to resist lateral forces pushing out on the post. I believe it is the MiTek A3-TZ. It is also fastened with deckmate deck screws. That's really it. There are two small pieces of cedar that they have fastened over the MiTek bracket on the inside (see red circle in picture 3).
Is it at all safe for the guardrail posts to be top mounted using only the setup shown? I thought they should be attached with a bolt or structural screw (like a Spax PowerLag) to the rim joist. I can't imagine the current setup holding the weight of a 300lb person tripping and falling into the railing (not likely, but also should hold up to it).
When I talked to my builder this afternoon, he says that they were mounted this way in order to keep from puncturing the water collection system (which implies to me that the screws in the angle brackets are pretty short). The only options he really gave me were to leave it as is (and in his words "watch your kids when you're out there.") or to use a longer screw (I asked if he meant something like the Powerlag and he didn't specify) in the angle bracket to screw into the joist. Is this sufficient for a top mounted post like this? Advice greatly appreciated since this is a safety issue.
Related Links:
---
End Note:  The underground man
In 1998 carpenter Thomas Johnson's hidden underground home, which he'd been living in for a decade, was discovered in a patch of woods on Nantucket Island. After he was forced to leave, he spent several more years living in other hidden dwellings he had built around the Island, including a log cabin, a treehouse, and a hut he wove out of stick that he called his twigloo. If he's still around, we would love to interview him on the Pro Talk podcast, so pass along any leads if you've got them.
---
Check out our latest Project Guide on Tiling!
Check out our new 2021 FHB Houses:
Visit the Taunton Store  •  Magazine Index  •  Online Archive   •  Our First Issues   •  All Access
---
Help us make better episodes and enter for a chance to win an FHB Podcast T-shirt: www.finehomebuilding.com/podcastsurvey
---
If you have any questions you would like us to dig into for a future show, shoot an email our way:

[email protected]

.
If we use your question we'll send you a FHB Podcast sticker!
---
FHB Podcast T-shirts!
Represent your favorite podcast! Available in several styles and colors. Made from 100% cotton. Find the Podcast t-shirt and more cool products in the Fine Homebuilding Store.
---
This episode of the Fine Homebuilding podcast is brought to you by ZIP System roof assembly.
A strong, resilient roof is a home's first line of defense when the roof deck is exposed to weather. ZIP System roof assembly combines ZIP System's revolutionary integrated sheathing and flashing tape or liquid flashing to provide a taped roof deck for protection against moisture intrusion during construction or if high winds strip the roof covering away. Trust ZIP System roof assembly to help fortify your home against the storm. Visit TrustZIPRoof.com to learn more.
Also brought to you by Loctite's PL Premium MAX
Professional builders know the value of a strong, durable and versatile construction adhesive and that's why they choose Loctite PL Premium Max. Equally effective for interior and exterior use, PL Premium Max can be used in extreme weather conditions and bonds to all common building materials. It offers 20 minutes of working time and cures solid in 24 hours, with no air bubbles for maximum durability. Whether you're framing a custom home, upgrading to granite kitchen counters, or adding rigid foam and comfort to an existing basement, PL Premium Max is the right adhesive for the job. Visit Loctiteproducts.com for more information.
---
Fine Homebuilding podcast listeners can now get 20% off anything in the Taunton store, including Insulate & Weatherize.
Use the discount code FHBPODCAST to take advantage of this special offer.
---
We hope you will take advantage of a great offer for our podcast listeners: A special 20% off the discounted rate to subscribe to the Fine Homebuilding print magazine. That link goes to finehomebuilding.com/podoffer.
The show is driven by our listeners, so please subscribe and rate us on iTunes or Google Play, and if you have any questions you would like us to dig into for a future show, shoot an email our way: [email protected]. Also, be sure to follow Fine Homebuilding on Instagram, and "like" us on Facebook. Note that you can watch the show above, or on YouTube at the Fine Homebuilding YouTube Channel.
The Fine Homebuilding Podcast embodies Fine Homebuilding magazine's commitment to the preservation of craftsmanship and the advancement of home performance in residential construction. The show is an informal but vigorous conversation about the techniques and principles that allow listeners to master their design and building challenges.
Other related links