Fine Homebuilding Flashback: 1984, Vapor Barriers, Radiant Floors, and Energy-Efficient Building
From articles on framing traditional walls and floors to building octagonal spiral stairs, the magazine's fourth year balanced the innovative with the mainstream.

To celebrate Fine Homebuilding's 40th anniversary, we're taking a look back at old issues of the magazine and sharing some notes about the articles and images that have appeared on the cover and in the pages over the years—and the dedicated editors, artists, writers, photographers, designers, and tradespeople who contributed to them.
In 1984, FHB was staking out its turf as a source of ideas for inspired building, covering topics such as vapor barriers, energy-efficient home design, and radiant-floor heating, among others. In addition to more routine home-building projects like insulating foundations, floor framing, and drywall finishing, this year saw some unique whole-house design articles—just take a look below.
If you're an FHB All Access member you can read a digital version of every single issue in our Online Archive (follow the links for the specific issues below), plus anyone can find find web versions of many of our articles in the Magazine section of the website.
Dec/Jan 1984 FHB #18

Renovating old houses has been a mainstay of Fine Homebuilding since the beginning, and this issue's cover finds John Leeke hanging from a second-story window as he pries out the old frame. Inside, he explains his technique for making window sash. The issue is a gold mine for owner/builders: how to make floor tiles by hand, how to create rubble-trench foundations, and how to build octagonal spiral stairs and curbless skylights. FHB Editor John Lively offers a tutorial on grinding and honing chisels, a chore every carpenter eventually is forced to tackle. Consulting Editor Bob Syvanen makes an early appearance with an article on insulating foundations—still a hot topic today.

Read FHB issue #18 in the online archive.

Feb/March 1984 FHB #19

This issue takes an esoteric turn with a cover devoted to a dramatic dwelling in the desert Southwest, written by FHB Art Director Betsy Levine, plus details for a Japanese-stye tea house in the California mountains. We return to Earth with directions for replacing an oak door sill, a review of power-miter saws, and Don Dunkley's take on floor framing. Foreshadowing FHB's later work on energy-efficient home design, William Bechhoefer walks us through plans for a house designed for a temperate climate, while Dan Desmond looks at a topic that confounds some builders nearly 40 years later—the vapor barrier.

Read FHB issue #19 in the online archive.

April/May 1984 FHB #20

After the previous issue's focus on offbeat architecture, we're looking at grounded articles on roofing with slate, building a fireplace, creating period moldings, a layout method called ticksticking, and Larsen trusses. Jeff Morse also serves up a feature on a funky house in Bolinas, Calif., that sports world-class eyebrow windows. A fresh-faced Tom Law in his signature overalls makes what might be his first appearance in the magazine with an article on handsaws.

Read FHB issue #20 in the online archive.

June/July 1984 FHB #21

The cover features the iconic silo at the Pennsylvania workshop/home of the influential artist and craftsman Wharton Esherick. Western editor Charles Miller, who wrote the article, was lucky enough to spend two nights in the house that became a museum after Esherick's death in 1970. There's plenty of practical elsewhere in the issue, including a primer on powder-actuated tools, an attic remodel, and California framer Jud Peake explaining his system for production layout.

Read FHB issue #21 in the online archive.

Aug/Sept 1984 FHB #22

We'd never hear the end of this cover today: a framer working atop a wall bends to set a nail, a cigarette dangling from the side of his mouth. The author was associate editor Paul Spring, a former carpenter. John Lively details a topic that will become familiar to FHB readers—a house built in the style of Greene and Greene—while another article covers a prefabricated house made from porcelainized steel, an idea that never caught on. Dennis Adelman writes on radiant-floor heating systems, another topic that will be covered extensively over the years that follow.

Read FHB issue #22 in the online archive.

Oct/Nov 1984 FHB #23

It wasn't FHB's most dramatic cover, but the ensuing article offers a look at the work of architect O'Neil Ford and the amazing brickwork of Mateo Avila. There was plenty in this issue for the aspiring carpenter, including a treatise on framing hammers, design notes for a double-envelope solar house, and an explanation of how to finish drywall. Of note was the article on "shingle thatch," a technique that mimicked thatch roofs with an elaborate pattern of steam-bent shingles and curved framing. Not your weekend project, but FHB was staking out its turf as a source of ideas for inspired building.

Read FHB issue #23 in the online archive.
​
​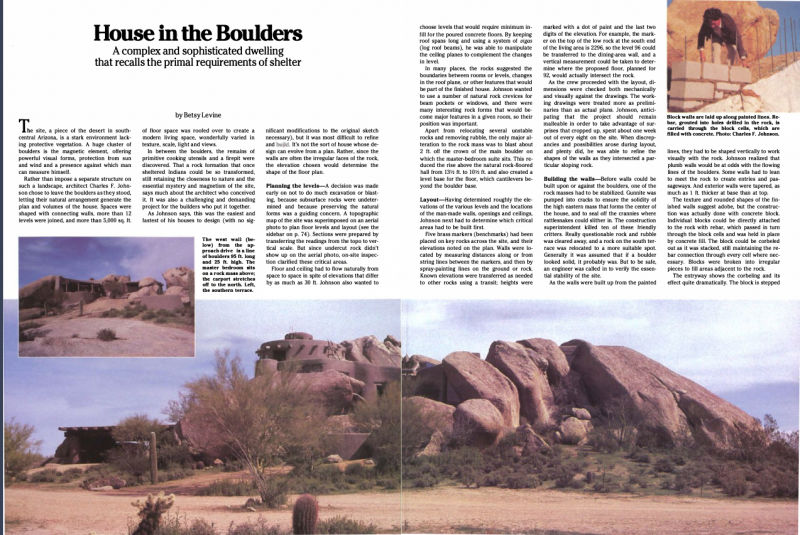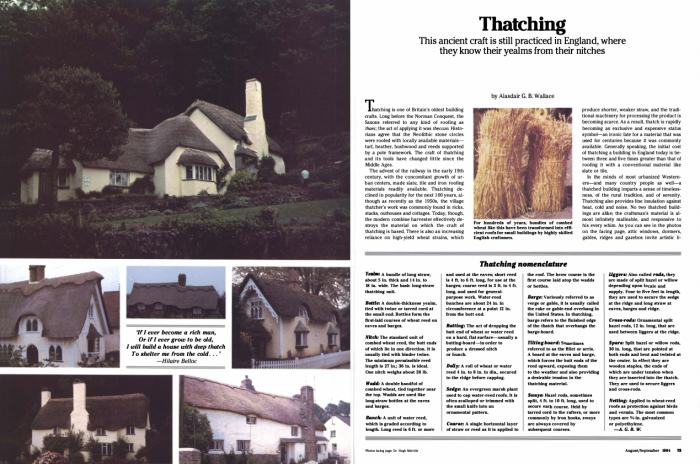 Click here for more glimpses of previous issues, follow us on social media, or sign up for our weekly newsletter to read more highlights from the formative years of Fine Homebuilding magazine.