Podcast 388: Delayed Windows, Whitewashing Brick, and Cooling Off Upstairs
Brian, Rob, and Patrick hear from listeners about design software and structure fires before taking questions on installing siding before windows, safety gear for kids, and cooling a hot second floor.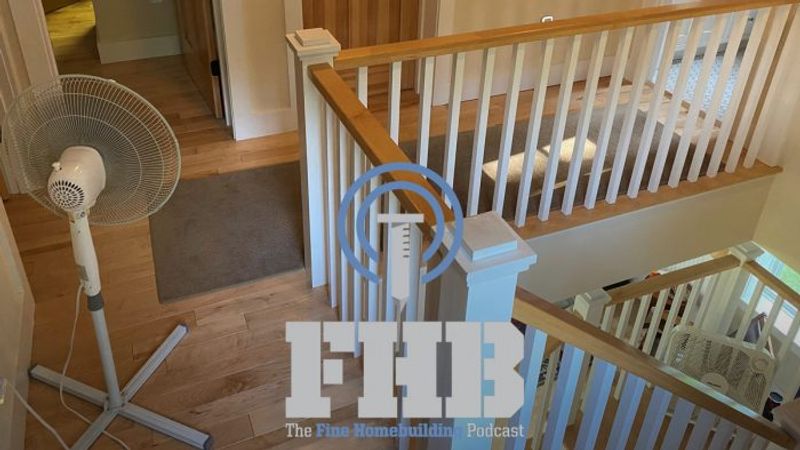 ---
Follow the Fine Homebuilding Podcast on your favorite app. Subscribe now and don't miss an episode:
Help us make better episodes and enter for a chance to win an FHB Podcast T-shirt:
www.finehomebuilding.com/podcastsurvey
Andre shares thoughts on design software and cooling hot houses. Brad explains his roof outsulation strategy. Kevin asks for a discussion on the fire safety of modern buildings. Daniel, faced with a window delay, asks if he can install siding first. William wants a way to whitewash brick. Ben needs help finding kid-sized safety gear. Will's low-load house is too darn hot upstairs.
---
Editor Updates:
​
---
Listener Feedback 1:
Andre writes: Hi Podcasters; I just listened to Podcast 384—good stuff. Regarding CAD programs. I use AutoCAD LT (the light version of Autodesk's pro software) at work (design /build commercial kitchens). For the easiest learning curve on a 3D-modelling program, I would give Sketchup a go. To be fair, I do not have experience with Chief Architect. You are right on—most people cannot visualize the 3D implication of the 2D plans. And worse yet, they assume that what is in their head matches what is on the paper without understanding what is on the paper. Also, the software you use should be able to output a dwg set so you can communicate the plans to electricians, plumbers, structural engineers, and trades for their specific planning purposes.
Regarding Peter's cape: the reason the house is hot is that your insulation is decent. The sun comes in, heats up the house, and doesn't leave. Add some window coverings to reduce the insulation. Peter said that he is getting a heat pump to replace his furnace and that will get him the cooling he needs. But don't neglect having your contractor review the ducting as you may need some additional ducting to make the a/c work 100% on the furnace replacement. Mini splits are a different conversation.
Happy Building,
Andre
---
Listener Feedback 2:
Brad in Minneapolis, MN writes: Hi Patrick, In episode 374 you put out a request for anyone doing a project with foam over roof sheathing. We just started a major renovation on a small cape here in Minneapolis. Since we're adding a sizable addition and redoing the existing roof, I spent many hours pondering my insulation options for the existing house and the complicated issue that comes with capes of a sloped ceiling with 2×4 rafters, knee-walls, and access issues.
I'll try to keep this short and we can correspond more if you're interested. I have a multi-pronged approach that begins with covering the roof with 4" of foam (probably EPS, or 2" polyiso on the first layer with 2" of EPS on top since polyiso loses performance at low temps). Then, I have a different plan between the rafters for each of the 3 different sections of roof—the knee-wall section, the sloped ceiling section, and the mini attic section. It will be unvented.
I'm sure some may poke holes in my plan, but like everyone else, I have constraints to deal with. It is true that contractors aren't real keen on this assembly. Despite my contractor's interest in building science and better building techniques (and he's a fan of your podcast), he's never done this before and we're working out the details together. I'll throw in one question now that maybe you or someone else there might know: what do I really need over the existing sheathing (1×8 boards I think) before laying down the foam? Some have advocated an adhered membrane, Martin Holladay likes Solitex Mento in his GBA article, and others just say an "air barrier." But here's the question, how much redundancy is needed in the barrier? The foam itself—once taped—is also an air and moisture barrier, so what's wrong with just using felt, or ice and water shield? I suppose the concern is that any air that might get past this assembly would condense on the underside of the roof sheathing installed over the foam. Of course cost is one issue, but I'm also trying to use products my contractor is already familiar with and are readily available. Thanks—love the podcast!
PS I'm the hovercraft guy, and the one who wrote in about Minneapolis temps (low and high) being exaggerated. Plus, Minneapolis winters have become noticeably milder in my lifetime—presumably due to global warming. Sad for the world—but good for us.
Related Links:
---
Listener Feedback 3:
Kevin writes: Hello Patrick, This was in yesterday's paper and I thought it may make for a good topic and maybe a Pro Talk edition. I've heard the complaints before about gaps in modular construction and fire risks. Of course, the conservative fire folks point it out and the pro-modular community say they've addressed it in various ways. I am sure the answer is somewhere in the middle, but I do think we need to address it so we can improve the safety going forward. Thanks for all the great content.
Related Links:
---
Question 1: Can I install my siding now while I wait for my windows to come in later?
Daniel from Helena, Montana writes: Hey crew! I've been working on building a detached garage, and have gotten tons of help from FHB and the podcast since day one. I am putting siding up now, 6.25″ Hardie plank, and it looks like the windows I ordered won't be in until late September or October. Not wanting to wait that long to finish the siding, I was hoping to just install the windows once they came, and cut in to the siding for the windows at that time. The are 2'x4′ windows, and the framing is there, but I sheathed and house wrapped over the entire wall.
Is there anything I can do now to plan ahead for when the windows come in, to make the post hoc window install easier? Specifically, I am thinking about WRB and water management. I am using BO Hydro Gap and their compatible flashing tape, and I'm worried that I won't be able to get this to the full width around the window opening if the siding is already in the way. I've considered trying to put the tape up where the opening will be before the siding goes up, but wondering if there's a better way. Any thoughts here?
Related Links:
---
Question 2: What is the best way to whitewash a brick wall?
William in Richmond, VA writes: Hello, I'm a big fan of the podcast and have enjoyed listening for a few years. I finally have a question. I live in Richmond, VA and have a brick addition I want to whitewash. The brick work is really bad and I would like to obscure the mortar joints if possible. I didn't want to do something as involved as stucco. White Portland mixed really wet and brushed on sounds easier than lime. I'm seeing stuff about mixing in salt and alum and leaving it overnight. What do you all suggest?
Thanks so much and I appreciate the podcast.
Related Links:
---
Question 3: Where can I find kid-size respirators or safety equipment for my child who likes to help me with projects?

Ben in Pittsburgh writes: Hey there. I have a three-year-old who likes to work with me and my dad on house renovation projects. We're preparing to fully gut the second floor of our house, and I think it would be fun for him to demo old plaster. (He's already done some unauthorized demo in a closet with a hammer.) But old houses are nasty, and I always wear a full face respirator for demo. Wondering if you or listeners know of any kid-size full face respirators, as well as more general sources for kid-size safety equipment like glasses, gloves, and ear muffs. Thanks.
Related Links:
---
Question 4: How can I cool the upstairs of my home without installing another heat pump?

Will writes: Hi Podcast, Hope you are well. Keep up the great work on the podcast. I enjoy it each week, including last week as I held our new baby girl in my arms at the hospital, Haddie Rose Bown. Starting her young!
Anywho… Our home is a Huntington Homes Custom Project that I designed.Here is some background on the 1464 sq. ft. home.
1. Double stud walls. R43 walls.
3. R60 attic (flat ceiling portions)
2. Triple Pane Windows.
3. (1) Mitsubishi Heat Pump downstairs FE18. This is the primary heat source (and AC) for the home. I also installed electric heating under the tile of the upstairs bathroom.
4. Completely open downstairs with 1/2 Bath.
5. 3 bedrooms with full Bath upstairs.
6. Gas stove in the living room for ambiance.
7. HRV; E15 Venmair. Exhaust in the bathrooms (with boosters), Exhaust in Kitchen, and fresh air to all remaining rooms.
With the heat pump on the first level, we have a good system for heating the home. In the winter on the coldest days; we keep the first level at 70 and the bedrooms without heat upstairs remain at 65ish.
More Background:
Looking for a more effective solution for cooling upstairs. Currently we are running the heat pump in "dry mode." The downstairs is a comfortable 69 degrees and we've got a box fan positioned halfway up the stairs; pushing air upstairs. Upstairs we have another fan sending air across the hall towards the bedroom, and in the bedroom we have a ceiling fan running.
On top of this I'm running the HRV in recirculation mode only (not bringing in fresh air). All of this is doing a good job at keeping the entire house comfortable. The upstairs is 75-74 but far less humid than the muggy outside. What is annoying about this is all the fans, cords, and recirc mode of HRV.
Question:
I think the current heat pump can cool the entire house, but the issue is delivery upstairs. I'd like to avoid installing another heat pump for the upstairs. I've got some locations where I could install some small ducted transfer fans that get air upstairs (with access to power and ability to install light switches). Like this. And do you think these should be installed in pairs? So one sending air up and another sending air down? I figured I'd install these off regular switches vs. anything via thermostat.
Also, I recall you had a fan brand you liked, good quality. Obviously something quiet would be important too. Thanks for any help you can provide!
Related Links:
---
Check out our latest Project Guide: Siding & Exterior Trim!
Check out our new 2021 FHB Houses:
Visit the Taunton Store  •  Magazine Index  •  Online Archive   •  Our First Issues   •  All Access
---
Help us make better episodes and enter for a chance to win an FHB Podcast T-shirt: www.finehomebuilding.com/podcastsurvey
---
If you have any questions you would like us to dig into for a future show, shoot an email our way:

[email protected]

.
If we use your question we'll send you a FHB Podcast sticker!
---
FHB Podcast T-shirts!
Represent your favorite podcast! Available in several styles and colors. Made from 100% cotton. Find the Podcast t-shirt and more cool products in the Fine Homebuilding Store.
---
This episode of the Fine Homebuilding podcast is brought to you by Benjamin Obdyke.
Benjamin Obdyke would like to thank the nuisances that builders and homeowners despise. Our premium products protect from those pesky things like rain, snow, UV rays and the neighbor's sprinkler system. Take HydroGap SA, the first self-adhered drainable housewrap that combines a true air barrier and drainage gap. Or InvisiWrap UV, an all-black WRB, perfect for long-term moisture protection behind open joint siding. Backed by an unmatched 25 year warranty, Benjamin Obdyke's UV-Protected Rainscreen System not only features InvisiWrap UV, but HydroFlash UV+, a high performance, vapor permeable flashing tape. Visit benjaminobdyke.com to learn more about their comprehensive, durable systems.
---
Fine Homebuilding podcast listeners can now get 20% off anything in the Taunton store, including Insulate & Weatherize.
Use the discount code FHBPODCAST to take advantage of this special offer.
---
We hope you will take advantage of a great offer for our podcast listeners: A special 20% off the discounted rate to subscribe to the Fine Homebuilding print magazine. That link goes to finehomebuilding.com/podoffer.
The show is driven by our listeners, so please subscribe and rate us on iTunes or Google Play, and if you have any questions you would like us to dig into for a future show, shoot an email our way: [email protected]. Also, be sure to follow Fine Homebuilding on Instagram, and "like" us on Facebook. Note that you can watch the show above, or on YouTube at the Fine Homebuilding YouTube Channel.
The Fine Homebuilding Podcast embodies Fine Homebuilding magazine's commitment to the preservation of craftsmanship and the advancement of home performance in residential construction. The show is an informal but vigorous conversation about the techniques and principles that allow listeners to master their design and building challenges.
Other related links