Design
Tips for Sustainable Landscape Design
Designing for regional context is an important topic these days. Get ideas for your outdoor space by learning what the pros consider when working with clients.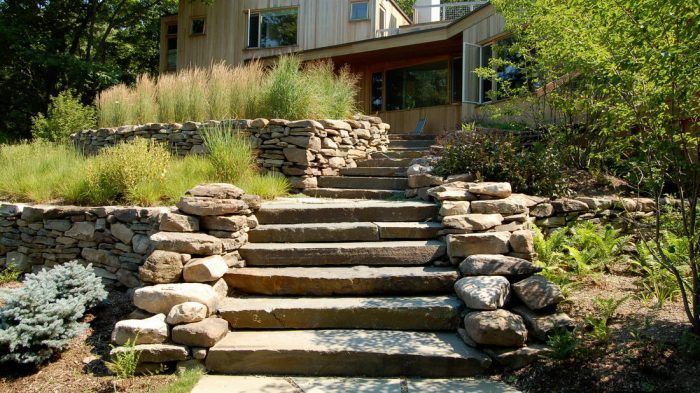 This article is part of a series in which professional landscape architects and designers share their invaluable insights into bringing a unique-to-you outdoor space to life that integrates well with the rest of your home. Check out the rest of the articles in the series in "Related Links" below. 
How do you design a landscape that fits within the local context and contributes to the ecosystem?
Kerry Lewis, Kerry Lewis Landscape Architecture:  One of the best things you can do is find a local stone yard and see what they have to offer and where it comes from. In the Northeast, I use a lot of blue stone, which typically comes from New York and Pennsylvania, and a lot of local granite that comes from New Hampshire and Maine. I don't use a lot of things that come from other countries.
In terms of regenerative practices, I like to use plants that are native or acclimated to our area, which will use less water once established and tolerate the local soils better. It used to be thought that when you put a big tree in, you dig a big hole, move the soil away, and mix in a loamy compost and fertilizer. But then the tree doesn't want to grow outside of that basin into the native soil. We've since changed that thinking. Instead, pick plants that will tolerate your native soil conditions. You can also consider if you want to bring birds, butterflies, and caterpillars to your yard. The National Wildlife Federation has a native plant finder and you can put in your zip code and find what plants are native to your area. You can also check the local cooperative extension group or Facebook gardening groups.
It's also important to think about water. Where is the water going to go when you have a deluge? Can you have a rain garden, or a rain barrel and reuse the water? In terms of lawns, a lot more clients are asking for smaller lawns because lawns have absolutely no environmental value.
Jessica Viola, Viola Gardens: You want to think beyond sustainable and to regenerative. How can we create conditions for ecological functions to occur and habitats to grow and thrive and then find a place for humans within that as opposed to forcing ourselves within the landscape? I look at which plants are going to create the habitat, attract pollinators and birds, and build soil. You should also consider how to create functional relationships in a diverse landscape. Here in California, we have more of a design problem. We get water but it goes right into swells that go down the street and into the drain. To address this, how can we create catchment systems (the difference between a paved driveway with water flowing straight down versus a permeable surface where water is sequestered)?
Nahal Sohbati, Topo-Phyla Landcape Design: Being in California, there are many sustainable strategies that can and should be utilized. In many cases, the definition of a beautiful yard and outdoor space needs to be redefined from its current unsustainable trend of lawns and exotic plantings to something more sustainable and beneficial to the present and future environment with more low-water and regionally native plantings.
One practice that we always advocate for is reducing water usage by replacing monochromatic lawn with low-water, native plantings that are adapted to California's climate and can host and support a diverse range of local flora and fauna. Most cities in California provide a lawn-removal rebate that can pay for the cost of replacement plants and irrigation, so make sure to check in with your local municipality.
Reducing concrete and paved areas in favor of permeable surfaces such as gravel, mulch, and vegetation helps with heat island mitigation and stormwater infiltration, and creates a healthier ecosystem overall. With climate change becoming more impactful every year, every region will have its own challenges from drought and fires to hurricanes and flooding. With proper landscape design strategies, we can become more resilient to coming changes and natural disasters.
Brian Higley, Brian Higley Landscape Architect: In places where there are a lot of deer, I like to use trees, which are tall enough to be out of reach and add a lot of structure. Trees can really be the bones of a landscape design. I also tend to use more native plants and plants that can survive drought because almost no one wants to hire a maintenance person. Here in Maine and in other coastal areas you would want to pick specialized plants that work well with the salty air and rocky ground.
But one of the best things I can do is get people not to do something!  Sometimes people ask me, what do I do with these 20 acres? And my response would be to ask why you would need to do anything with it. You could build a trail through it, but otherwise, the best option might be to just let it be.
---
ABOUT THE CONTRIBUTORS
Kerry Lewis Landscape Architecture, established in 2002, is a design firm dedicated to the practice of residential landscape architecture. Kerry comes by her love of plants and natural areas from growing up on a farm in the Hudson Valley region of New York State. Kerry graduated from Cornell University with a BS with distinction in Landscape Architecture. She has been a registered Landscape Architect since 1993 and is currently licensed in Maine and Massachusetts. She holds certificates in Healthcare Garden Design (Regenstein School of the Chicago Botanic Garden) and Horticultural Therapy (Horticultural Therapy Institute and Colorado State University) and is an avid proponent of ecological design methods which enhance the wildlife value of residential gardens.
Jessica Viola is one of Southern California's most sought-after landscape designers, having spent the past two decades cultivating a design portfolio based on regenerative, whole-system solutions and artistic vision. One of just a few fully licensed, bonded, and female landscape contractors in the state of California, Jessica's in-house design crew is currently fully women-led and all team members are certified in Permaculture Design. Jessica approaches each project as a unique reflection of her client's dreams and desires in relationship with the needs of the garden, the architecture, and the land.
Nahal Sohbati is a landscape designer and a co-founder of Topo-Phyla Landscape Design in Santa Barbara, Calif. After earning her bachelor's degree in interior architecture, Nahal developed a passion for public open spaces with high social and environmental impact, which led her to pursue a master's in landscape architecture. Nahal strongly believes that design is an advocacy tool to change "what is" into "what could be." Since her award-winning community service project, Ridge Lane, Nahal has made it her goal to contribute design services that form lasting bonds between communities and their environment.
Brian Higley was born and raised in rural Vermont, where he developed a deep respect for nature. He is the son of a builder, and so at a very early age developed a thorough understanding of the construction process as well. Brian received a degree in Architectural and Building Engineering from Vermont Technical College, and worked for architectural and engineering firms around the country before returning to the University of Massachusetts at Amherst for his training in landscape architecture. He feels that a simple approach is usually best, and leads to a more pleasing, functional, and cost-effective design.
---
RELATED LINKS