Bypass Pocket Doors Make Open Floor Plans Work Harder
Two sliding-door kits from Johnson Hardware let you close off big doorways when you need privacy and make sets of doors disappear into the wall when you don't.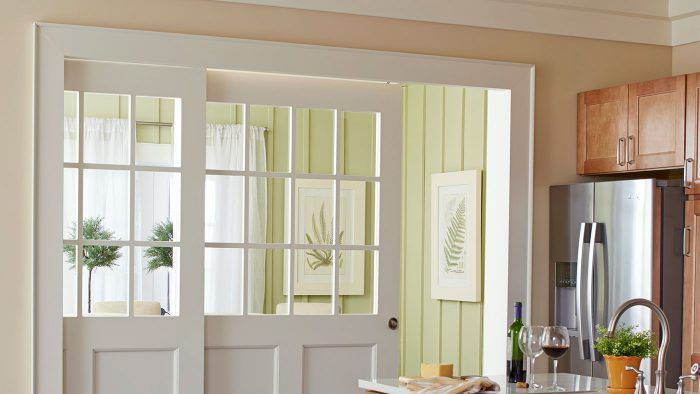 Open-concept homes work great for large gatherings and for informal modern lifestyles, but the lack of separate spaces can be a hassle when conflicting family activities coincide. One way to get the best of both worlds is to connect rooms with wide open doorways but give the option of closing them off with a bypass pocket door, which is just a pair of pocket doors that slide side-by-side into the same wall cavity. With a system like this, you get a clean unobstructed look when you want it, but can give everyone some privacy when they really need it. I tracked down some solid bypass pocket door options from Johnson Hardware, a sliding-door-track manufacturer in Elkhart, Ind.
Johnson's standard bypass pocket door offering is their 1562 Series frame kit, which is designed to support pairs of solid wood doors, each up to 200 lb. and 36 in. wide. The frames come in heights ranging from 80 in. to 108 in. and can span up to a 70-¾-in. doorway—double that if you have a frame kit on both sides of the doorway. Each frame fits neatly into the width of a 2×6 wall.
If that's not big enough for your home, then opt for the Johnson Hardware 200BP commercial hardware kit that doubles the weight capacity to 400 lb. per door and, if you opt for two pairs of 48-in. doors, maxes out at nearly 16 ft. wide. This heavy-duty kit requires a 9-¼-in.-thick wall, but its robust track system is rigid enough that there's no need to install unsightly floor guides to keep the doors straight.
Prices for the 1562 Series door frames range from $310 to $500 and the 200BP hardware kits top out at $726. You can find specs, get installation instructions, and purchase the kits on Johnson Hardware's website.
Photos courtesy of the manufacturer.
---
RELATED LINKS